December 11, 2018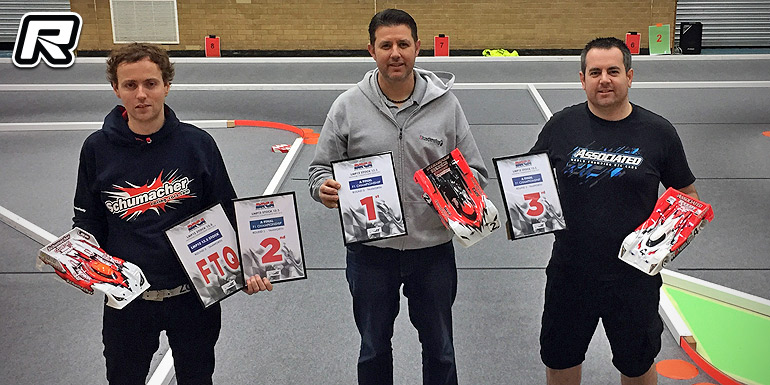 The third round of the 2018/19 BRCA 1/12th nationals took place in Tamworth last weekend. The Tamworth club laid a fantastic looking track on their new Primafelt carpet and with a capacity entry of 80 drivers everyone was treated to a fantastic weekend of highly competitive 12th circuit racing. On Saturday racers competed in the 13.5 blinky stock championship with the field split into F1, F2 and F3 grades. In the F1 class Andy Murray broke the dominance of David Spashett and Ollie Payne with their Roche cars by putting his Schumacher onto pole position. Ollie lined up second with David, a very close third, seven tenths of a second behind. Mark Stiles and Ben Vincent were also on the same lap and with the top five covered by five seconds it was sure to be a close fought race.

Andy set a fast early pace pulling a slight gap on the chasing field. He would lose some of that pace in the second part of the race allowing Ollie and David to close up with all three cars circulating nose to tail lap after lap. A last lap move saw Andy drift wide on the sweeper and Ollie took his chance and moved into the lead. Unfortunately there was contact at the next corner which allowed David to pass the lead two and take the win, his second of the season. Andy came home in second and a further incident on the line allowed Mark Stiles who was close behind to take third place with Ollie finishing in fourth.
13.5T Blinky F1 Stock result:
1. David Spashett – Roche
2. Andy Murray – Schumacher
3. Mark Stiles – Team Associated
4. Ollie Payne – Roche
5. Adam Catchpole – Capricorn
6. Ben Vincent – Roche
7. Mick Farrell – CRC
8. Matt Lax – Xray
9. Louis Parker – Schumacher
10.Matt Rice – Team Associated
In F2 Andrew Smith and Joshua Coult continued their season long battle with Andrew continuing his dominance securing his third pole position of the season. An on form Adrian Thorpe split the pair lining up second with Josh very close behind in third. Andrew would take a tone to tone win with Adrian unfortunately having to retire after a crash. This allowed Josh to take second and Stephane Fiorini third with a great drive from sixth on the grid.
13.5T Blinky F2 Stock result:
1. Andrew Smith – CRC
2. Joshua Coult – Schumacher
3. Stephane Fiorini – Roche
4. Simon Harris – Xray
5. Owen Smith – Roche
6. Nigel Hale – Team Associated
7. James Egan – Xray
8. James Stewart – Team Associated
9. Rob Jackson – Roche
10.Adrian Thorpe – Xray
In F3 Morgan Williams took TQ from Jody Sherratt and Martin Harris. Jody would take the win after a race long battle with Morgan Williams. Rob Warren would take third in another great drive from eighth on the grid. Unfortunately Martin Harris retired early on in the race.
13.5T Blinky F3 Stock result:
1. Jody Sherratt – n/a
2. Morgan Williams – Roche
3. Rob Warren – Team Associated
4. Chris Hudson – Xray
5. Daniel Robins – Schumacher
6. Lee Moss – Roche
7. Thomas Ridgley – Schumacher
8. Martin Harris – Team Associated
9. Lewis Barker – Yokomo
10.James Eaves – Yokomo
On Sunday the field was split into Modified and Sports classes. The sports class again running 13.5 blinky motors. In Modified Ollie Payne was in dominant form, having won the first two rounds this year, he again put his car on pole over a lap clear of the rest of the field. Andy Murray would continue his good form lining up second with Capricorn driver Adam Catchpole in third narrowly ahead of Team Associated's Mark Stiles. Ollie was untouchable in the final streaking away to win by two laps. Early contact between Andy and Adam saw both drivers drop down the field. Andy managed to get back up to second after a good battle with Mark who took his second podium position of the weekend in third.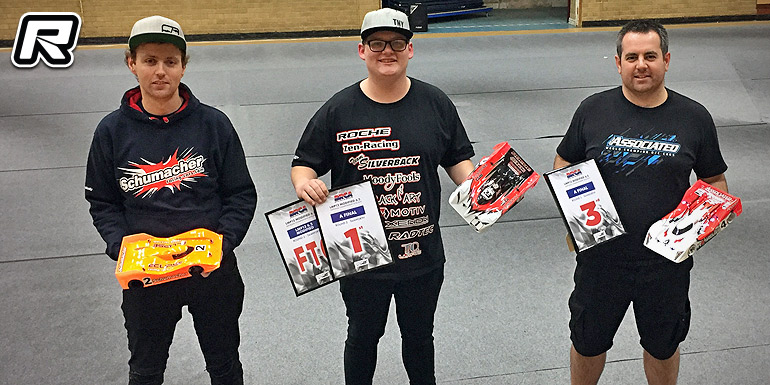 Modified result:
1. Ollie Payne – Roche
2. Andy Murray – Schumacher
3. Mark Stiles – Team Associated
4. Louis Parker – Schumacher
5. Adam Catchpole – Capricorn
6. David Spashett – Roche
7. Chris Kerswell – Team Associated
8. Patrick Bandeira – Roche
9. Ben Elliot – Schumacher
10.Nathanael Goodban – Schumacher
In Sports Mod Ben Vincent again proved to be the man to beat claiming his third pole of the season with Mick Farrell lining up second ahead of Matt Lax in third. Ben would take a commanding victory with Matt following him home in second. There was a race long battle for third between Mick and fourth place qualifier Tim Wood with Mick eventually winning out to claim the final podium place.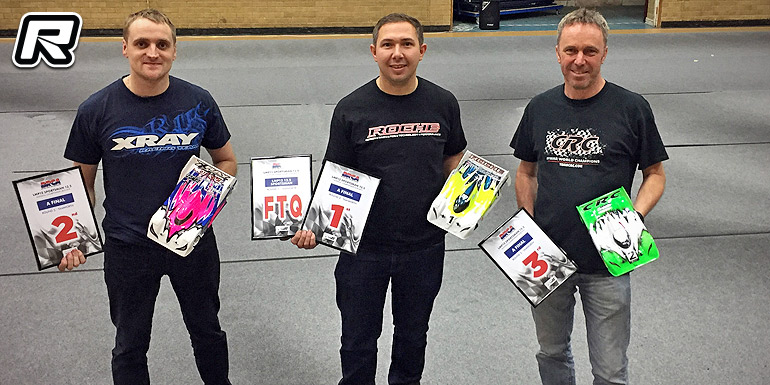 Sports Modified results:
1. Ben Vincent – Roche
2. Matt Lax – Xray
3. Mick Farrell – CRC
4. Tim Wood – Roche
5. Neil Diver – Destiny
6. Niall Cochran – CRC
7. Gavin Clinch – Destiny
8. James Hart – Schumacher
9. Andrew Edwards – Team Associated
10.Matt Rice – Team Associated
The next round of the championship takes place at Frodsham in January.
Source: BRCA [brca.org]
---