December 14, 2018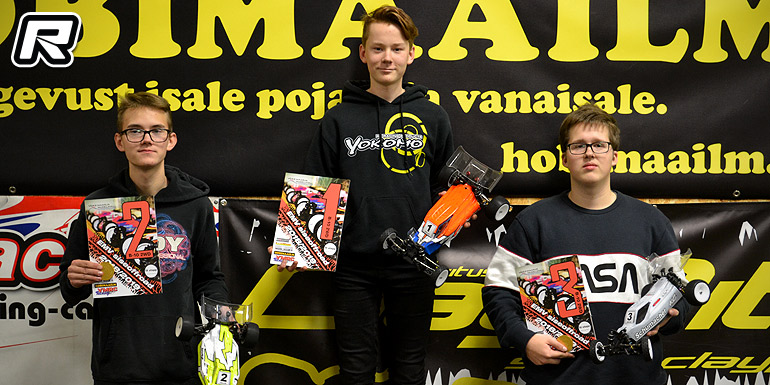 The Väike-Maarja indoor off-road center in Estonia hosted the third leg of the National 1/10th Buggy Championship last weekend. As this is the only indoor off-road track in Estonia, the whole series is run at this facility with the results of the Baltic Championship race, hosted on the weekend of the 24th of February in Adavere, Estonia, also counting toward the overall championship. As for the racing, the premier 2WD class attracted 50 entries with the TQ being secured by local superstar Karl Kasekamp, followed by Hendrik Lainemäe and Hans Hannus.
Karl also managed to secure the win in A1, with the next spots being hard fought for. Hendrik would come in 2nd in front of Rainer Ressar, who managed to pass Hans for the 3rd spot. A2 was probably the most interesting race of the season so far. TQ holder Karl made a mistake in first corner, witch actually dropped him to the last spot, and just after that Henrik crashed as well. This left the door open for Hans and Rainer who started to push hard and fled from the others. Karl and Hendrik started to recover, however the intense fight between them meant they had a hard time passing the other drivers. Ultimately it was Hans Hannus with the win while Rainer came in 2nd. A3 then was copy of the opening final, where Karl and Hendrik didn't make any mistakes and Rainer managed to pass Hans.
2WD final results:
1. Karl Kasekamp – Schumacher/ORCA/ORCA
2. Hendrik Lainemäe – Xray/Hobbywing/Hobbywing
3. Hans Hannus – Schumacher/Nosram/Nosram
4. Rainer Ressar – Xray/Hobbywing/Hobbywing
5. Marcus-Mattias Vaher – Team Associated/Reedy/Reedy
6. Arco Aria – Yokomo/Hobbywing/Hobybwing
7. Risto Haug – Xray/Hobbywing/Hobybwing
8. Bruno Vaher – Team Associated/Reedy/Reedy
In the 4WD Buggy, that attracted 21 drivers, Hendrik Lainemäe was kind of owning this class. Behind him there was an intense fight between Kristjanis Rolis from Latvia, Kuldar Ilus, Reimo Kosk and Jüri Ressar. The finals were dominated by Hendrik Lainemäe. Behind him it was Kristjanis on the runner-up spot while Kuldar and Reimo fought for the final podium spot. Although Reimo managed to pass Kuldar in one of finals, the overall 3rd place went still for Kuldar.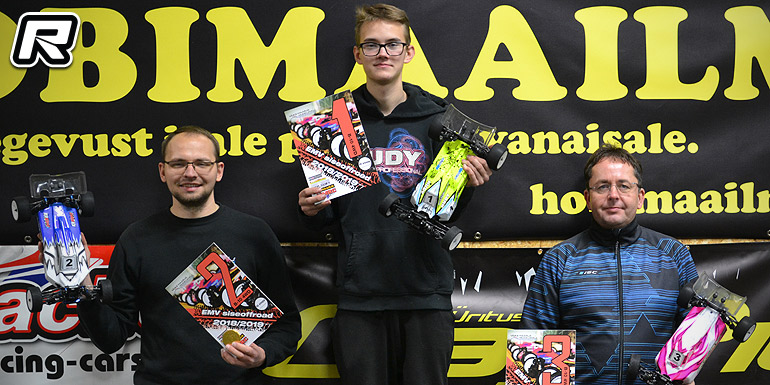 4WD final results:
1. Hendrik Lainemäe – Xray/Hobbywing/Hobbywing
2. Krisjanis Rolis – Team Associated/Hobbywing/Hobbywing
3. Kuldar Ilus – Xray/ORCA/ORCA
4. Reimo Kosk – Team Associated/LRP/LRP
5. Jüri Ressar – Xray/Hobbywing/Hobybwing
6. Evalds Butans – Xray/ORCA/ORCA
Source: Väike-Maarja Mudelihall [vmrc.ee] | Images: Vahur Kivaste
---