December 25, 2018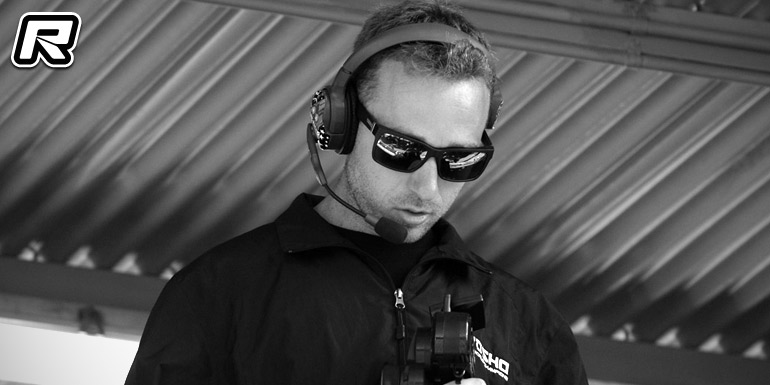 After fulfilling a second five-year stint with Kyosho as an International Team driver, Jared Tebo after ten years, will be retiring from the Kyosho Team. Jared got his start in 1:8 nitro off-road racing with Kyosho back in 2004, taking victories in most of the major events during that season. He moved to another brand for a few years, and then came back to Kyosho in 2009, just in time for the release of the MP9 on the nitro side, and during the reign of the RB5 and ZX5 electric buggies in the 1:10-scale categories, and the RT and SC trucks. Over the past ten years Jared amassed eight ROAR National Championships in the electric categories along with a total of 26 podium finishes. In IFMAR competition, Jared notched a World Championship title for the Ultima RB6, a podium finish behind the win of Cody King in Thailand in 2010, and total of five podiums in IFMAR competition. His former team states:
Kyosho staff would like to thank Jared for representing its products for the last ten years, and for being such a dedicated ambassador for Kyosho and for the sport in general. We wish him the best in whatever endeavors his future will bring, and thank him for his unwavering dedication for a decade.
This post has a lot of mixed emotions, as I will not be re-signing with Kyosho for 2019. We had an AMAZING ERA together … 10 consecutive years … two 5 year contracts, 12.5 years in total, and I'm very proud of our time together. We had great success together on the race track, with 1 World Championship, 4 World Championship TQ's, 6 World Championship Podiums, 8 National Championships, and many other wins. The working relationship is ending, but the friendships and memories are not coming to an end. I want to thank Aki Suzuki, for believing in me and giving me such a great opportunity, you are forever part of our family! You were there for Megan and I in one of our most challenging times, and your support and love is not forgotten! Mitsuo Yoshimaru, you are a great man for Kyosho and such a hard worker, always making sure I was taken care of. Yoshiyuki Chikuba, I was very honored to win a World Championship with your car, that was a special moment for us both! Mick Cradock, thanks for all the help at Neo, and to your great family, I will miss pitting with you all. Zack Rogers, thanks for being a great friend, you made me believe in myself again and helped me fall back in love with RC. I'm sad we only got to travel the world together for 1 year, but it's a year I'll never forget Yuichi Kanai, thank you for all the support and a great platform to race with. Kohta Akimoto, Futoshi Ishihara, Kenji Takashima and all other Kyosho staff and Team Drivers, THANK YOU! We are ending on good terms, and the reason is not important. My family and I are VERY thankful for our time together, and we wish Kyosho, and all the people named above the best. I look forward to seeing you all again!
Source: Kyosho [kyoshoamerica.com]
---