December 12, 2018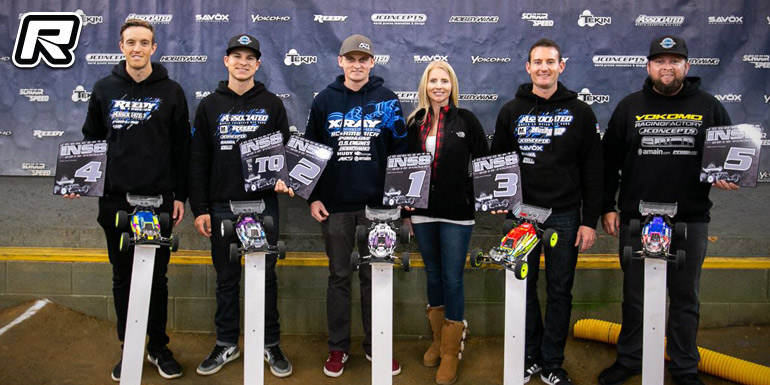 This year's JConcepts Indoor National Series' final round was hosted by Beach RC and Hobbies located in Myrtle Beach, South Carolina. With the race being in December, this summer hotspot was cool as a cucumber, but nonetheless, a great opportunity to visit one of the best indoor tracks on the east coast. With the Winter, Spring, Summer, and Fall editions of the INS8 already accounted for, this was the last chance racers had to improve their results for a chance at the highly coveted overall class championships. Uniquely known for its square track dimensions, Beach RC has quickly become a racer's favorite and some are even calling it a 'bucket list' track. One of the beauties about Beach RC is the awesome clay dirt that provides a ton of grip with very little dust. The direct result is a killer driving experience for all drivers from beginner to expert. When the track was green, you broke out the treads and when the track started drying throughout the weekend, you ran ghost pins or slicks. It was pretty easy.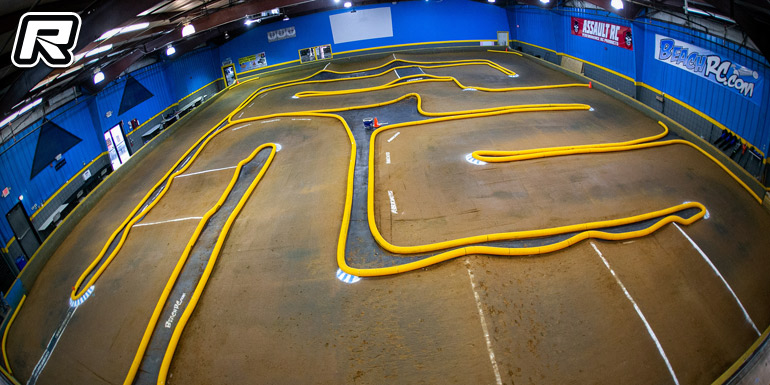 This year's layout provided a great amount of challenge and required maximum braking technique mixed with precision timing to deliver the hot laps. Getting the car setup and tire choices right was the main ingredients to dropping lap times when it mattered. For those who haven't been to Beach RC, the unusual shape of the track is what many notice upon first glance but after a few laps, you naturally feel at home with the shape. What's nice about the square layout is that you're not burning up a lot of track for a straightaway and it does give you more room to get creative on the infield. This year's back double coming off the straight was a lot of fun. Upon a perfect downside, you boost full speed into the next corner. The off-camber chicanes were the hardest part of the track and definitely caused a lot of havoc amongst the drivers, but nail this section and you're rewarded with many tenths. Overall the layout was a lot of fun and provided enough challenge that wasn't too much. Yes, there are a lot of 180's on the track but each 180 felt different with either a downslope, embankment, or mid-corner bump.
In the premier class of 2WD Modified, Xray's Ty Tessmann had a slow start to the weekend as he was only able to qualify 5th on the grid, but during the main, Ty found another gear to work his way up and finished 2nd in A2 and won A3 to seal the up the overall by tie-breaker. Team Associated's Spencer Rivkin tied in points with a 1st in A2 and a two 2nds, but finished 2nd overall. Team Associated's Ryan Cavalieri was classic Cav, but was unable to back up his win in A1 with another and ultimately finished 3rd overall. AE's Dustin Evans took home 4th with Yokomo's Ryan Maifield 5th rounding out a World Class top 5.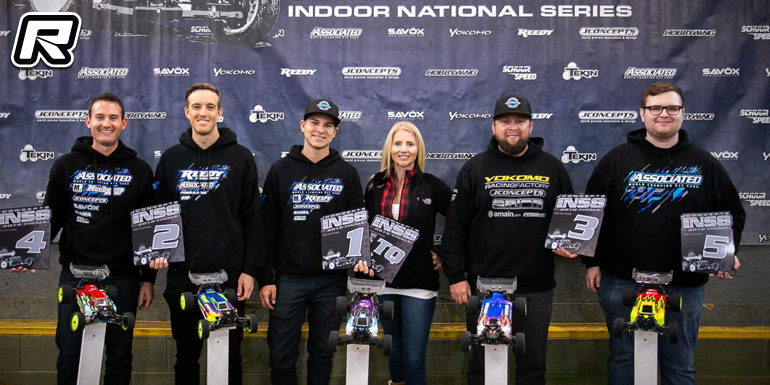 Not to be denied the win in 4WD, Team Associated's star Spencer Rivkin, was nearly flawless in the triple A-Mains of 4WD. With determination and grit, the 2015 World Champion turned it on to get the win in A2 and finished 2nd in A3. Dustin Evans put in a late charge with a crucial win in A2 that gave him 2nd overall and Yokomo's Ryan Maifield finished in 3rd. Ryan Cavalieri took a 1st in A1 and a 5th in A3 and finished 4th with AE's Alex Kosciuszek completing the fast 5.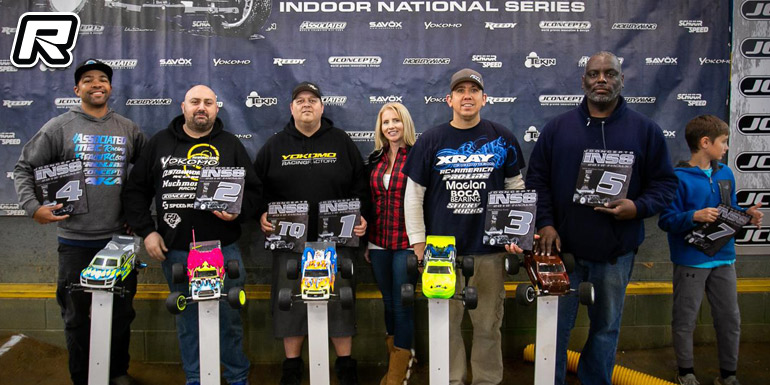 Yokomo's Max Flurer took his new YZ2T and put on the top step of the podium in the Modified Truck class along with fellow Yokomo teammate, Rob Meyer Jr., who finished 2nd and Xray's Kevin Thomas 3rd. Also congrats to Enis Graves on his 4th place finish and to Brian Robinson on making the top 5.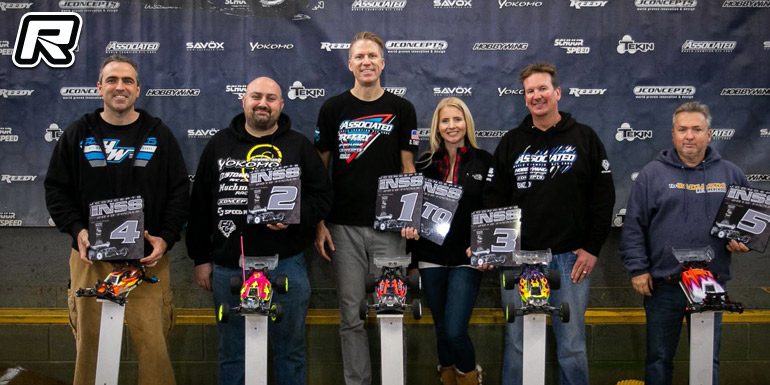 The 40+ 2WD Open class was handled by the King of 40+, Team Associated's Brent Thielke. With a strong performance all throughout qualifying and during the 8-minute single A-main, BT took a convincing win with Yokomo's Rob Meyer Jr. finishing 2nd. AE's Frank Deiny ultimately finished 3rd with Chris Cristo 4th and Monty Reeder 5th overall.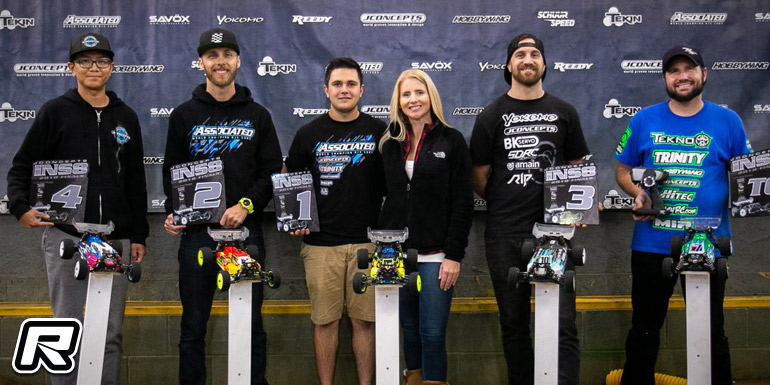 The largest class of the weekend was the 13.5 4WD class and unfortunately for class TQ, Patrick Rossiter Jr., an early mistake saw the lead shift over to AE's AJ Marasco and from there, AJ and 3rd place qualifier Ryan Harris pulled away from the field where they eventually finished the race accordingly. Yokomo's Chad Eubanks put in a clutch run to grab himself 3rd with Yokomo's Thomas Tran in 4th and Tekno's Patrick Rossiter Jr. in 5th.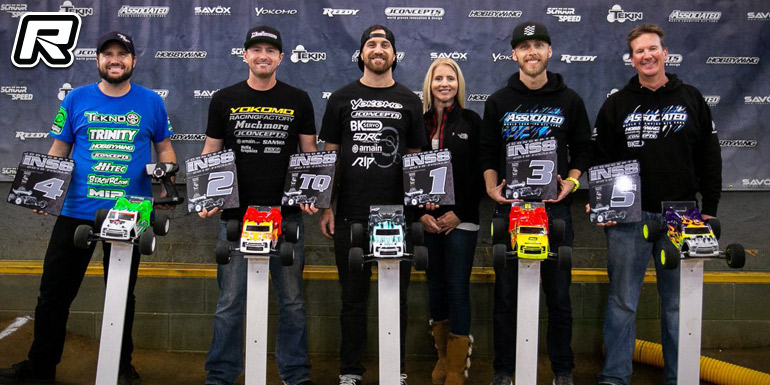 It was a back and forth battle in the 13.5 Stadium Truck class as Yokomo's Joe Pillars led the field from the tone. As the competition started contesting for the lead, Pillars and Tekno's Patrick Rossiter Jr. touched wheels causing Patrick to crash. Showing sportsmanship and class, Pillars waited for Patrick to get going again to resume their battle. Unfortunately for the tangled two, Yokomo's Chad Eubanks snuck passed and took over the lead. Driving a flawless closing few minutes, Eubanks crossed the line in 1st with Pillars 2nd and AE's Ryan Harris 3rd. Also finishing in the top 5 was Patrick Rossiter 4th and AE's Frank Deiny 5th.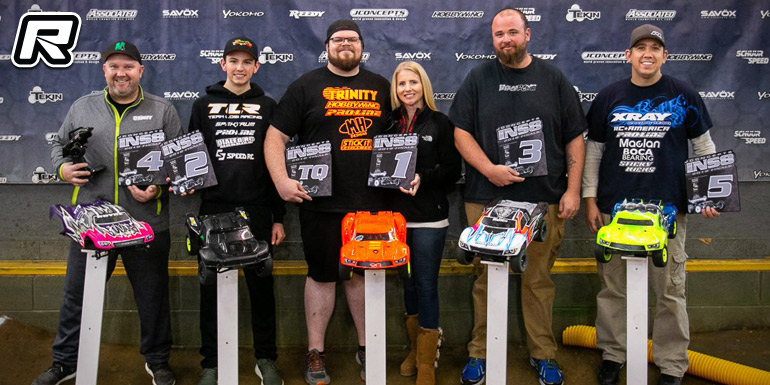 Justin Sherman was the man of the weekend in the 13.5 SCT class as Justin set the TQ along with a dominating performance in the single 8 minute A-Main to grab a terrific win. Brett Suggs took his all-black SCT to 2nd with Joe Canibano 3rd wrapping up the top 3. Also congrats to Craig Royce and Kevin Thomas, who finished 4th and 5th.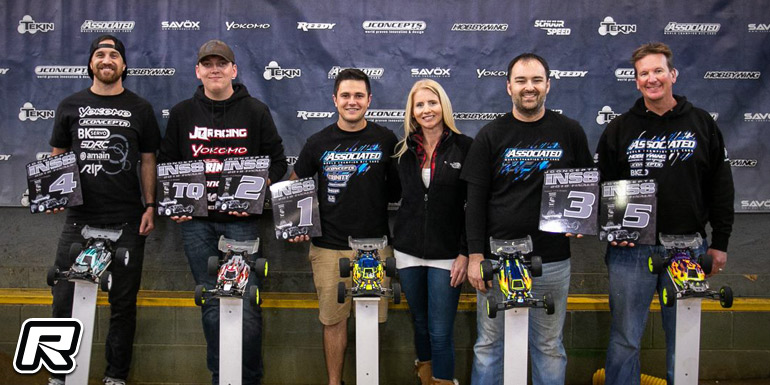 Each year the 17.5 2WD Exert Stock class gets harder and harder to win. Making it look easy in the main, AE's AJ Marasco took a comfortable lead after a mistake by class TQ, Yokomo's Ryan Millington. Once AJ got to the front, he controlled the pace and minimized mistakes and took a well-deserved win by nearly 5 seconds. Millington kept his cool and brought home 2nd with AE's Hal Martin wrapping up 3rd. Yokomo's Chad Eubanks closed out the 4th position with AE's Frank Deiny 5th overall.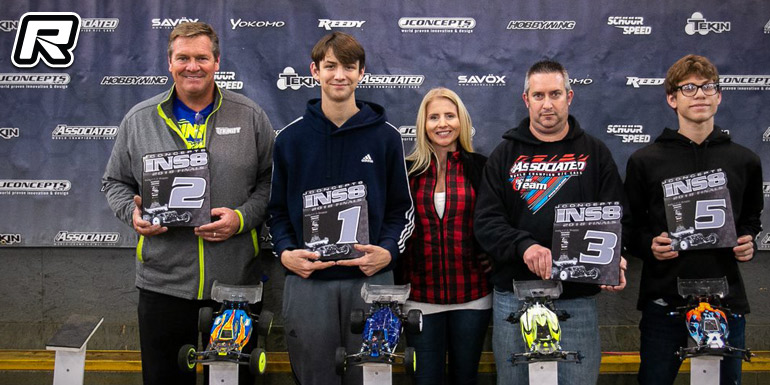 Perhaps the most enthusiastic drivers at the event were the Independent 17.5 2WD class as these drivers have zero sponsors and ran spec tires that were sold at a cheaper price giving everyone in the class a cost-effective, equal racing platform. Taking the win with incredible driving in the last half of the race was 3 place qualifier, Brian Orme. Runner-up was 2nd place qualifier, Tom Sherman and moving up one spot from his qualifying position was Brad Powell in 3rd. Phil Craver placed 4th and Florida's Zachary Schmidt 5th.
Source: JConcepts [jconcepts.net]
---