December 27, 2018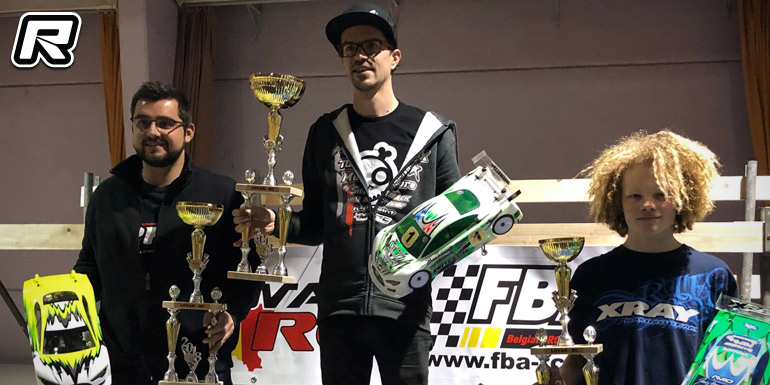 The second round of the Lovan Winter Series was held over the weekend just before Christmas. The club did the utmost to make a flowing but technical track on the 35x18m surface they had available. The race attracted a massive 104 entries and had the honour of being the biggest electric RC car race of 2018 in Belgium. The quality of the field was also quite high, with no less than seven national champions, four multiple national champions, three ETS/EOS A-main finalists and three European champions. Five classes were run, separated between Formula, 1/12 GT and LMP, and touring Stock and Modified. Touring Stock was the biggest class with 58 drivers, probably thanks to the liberal rules, which allowed every 13.5 motor, blinky speed controller and rubber tyres with a hardness of at least 26 shore. The race format was the same as for round 1, three free practice rounds without reseeding, four qualifiers of which the fastest one would count to determine the grid and triple finals for everyone.
Despite having a 30m long straight, the Modified cars couldn't completely exploit their full performance. Most drivers had problems putting the power down, so they looked for the best possible tyre/additive combination. French ace and ETS frontrunner Lucas Urbain clearly was the star of the event, and he dominated the practice and qualifying rounds as well as the finals. Lucas' Awesomatix looked to be on rails despite the quite difficult track conditions for Modified racing. His fellow French driver and former European Stock champion Rémi Callens but his Awesomatix on P2, but he struggled a bit more than Lucas. The Belgian youngsters Florian Joos (Xray) and Athan De Witte (Yokomo) claimed P3 and P4 in front of 2016 1/8th European Champion Robin D'hondt, the likeable Belgian driver giving his new Capricorn touring car his first outing. Robin got faster and faster throughout the event and he was helped by Belgian action sports celebrity Wesley Belaey, who also is an avid RC car racer.
Lucas Urbain dominated the finals and won the event with his Awesomatix. Despite setting similar fastest lap times, Rémi Callens lacked the consistency to challenge Lucas for the victory. Florian Joos struggled with understeer on his Volante-shod Xray and was able to challenge Rémi briefly for P2 in A3. Unfortunately a loose servo meant he had to settle for P3 in that final. Robin D'hondt clearly managed to improve his new car during the finals and took a fine P4 in front of 2017 Dutch Modified champion Sidney Blokker. The overall ranking was Lucas Urbain (Awesomatix), Rémi Callens (Awesomatix), Florian Joos (Xray), Robin D'hondt (Capricorn) and Sidney Blokker (ARC).
In Stock Touring everyone expected Olivier Bultynck to dominate this class with his Awesomatix. The biggest surprise came however in Q2, when Olli had to withdraw due to a coming together with a backmarker and Florian Joos took his Xray to the provisional pole. Olli settled his score however, and claimed the TQ by winning A3 and A4 from Florian, both being the only drivers to record 23 laps. Former French 200mm Nitro national champion Basile Concialdi took P3 in front of 2018 Belgian Stock champion Giovanni Moguez and Dutch 1/18 champion and ENS podium finisher John Ermen. His fellow Dutch driver Wesley Van Helmond took a fine 6th place during his first ever touring car race. Wesley races offroad and is a regular EOS A-main finisher.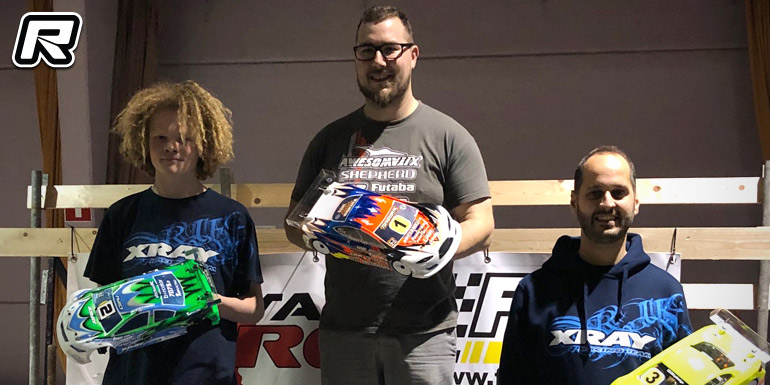 Without much drama, Olli took a convincing A1 win and was the only driver to manage 24 laps. In A2, Florian had a much improved car and could follow Olivier more closely. When Olivier started to control the race, the youngster started to push in an effort to reel in on Olli. Unfortunately he hit the kerb coming onto the main straight and had to let his fellow Xray driver Basile Concialdi let by. During the next 11 laps, Florian caught Basile and put him under a lot of pressure. Being a nitro driver and used to hour long finals, Basile kept his cool and claimed an great P2, just 0.1 tenths in front of Florian. Giovanni Moguez (Xray) found himself in a Dutch sandwich between John Ermen and Wesley Van Helmond. Having to drive defensively to keep his P5 position, Giovanni couldn't attack John who claimed P4 in A2. With the overall win already decided, Olivier opted to sit out A3. In order to claim the overall P2, Florian had to finish in front of Basile and he drove a cautious race to do that. Unfortunately Basile made an error on lap 2 and dropped down to P6. After some great passings, he was able to climb back to P2, which earned him the final podium spot. Giovanni Moguez finished in P3, in front of Wesley van Helmond and 2017 Belgian stock champion Rico Claeys (Xray). The overall ranking was Olivier Bultynck (Awesomatix), Florian Joos (Xray), Basile Concialdi (Xray), Giovanni Moguez (Xray) and John Ermen (ARC). The top 2 driver used Volante 28R tyres, Basile Team Powers 26R, Giovanni Sorex 28 and John Contact tyres with all the cars looking to have similar grip levels.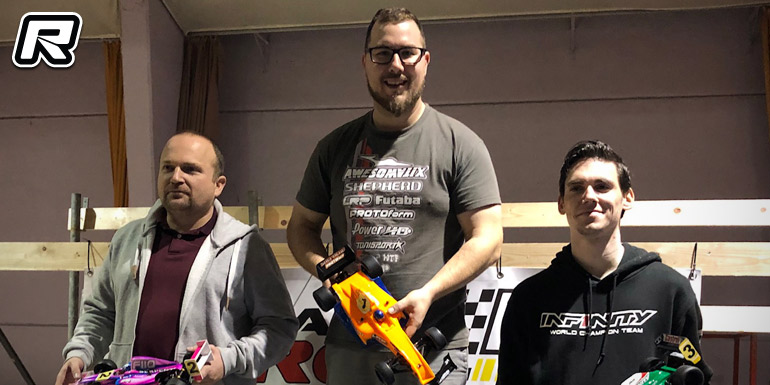 The Formula class qualifying was all about Shepherd's Olivier Bultynck as he was fastest in all four rounds. French national champion Willy Voisangrin put his Serpent in 2nd in front of Dutch ace Jitse Miedama (Infinity). Despite mechanical gremlins in his three other qualifiers, young Belgian driver Liam Van de Wouwer put his Xray 4th on the grid, only four seconds adrift from Jitse. French driver Thomas Blondeau put his Xray 5th on the grid. No one was able to challenge Oliver for the overall win, and he dully won his three finals and smashed the track record in his 3rd final. Willy Voisangrin took a likewise unchallenged P2 in front of Jitse, Thomas Blondeau and Kris Vanbleu (Xray).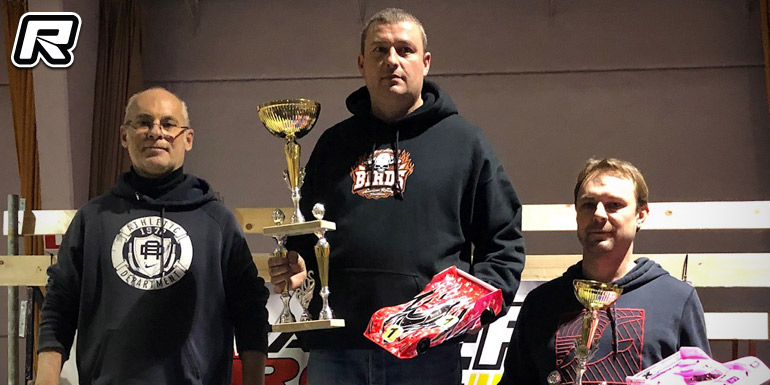 1/12 LMP would be dominated by the French drivers as Olivier Pierrat and Éric Sautereau fought hard for the TQ. In round 4, Olivier prevailed and put his car on pole in front of Eric. Laurent Despierres claimed P4 in front of young Belgian driver Ian Bekaert and Gregory Tassencourt. Despite taking a convincing win in A1, Olivier had to settle for 3rd in A2, postponing the decision for the overall winner to A3. Eric Sautereau couldn't repeat his A2 win and had to settle for the runner up spot in the event. The overall positions were Olivier Pierrat, Éric Sautereau, Laurent Despierres, Ian Bekaert and Grégory Tassencourt.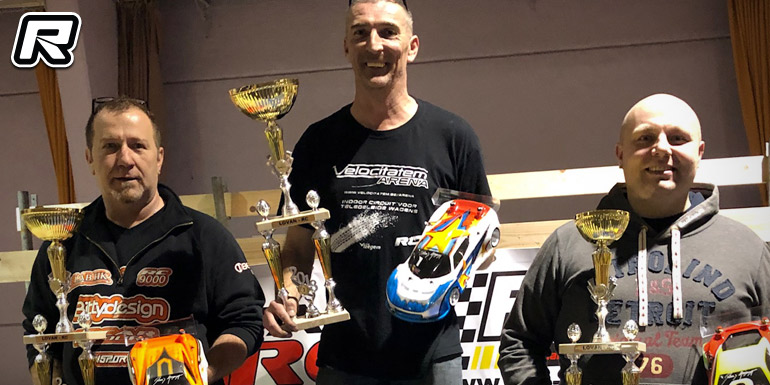 1/12 GT was initially a fun class, but the agile and good looking cars quickly became the favourite weapon of many drivers. The cars are powered by the 13.5 motors also used in Touring Stock or 1/12 LMP. After qualifying it was French driver Olivier Cornard who took the TQ in front of Belgian driver Peter Roeygens. Lorenzo Desloovere, Kenny Vanden briele and Cédric Verhulst rounded off the top 5. Everyone expected Olivier to dominate the finals, but when he made an error in the middle of A1, Peter Roeygens took the lead. Despite numerous attempts by Olivier, Peter kept the lead and took the flag in P1. Determined to end the event as the winner, Olivier convincingly won A2 and A3 in front of Peter. The final ranking was Olivier Cornard, Peter Roeygens, Lorenzo Desloovere, Cédric Verhulst and Kenny Vanden briele.
Round 3 of the series will be held on march 2nd and 3rd.
Thanks to the LWS Orga Team for the report.
---