December 3, 2018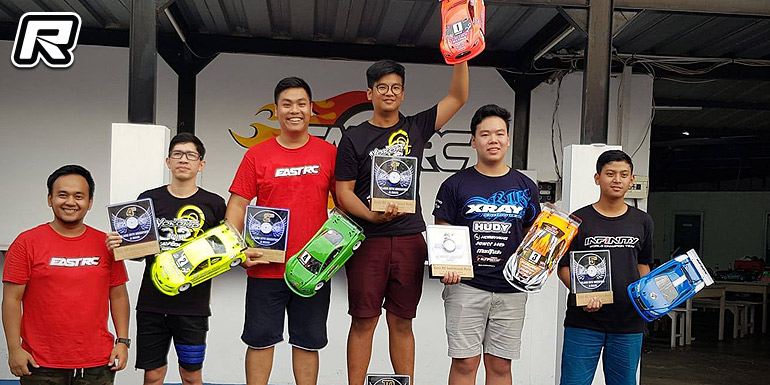 The 2018 EastRC Invitational was held at the EastRC Speedway in Jakarta, Indonesia this past weekend. The race attracted regional racers as well as guests from Thailand, Singapore and any other cities of Indonesia. The 2-day race saw five qualifying rounds and triple finals and it was run in the four classes of Touring Car, Front Wheel Drive, M-Chassis and Dancing Rider and in the premier Touring class it was Meen Vejrak with the TQ and new track record after the five hard-fought qualifiers in which Charlee Phutiyotin, Dominic Quek and Bowie Ginting all scored round TQs. The opening A-main then was a really close and tight one as the top 4 went away from the field to fight for the lead. In the end Meen, Charlee and Bowie finished within less than a second of each other. A2 almost delivered the same story before Charlee and Dominic made contact, which let Meen and Bowie fight for the lead. Meen finally secured the overall win after winning A2, 0.4 seconds ahead of Bowie and five seconds clear of Surikarn who recovered from 7th. With Meen sitting out A3, it would be the decisive round for the remaining podium spots. Dominic passed Charlee to spread some gap while Izzah made a full use of his new tyres to pass Bowie for 2nd place.
ISTC Modified final results:
1. Meen Vejrak – Yokomo/Scorpion
2. Bowie Ginting – Yokomo/Hobbywing
3. Dominic Quek – Xray/Hobbywing
4. Charlee Phutiyotin – Yokomo/Scorpion
5. Muhammad Izzah – Xray/Hobbywing
6. Surikarn Chaidajsuriya – Destiny/Muchmore
7. Christian Mamesah – Serpent/Hobbywing
8. Peter Anthonijsz – Awesomatix/Hobbywing
9. Ridhwan Suteja – Xray/Hobbywing
10.Arya Seta – Xray/Hobbywing
Thanks to Bowie Ginting for the report.
---