December 5, 2018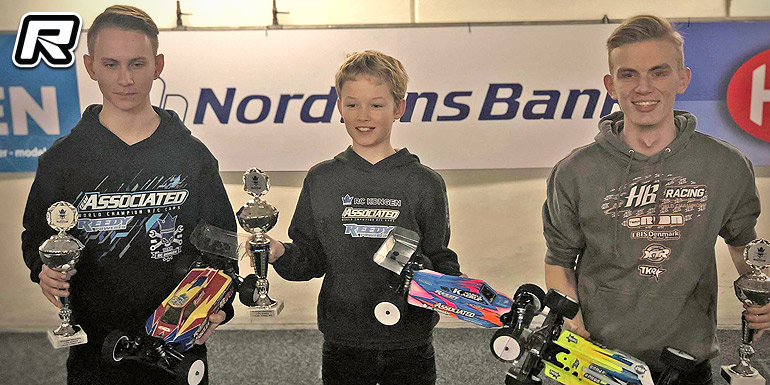 The third round of the RC Kongen Winterseries was held at the RC Kongen indoor track in Sonderso, Denmark recently. The popular event is constantly growing with the third round having attracted 50 entries for the four classes of 2WD Mod Buggy, 4WD Mod Buggy, 13.5T Stock Buggy and Mod Racing Truck. The race was held at RC Kongen's EOS carpet track and the layout offered a good mix of open and tight corners along with a wall of death and some nice jumps. With drives from all over the country, as well as a handful of pilots from Germany, 4WD Mod Buggy is the biggest class. Marcus Kaerup is one of the best 4WD drivers in Denmark, despite his young age and his main competitor would be Pelle Culmsee. He is one of Europe's best 1/8th scale nitro racers and is currently under contract with Hot Bodies Racing. Those two had a race of their own in qualifying. Marcus won two rounds and would start from pole, after setting a new fastest lap of 15.1s, and he also was the first ever to score 20 laps in 5 minutes. Quite a few Germans also made their entry, most of them competing in the 4WD class. They were very fast, and the best of them was Melina Ratzlaff, a 17-year-old girl. She almost made the A-main with her well-prepared Xray.
The A-mains were very exciting. Marcus won A1 with his Team Associated buggy in front of Pelle. For A2 Marcus forgot to change batteries, handing the lead to Pelle. Unfortunately, Pelle also had a problem, and pulled over minutes later, handing Mathias Douglas the win in A2. That meant the final A3 would be the decisive. Marcus drove faultlessly and took the win well out in front, with Pelle in 2nd and Mathias in 3rd. When the dust had settled it was Marcus with the overall from Mathias 2nd and Pelle 3rd.
The premier 2WD Buggy class offered some stiff competition with national starts such as Jesper Rasmussen, Pelle Culmsee, Marcus Kaerup, Frederik Hovgaard and Jonas Kaerup. Being heavily chased Jesper still won Q1 and Q2 for the overall TQ meaning he could save tyres in Q3 as the event utilise a single tyre set rule. Q3 was topped by Jonas Kaerup to secure the runner-up spot after the qualifiers in front of his son Marcus, all campaigning Team Associated buggies. Danish 2WD Champ, Frederik Hougaard (Yokomo) also made the main.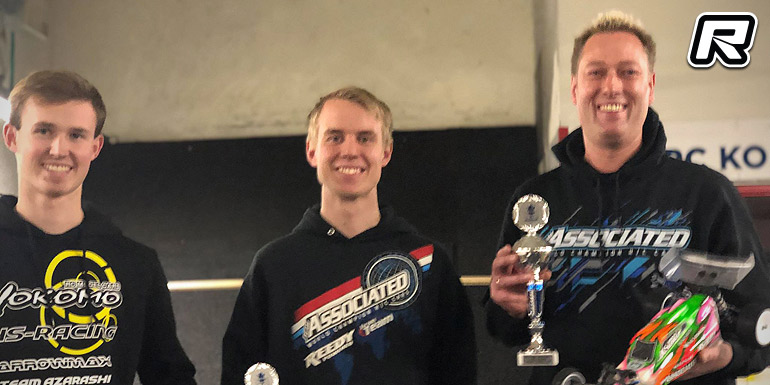 Coming from 4th on the grid, Frederik made his intentions clear, by winning the opening A-main, as Jesper Rasmussen made a huge mistake halfway through the final. In A2 however Jesper took the win while Jonas had another rough final ending up in close fight for 4th with Pelle Culmsee who was very hard to pass, finishing 5th. Marcus came through this time and took 2nd. A3 was the decider, and Jesper took off hotly chased by Jonas Kaerup, and that's how the two of them finished after five minutes of close racing and less than 3/10th of a second between them. Overall it was Jesper from Frederik and Jonas.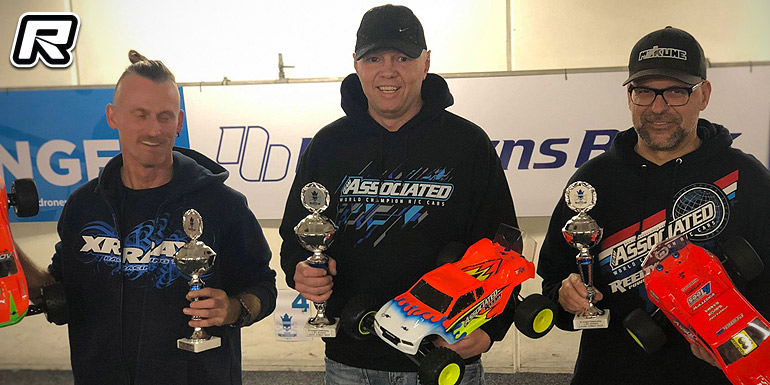 As usual Kim Boelslund was the man to beat in Racing Truck. Racing the class for years he had fine-tuned his driving and setups of his Team Associated trucks. Soren Hempel and Henning Warner, two fast guys from the Copenhagen area, racing for AE and Xray respectively, were hot on Kim's heels. In the opening two qualifiers Kim was clearly the fastest to take the TQ and also the A-mains never got exciting as he took off and never looked back to take the overall from Henning Warner 2nd and Soren Hempel 3rd.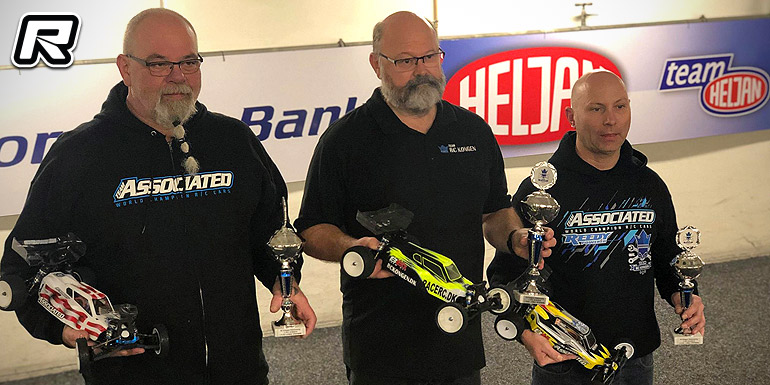 The Stock Sportsman class only allowed a 13.5T Hobbywing motor to make for a level playing field and close racing. Paw Mikkelsen rocking a Team Associated was clearly faster than the rest on a single lap, but needed some consistency. He made a few mistakes, making way for Jens Otto Frederiksen to take the TQ. In the A-mains Jens Otto Frederiksen took a well-deserved win. He was followed by Michael Jørgensen and Jan Douglas. Paw had to settle for 4th, needing fewer mistakes to take advantage of his faster laps.
The next round of the Winterseries will be held on the 16th of December.
Source: RC Kongen [rckongen.dk]
---