December 13, 2018
After traveling to five tracks located across the country, the 8th season of the JConcepts Indoor National Series has come to an end. This year, the competition was at an all-time high with many pro drivers making appearances throughout the series adding fuel to the flame. The energy and intensity at JConcepts INS events are always off the charts as the host tracks go out of their way to provide an awesome racing facility and top-notch race track. The INS is a true nationwide series testing the skills of many over the course of the year taking the best 3 of 5 results to score for the highly contested, series overall champions.
The 2WD Modified Buggy class saw Xray's Ty Tessmann coming out on top, with Team Associated's Spencer Rivkin on the runner-up spot and Yokomo's JP Richard in 3rd.
2WD Modified Buggy overall:
1. Ty Tessmann
2. Spencer Rivkin
3. JP Richards
4. Dustin Evans
5. Alex Kosciuszek
6. Ryan Maifield
7. Max Flurer
8. Brent Thielke
9. Joe Pillars
10.Chad Eubanks
In 4WD Modified Buggy it was Spencer Rivkin (Team Associated) with the overall from Xray's Ty Tessmann 2nd and Team Associated's Dustin Evans 3rd.
4WDModified Buggy overall:
1. Spencer Rivkin
2. Ty Tessmann
3. Dustin Evans
4. Alex Kosciuszek
5. JP Richards
6. Ryan Maifield
7. Max Flurer
8. Joe Pillars
9. Chad Eubanks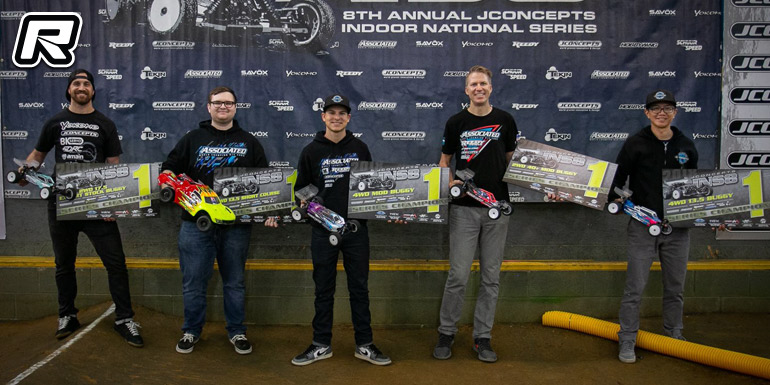 Series overall champions:
17.5 2WD Bugg – Chad Eubanks
13.5 SCT – Alex Kosciuszek
4WD Modified – Spencer Rivkin
40+ Modified – Brent Thielke
13.5 4WD – Thomas Tran
Source: JConcepts [jconcepts.net]
---