January 29, 2019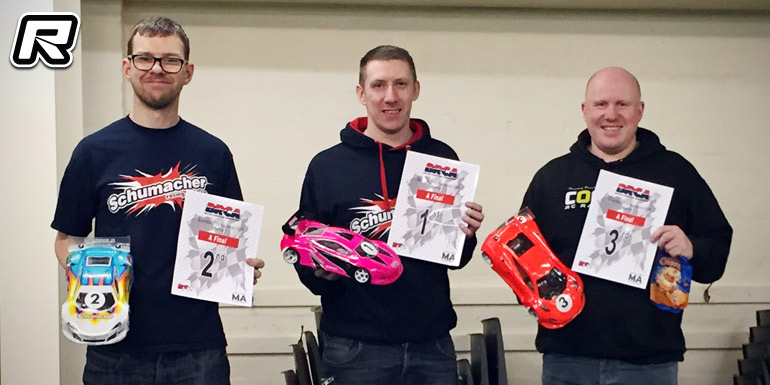 The first round of the 2019 BRCA Scottish GT regionals took place last weekend at Dundee and Angus Radio Control Car Club. This popular series is now in its sixth year of running and this year saw the biggest entry so far with 35 cars on track. The regional series is typically run on smaller club tracks so heats and finals are run with six cars to give the best racing possible. The Dundee club laid a fast and flowing track and with four rounds of qualifying and three finals for all, drivers had plenty of time to show what their cars could do. Qualifying saw a five way battle for the front with previous series winners Andrew Edwards and John Simpson and last year's 3rd and 4th placed drivers, Kenneth Rogers and Graeme Dick being joined by a hard charging Allan O'Brien. All five drivers were split by seconds with Allan eventually winning out and lining up on pole by half a second from John Simpson with Andrew Edward in 3rd.
Allan would take the win in leg one after an early mistake by John Simpson resulted in him hitting the back of Allan's car and requiring marshalling. Andrew Edwards took the lead over half the race but couldn't keep Allan behind and would finish 2nd. In leg two everyone was treated to a spectacular race with John stuck to the back of Allan's car for the full six minutes trying every way possible to make a pass but was unable to complete the manoeuvre giving Allan his second win and the overall meeting. Kenneth Rogers would finish this race 3rd. In the final leg John took the win after a small mistake from Allan opened the gap that he had been looking for. Graeme Dick made a good run from 5th place to finish 3rd. John secured 2nd place overall and Andrew 3rd.
Final results:
1. Allan O'Brien – Schumacher/Surpass/Hobbywing/MonTech
2. John Simpson – Schumacher/Surpass/Hobbywing/Montech
3. Andrew Edwards – Schumacher/Motiv/Hobbywing/MonTech
4. Kenneth Rogers – Schumacher/Surpass/Hobbywing/MonTech
5. Graeme Dick – Schumacher/Surpass/Hobbywing/MonTech
6. Colin Leslie – Schumacher/-/SkyRC/Phat Bodies
There was also a touring car support class which was won by Peter Eagles from James Collins and Keith Eagles. The next round is hosted by Grampian Radio Car Club in three weeks time.
Source: BRCA [brca.org]
---