January 21, 2019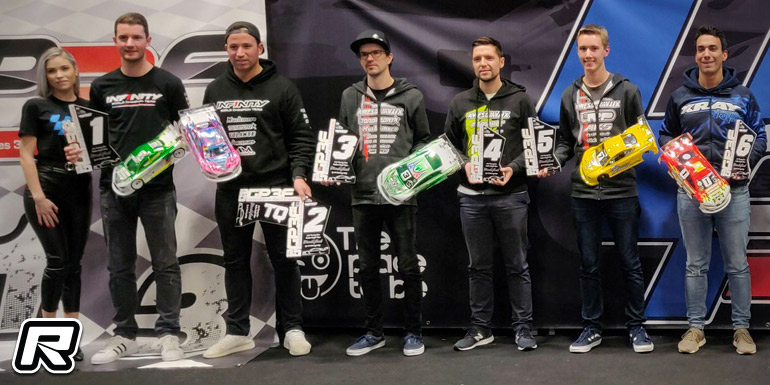 The French MRC Longwy club hosted their annual Grand Prix des 3 Frontières this past weekend. Run in Touring Modified and Stock classes the event attracted many of Europe's fastest electric on-road drivers with Infinity's Marc Rheinard leading the way in TC Mod after the qualifiers from Infinity teammate, Yannic Prümper in 2nd. Awesomatix's Lucas Urbain and Freddy Südhoff came in 3rd and 4th respectively. The finals then saw Yannic coming out on top in A1 and A3 while Marc went on to win A2, cementing his overall runner-up position following nice battles with his teammate. Xray's Bruno Coelho came in 3rd in the opening A-main, however Lucas Urbain would grab the 3 spot overall after the triple A-mains.
Touring Modified final results:
1. Yannic Prümper – Infinity
2. Marc Rheinard – Infinity
3. Lucas Urbain – Awesomatix
4. Loic Yasmin – Awesomatix
5. Thimo Weissbauer – Awesomatix
6. Bruno Coelho – Xray
7. Christopher Krapp – Yokomo
8. Frederik Südhoff – Awesomatix
9. Eric Dankel – Mugen
10.Dionys Stadler – Serpent
Over in the competitive Touring Stock class, attracting 120 entries, it was Awesomatix's Max Mächler with the overall TQ, after winning Q1 and Q3 as Awesomatix drivers Frederik Broløs Mikkelsen and Olivier Bultynck following in 2nd and 3rd, each also winning a qualifying round. The entertaining A-mains saw Max Mächler taking wins in A1 and A3 for the overall as Antoine Brunet came out successful in A2 for the overall runner-up spot from Frederik Broløs Mikkelsen in 3rd.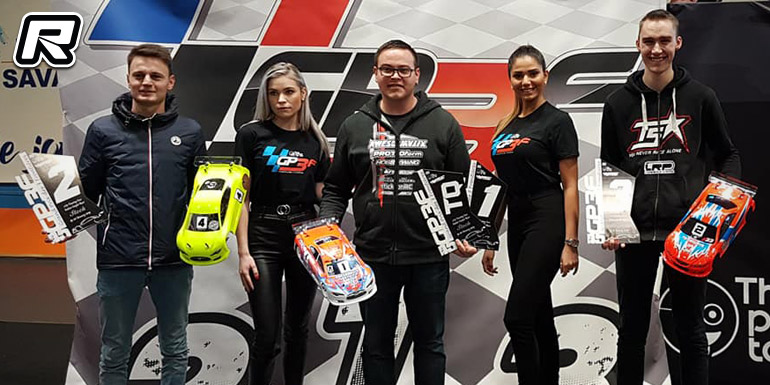 Touring Stock final results:
1. Max Mächler
2. Antoine Brunet
3. Frederik Broløs Mikkelsen
4. Olivier Bultynck
5. Tobias Vogel
6. Alexander Stocker
7. Manuel Wagner
8. Léo Arnold
9. Alex Kunkler
10.Valentin Peuziat
Images: Thimo Weissbauer & Frederik Broløs Mikkelsen
---