January 14, 2019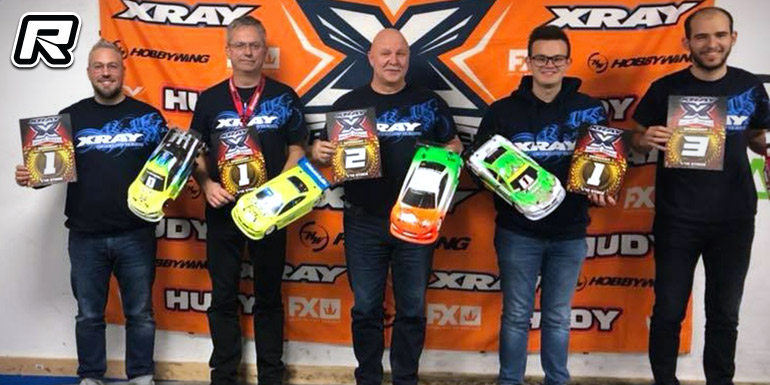 The second round of this Winter's XRS Germany was held at the permanent track of the MCRT-Aschaffenburg club. It was the last time the race took place at this facility since the track is likely to be closed in the first quarter of 2019. As the track is known for its small technical layout it demanded a lot from all drivers to make all clean runs. Classes run were Touring Car Stock, 1/12 GT Pan Car, Touring Car FWD and Formula. Most of the drivers already started off on Saturday with a whole day of free practice. Sunday was race day and at first saw three rounds of qualifying with the best two to count. Jannick Namyslo found a decent starting setup for his car and was able to TQ all three rounds. In FWD Harald Schmittgen, who drove the new Xray prototype, swept the qualifiers, highlighting the performance of both man and machine. In Formula Johannes dominated the field while in 1/12 GT Pan Car Felix was topping the timing sheets followed by Benedikt.
Finals were as thrilling and tight as the qualifying. Even tough drivers stayed fair and no penalties had to be called. In Touring Stock Jannick made a mistake in A1 and traction rolled which resulted in a DNF as his motor plug came off. Jens Haller took this one. In A2, Jannick was able to take the tone-to-tone win without mistakes. In A3, after the start Jens and Jannick pushed away from the field right behind each other. The two had four minutes
of pure fighting, but everything stayed fair.
Touring Stock top 3 results:
1. Jannick Namyslo
2. Jens Haller
3. Andreas Gehrig
FWD saw Harald taking the win in with a really good performance. In A2, Schmittgen had some really intense, but still fair fights. In the end he was able to withstand the enormous pressure set by 2nd place driver Dirk Keller.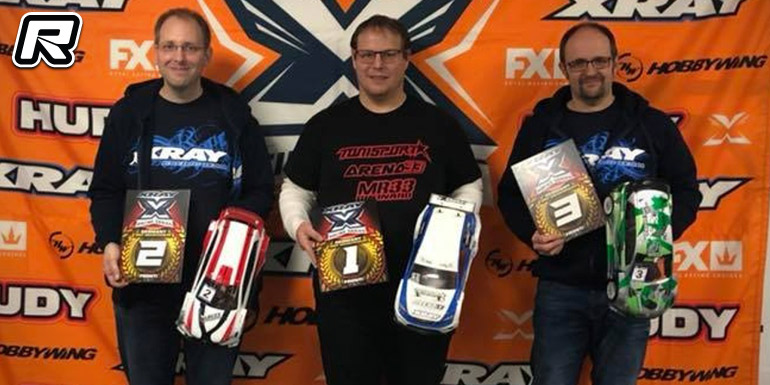 FWD top 3 results:
1. Harald Schmittgen
2. Dirk Keller
3. Andres Hummel
In Formula Johannes Fecher took a tone-to-tone win in A1 and A2 to seal the deal from Daniel and Alexander.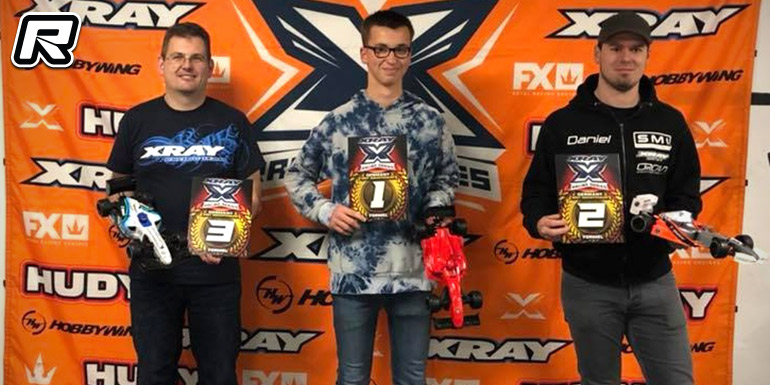 Formula top 3 results:
1. Johannes Fecher
2. Daniel Schober
3. Alexander Olah
1/12 GT saw Felix suffering a bit as he was not able to hold his TQ spot as Benedikt Neubert took the win. In A2, Benedikt was able to repeat his performance of A1 again which made it the third class the winner was decided after A2 already.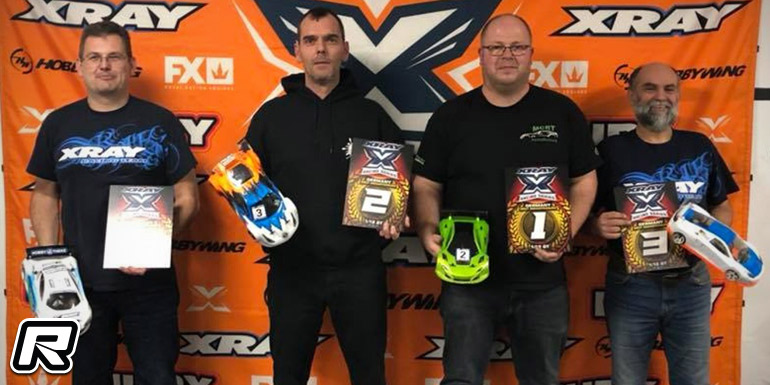 1/12 GT top 3 results:
1. Benedikt Neubert
2. Felix Reichold
3. Haroun Schobner
Source: Xray [teamxray.com]
---