January 22, 2019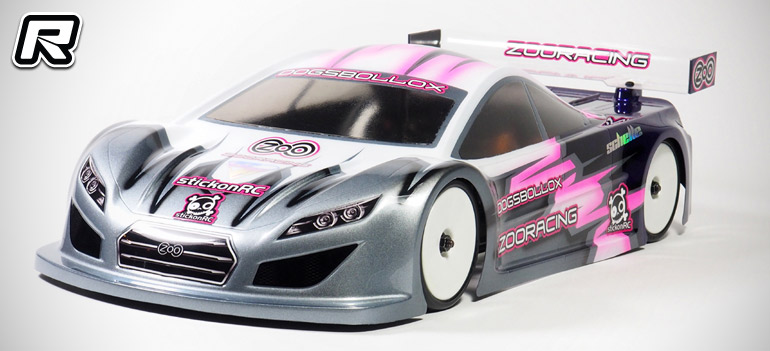 ZooRacing have introduced their latest 190mm touring car body shell called the DogsBollox. Developed as an outright low centre of gravity body the lid features a 6mm lower trunk section – including the rear wing – for greater corning speeds, a more agile handling and less weight distribution changes. In addition to the low rear end the body also offers a super low front end which further adds to the aggressive LCG aero package. When run on high to very high-grip surfaces drivers will experience a lot less traction rolling issues even when using the body in the new 85g ETS weight rule configuration. The body is an evolution of the successful PreoPard and thus offers exceptional overall downforce and stability, making it ideal for the higher speeds of the 13.5T Pro Stock and Modified classes. The shell offers several aero features, such as a recessed roof section for less drag, that channels the airflow towards the rear wing for great rear end stability at both low and high speeds while the forward placed cabin and the specially shaped front end produce more steering compared to the ZooZilla as well as greater rotation in corners for greater corner speeds and a more nimble handling.
The body is outfitted with several trick anti-tuck features such as structured side skirts and a clever rear end design including reinforcement ribs on the trunk lid, all of which add to the overall aerodynamics and looks while greatly preventing body tucks without the need for additional reinforcements. Adding to the whole package is the recessed roof section that not only adds visual impact but also greatly improves overall stability – something that comes in handy especially when running the body in ultra lightweight configuration.
Other hot features include large wheel arches that allow the body to be placed up to 4mm to the front for increased steering reaction or up to 4mm to the back for increased rear stability – making it 8mm in total. All this can be done without having to fear tyre rubs or unsightly cut out wheel wells. The body, designed using the latest CAD techniques also features a 100mm grid for the rear body mounts, ensuring highly precise body placement and mounting.
The EFRA legal body shell comes moulded from high-quality polycarbonate and it is available in two thicknesses: a lightweight 0.5mm variant that will weigh in at around 55g cut and including wing while the standard thickness 0.7mm variant will come out at around 83g cut and including wing – meaning the latter will easily make the new 85g ETS rule. Part of the package are also the revolutionary 2-step window masks that will ensure window frames of Pro quality.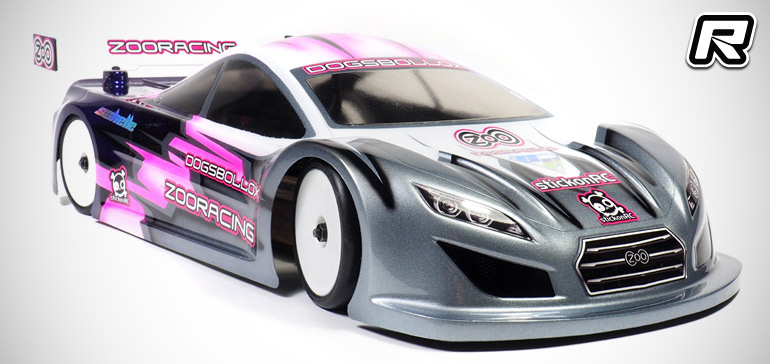 Features:
– CAD designed
– Specialised LCG body shell for technical high to very high-grip tracks. Lots of steering, high overall downforce for increased rotation and faster cornering especially in 13.5T Pro Stock and Modified racing classes and when running in medium to high-grip conditions
– Super-low and steep front end
– Recessed roof to channel the airflow and for greatly improved structural stability thanks to static reinforcement
– Reinforcement ribs on the trunk
– Structured rear end for anti-tuck capabilities
– Large wheel arches allow the body to be placed 4mm front or back (8mm in total)
– Large wheel arches ensure the tyres will not rub in whatever position
– Anti-tuck capabilities with structured side skirts
– Static reinforcement on the hood. Especially useful when running the ultra lightweight variant
– 0.5mm ultralight body weighs in at about 55g cut & including wing
– 0.7mm standard body weighs in at about 83g cut & including wing
– Detailed decal sheet
– 2-step window masks
– Wing mounting hardware
– 100mm grid on the rear truck lid for easy and convenient body mounting
– Designed to meed GBS rules. EFRA approved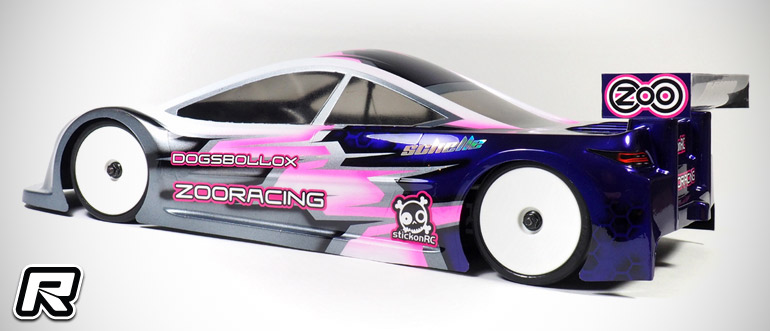 Source: ZooRacing [zoo-racing.com]
---