February 18, 2019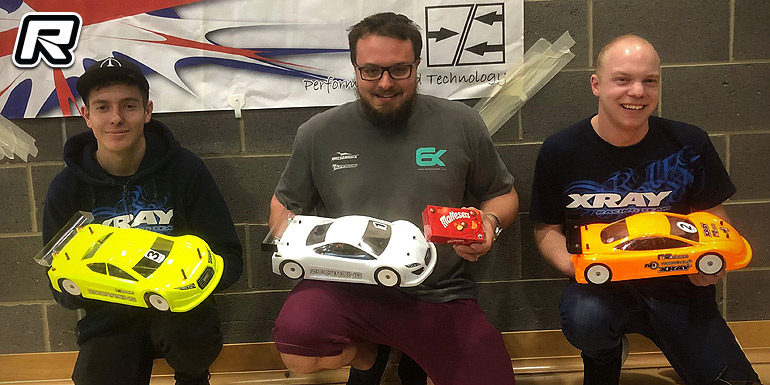 Round five of the Schumacher Winter Series presented by the Louth Radio Control Car Club took place this past weekend. An ever improving number of drivers and record entry would attend this meeting, with 85 drivers taking to the technical layout that the club had laid out, running the four classes of 13.5 Blinky, 17.5 boosted, Gt12 and Tamiya Euro Truck. In 13.5 Blinky the qualifying would be very close for the top spot. Ricky Lee would continue his fine form at Louth by taking the top spot with his Awesomatix. Chris Lovely would follow close behind with his Xray, Andrew Green and Nathan Winyard would leave it late in qualifying to take 3rd and 4th respectively. Mikey Mansell would follow close with his Capricorn, and 17.5 Boosted champion Jason Lovely would show well in the Blinky class in 6th with his Xray, Garry Plant would make up the A-final with his Awesomatix.

In 17.5 Touring and with no champion elect and current champion in the class, the door was left wide open. Stewart McLeod would fill the void and set the pace. Steve Tindall would be a close 2nd, with Brett Gardner showing form in 3rd and young gun Callum Chapman close behind in 4th. Peter Covell, Kevin Bishop, Harvey Greenfield and Warren Frith would make up this A-final.
In Tamiya Euro Truck and with no pace setter or champion elect Mitch Fiddling at the meeting, the door was also left open. Jason Lovely would set the pace for the rest to follow, James Beckett would show form in his second outing in 2nd, Steve Tindall would have to settle for 3rd, with Tom Hardy, Chris Chapman, Phil Campbell and Ed Turrell rounding out the qualifying.
Seven GT12 cars would take to the track to fight out for the bragging rights. A debut for Lewis Williamson would show dividends taking the top spot, Chris Whiteside would just hold of Shane Dye, with Chris Sleaford in touching distance. Steve Dye, Paul Vincent and debutant Ross Smythe followed.
In the 13.5 final Ricky Lee would remain unchallenged for the five minutes, only mistakes of his own would bring the rest into play. Chris Lovely would keep him honest but have a lonely race to 2nd, and the same said for Andrew Green in 3rd continuing with his podium run. Mikey Mansell would hold onto a solid 4th, Jason Lovely would hold off Garry Plant for 5th and 6th, and a mechanical fault would halt Nathan Winyard's challenge.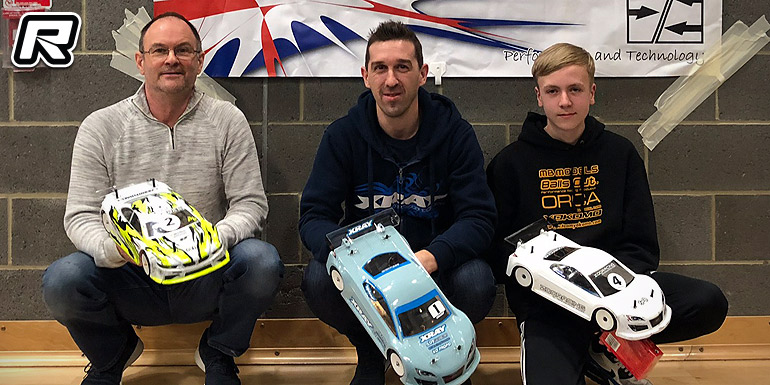 In 17.5 Stewart McLeod would hold his nerve and set off with a blistering pace to put a buffer between himself and the field, and would hold onto this to see a tone to flag victory. Steve Tindall would hold onto 2nd, showing pace and setting the fastest lap along the way. The battle for the final spot was the biggest and closest battle on track. Young gun Callum Chapman would see of the field to bring his car home in 3rd. Peter Covell finished in 4th, with Kevin Bishop, Harvey Greenfield, Brett Gardner and Warren Frith rounding out this final.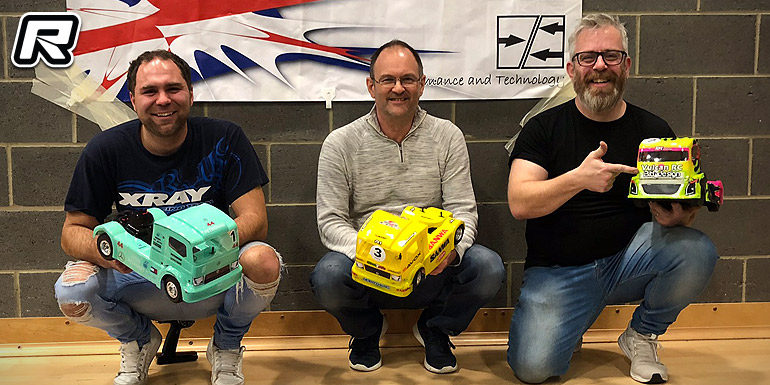 A class so close on Speed, Tamiya Euro Truck was a guess to see who would win. Steve Tindall would come out on top of the seven truck final, keeping it composed and on four wheels. Jason Lovely would have the fastest truck but not find a way past brining home 2nd. The final podium place could of gone anyway, Ed Turrell showed speed and consistency holding his never and brining it home in 3rd from the back of the grid. Phil Campbell, James Beckett, Tom Hardy and Chris Chapman would round of the field.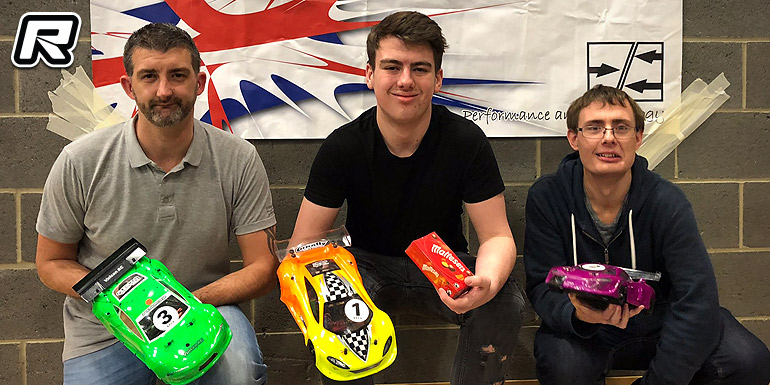 GT12 offered six minutes of hot action on track. Lewis Williamson would gap the field with a fast pace, putting laps on the field to take the flag. Shane Dye would jump up the field to bring home 2nd, with Chris Whiteside moving a spot back, but holding onto the final podium position. Chris Sleaford, Steve Dye, Ross Smythe and Paul Vincent would round out this final and with that the day's racing.
The last round of this championship takes place on March 17th.
Source: Louth Radio Control Car Club [louthrccarclub.co.uk]
---