February 22, 2019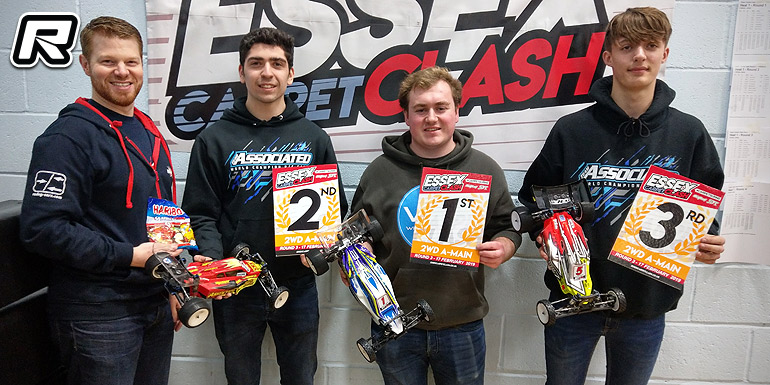 Last weekend saw round three of the ever growing Essex Carpet Clash series take place in the south of England. Having had a successful pervious two rounds, entries were in for another round, with further improvements for the day ahead. Many returning and new drivers for this series turned up in the morning to a fully laid track featuring more and new jumps to test the skill level of any driver. Both 2WD and 4WD classes were run, with the 2WD being the more popular class. In qualifying, it was Ed Kerry and Will Venables taking the 1st round wins, showing their pace and consistence on track. Overall, in 4WD Ed managed to secure the pole position for the A main having topped 3 of the 4 rounds, but he had been chased all day closely but both Mark Lewis and Luke Mills, who lined up behind him in the finals. In 2WD, Will wasn't able to capitalise taking the 1st round, but stayed steady throughout the day placing this buggy 2nd on the grid for the A-main. Topping the 2WD class was Klye Moon who took 3 from the 4 rounds of qualifying, showing that he meant business, giving a glimpse of what pace he had for the finals. Showing that he still has what it takes and lining up 3rd was Ellis Stafford, followed by Ross Nicholson and Joe Howson.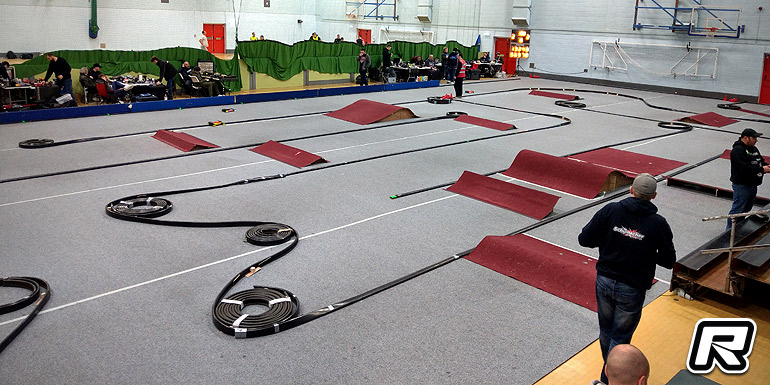 With three leg finals for everyone, each person had the chance of improving their finishing position. In 2WD Kyle showed what pace he and his Willspeed machine had in store for the finals, by taking leg one by an extra lap. Will took a secure 2nd place finish, while Joe and Ross were battling close on track taking 3rd and 4th. Leg 2 would see again, the likes of Klye, Will and Joe break away from the pack, but this time luck went in Joes favour taking the win from Kyle, having missed out on an extra lap battle by half a second, Will finishing in 3rd. 3rd and final leg and everything was still to play for, with a few names all being possible winners. This time the front runners made the break which included Ellis mixing it up with the previous top finishers. But mistakes from all drivers, showing how difficult and technical the track was for all abilities, gave the advantage to Will who went on to take leg 3 and the extra lap. Joe piped Klye to the finish line, while Ellis finished a little behind in 4th. With Kyle, Will and Joe having each taken a 1st, 2nd and 3rd in a leg, it was down to the count back to come into play, which is how the podium finish.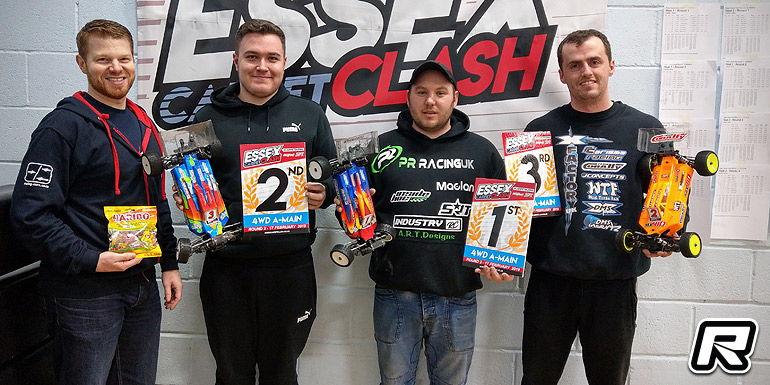 Ed didn't make life easy for himself in leg one of 4WD, with timing and boost problems not delivering the power he needed. However, after the five minutes, Ed managed to hold off both Luke and Mark who all crossed the line within two seconds of each other. The next finals went in Ed's favour having sorted his power issues and had no pressure in taking the win in all three legs. But the battle was down to who would take the other podium positions. Their remaining finals for Mark and Luke, would be a constant battle, with both drivers fighting for position throughout the time. Luke managed to come out ahead in the end, but Mark didn't give up having missed out on gaining that extra position in leg 2 by 4 tenths of a second. When the dust had settled it was Ed Kerry, from 2nd placed Luke Mills and 3rd placed Mark Lewis.
Having now completed half the rounds towards the championship and a total of 137 different drivers completing in this new series, the next few rounds could spice up and change the overall championship placings. Round 4 of the Essex Carpet Clash series is on 10th March.
Source: Essex Carpet Clash [essexcarpetclash.co.uk]
---