February 28, 2019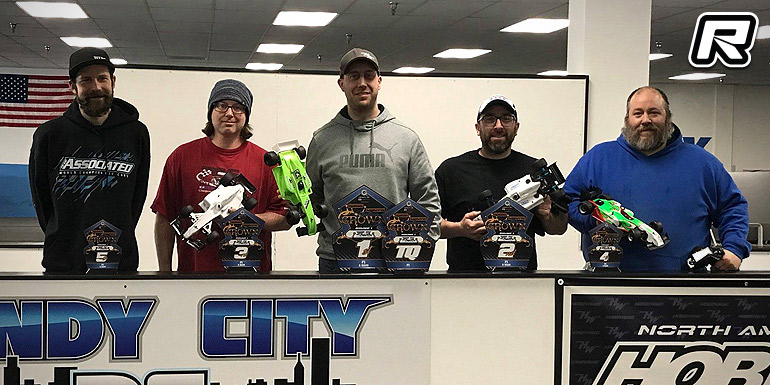 Round 1 of the USVTA Triple Crown was held in Arlington Heights, Illinois at Windy City Raceway last weekend. The track and facility were top notch and the event ran smooth from beginning to end. The focus of the event were the classes governed by the USVTA rules, which included Formula, Vintage Trans Am, and United States Grand Touring. The Formula class saw 13 drivers from around the country, while VTA would see 22 and USGT 19. In qualifying, John Barron III (Xray) coming up from Tennessee would take the TQ in Formula with Rob King and Jimmy Stegen separated by .05 for 2nd and 3rd. VTA would see Clayton Young (Awesomatix) flying in from Maryland to take the TQ, with David Painter and Scott Windser rounding out the top three.  USGT would see local star Chris Sanchez (ARC) taking TQ honors over Clayton Young and Eric Schneeweis sitting 2nd and 3rd.
The triple A-mains in Formula would come down to the final main to award the winner. A1 saw the resurgence of Rob King, as he was able to get by Barron on the first lap. Barron would fight back and get the lead, but ultimately King was able to get back around and take the win. After Barron won A2 in another tight battle it would come down to A3. In A3 Barron drove a clean race and led from wire to wire, not allowing King to pass and taking the overall win. Jimmy Stegen, after a horrible A1 would bring it home 3rd in A2 and A3 to take the 3rd spot with Jesse Wolkenheim 4th and Jeff Hendrix 5th.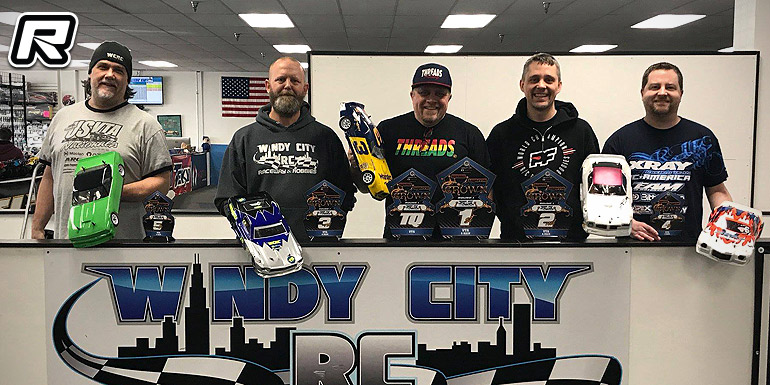 In VTA Clayton Young would take wins in A1 and A2 leaving the rest of the field to fight for the 2nd and 3rd on the podium. Through A1 and A2 both Scott Windsor (Awesomatix) and Chris Bush (Awesomatix) would bring home 2nd place runs and be fighting it out in A3. Windsor was able to hold off the field and take the win in A3 giving him 2nd over Bush. The top five would also see David Painter (Xray) and Dana Dowell in 4th and 5th.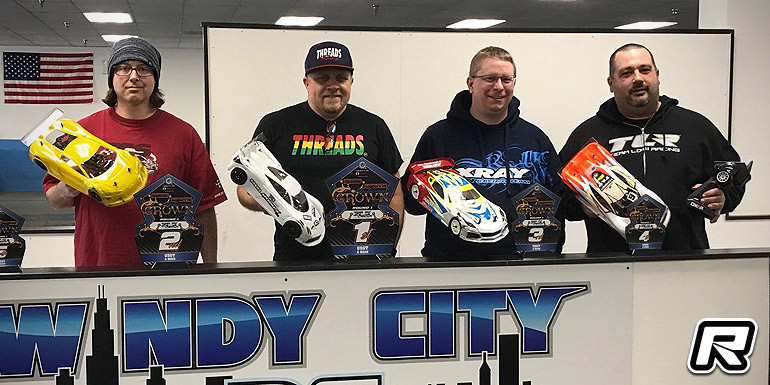 USGT would see a tight battle up front between TQ Sanchez and Young.  Sanchez did not have lady luck shining on him as on track incidents would see him unable to capitalize on his starting position. Young would coast to wins in A1 and A2 again leaving the field to battle it out for the podium. Jimmy Stegen (Awesomatix) and Eric Schneeweis (Xray) would battle back after a rough A1 to finish 2nd and 3rd.  Fourth would be Matt Delguidice (Xray) with Dana Dowell bringing home 5th.
Thanks to Cyracer28 for the report.
---