March 14, 2019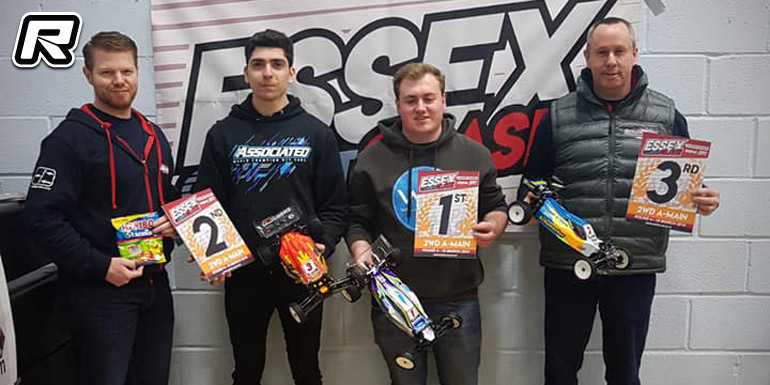 The latest meeting and round 4 of the new Essex Carpet Clash took place this past weekend. With a decent turn out, all drivers entered in the early hours to another great track, that was flowing, fast and fun to drive. Qualifying saw a mix of different drivers taking the top spots in both four and two wheel drive, showing that the track was fast, but small errors made for lost points in the round scores. Four wheel drive saw Ed Kerry take three of the four rounds and lined up ahead of Luke Mills. Two wheel drive ended with Kyle Moon taking pole having taken the 1st two rounds. The remaining grid positions to 5th saw best time coming in to play with drivers split on points.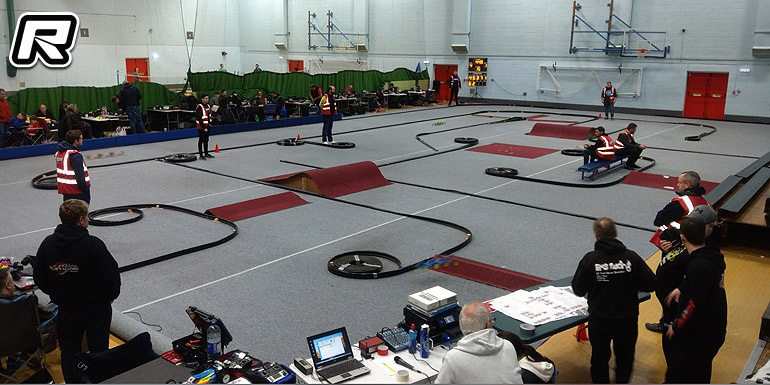 In the opening 2WD A-main pole man Moon would lead the pack away and never look back having a steady and consistent run. Car 2, Ellis Stafford made a couple of early mistakes giving up the 2nd position to Venables. Both drivers makes a mistake later in the race meant this is how it would finish for the top 3. Leg 2 again saw a steady run for Kyle Moon, but he was kept on his toes, closely followed by Stafford and Venables ready for any mistake that could. Stafford made the first mistake allowing Venables to move up a place, but later gave it back. Another battle taking place on track was the position for 4th and 5th between Joe Howson and Jon Hazlewood, that switch positions by both making small errors. Leg 3 would see Moon set out and drive away from the pack with Stafford and Venables in toe, but on lap 3 saw both having an error dropping them back to mix with the rest of the pack. Howson managed to promote himself up to 3rd by making good on others mistakes while Stafford held back Hazlewood to hold on to 4th. Overall it was Moon from Venables and Stafford.
The first leg of the 4WD finals saw a race between the top 5 all circulating and pushing each other from the rest of the pack. Kerry, who had the lead from the start, got tagged by a back-marker four laps from the end. Although he chased Kerry couldn't catch up in time which handed the lead and the 1st leg win to Joe Howson. Leg 2 saw a better final for Kerry, but some were luckier than others, with Jackson getting tangled up with Mills after a great move on the inside as they jumped over the crossover. Luke Mills, Mark Lewis and Joe Howson had a 3 way battle but it was Mark that would come out on top for the 2nd place spot. Leg 3 and it was a flag to flag finish for Kerry securing the meeting and championship win. Jackson had a decent run and finished a comfortable 2nd in this leg, where it was a race to the line for 3rd between Mills, Shedd – moving up from 10th on the grip – and Lewis. The final top 3 order would be Kerry from Howson and Lewis.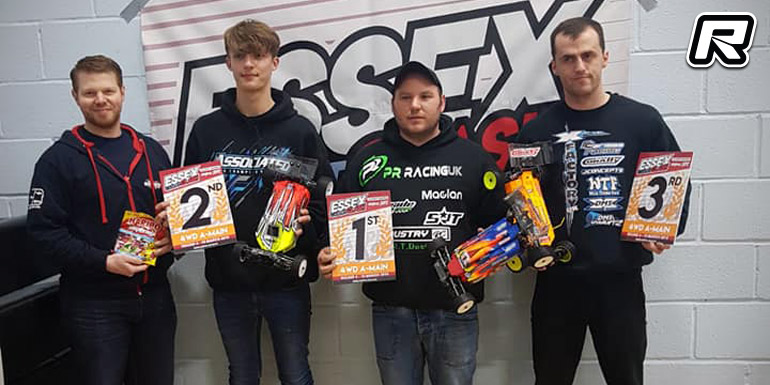 Round 5 and series final is in two weeks time on the 24th of March, to round off what has been a great opening start for this new club in the south of England.
Source: Essex Carpet Clash [essexcarpetclash.co.uk]
---