March 4, 2019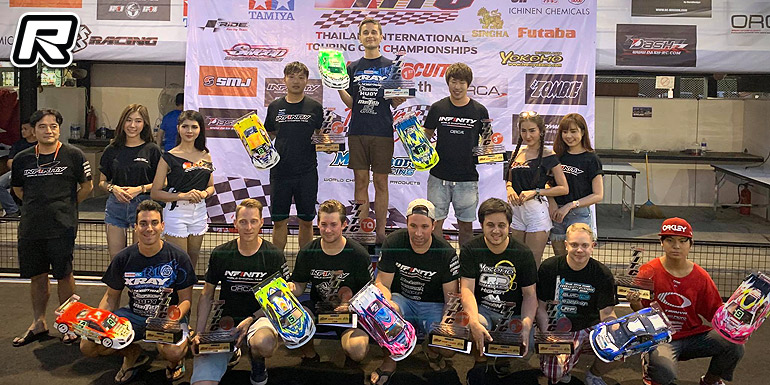 The 2019 edition of the annual Thailand International R/C Touring Car Championship was held this past weekend in Bangkok, Thailand. The event attracted the usual high-quality mix of world-class and local drivers with the 2019 race being held in the six classes of Touring Modified, Open Brushless 13.5T, Non-Boost 17-5T, Mini, Formula and Tamiya Truck. In the premier Touring Modified class, that attracted 65 entries, it was Xray's Alexander Hagberg who would snatch the overall TQ after being tie on points with Infinity's Naoto Matsukura, both TQing two rounds each. Infinity's Akio Sobue and Xray's Bruno Coelho came in 3rd and 4th on the grid as new Infinity signing, Viktor Wilck rounded out the top 5.
the triple A-mains were a close affair with top qualifier, Alexander Hagberg bringing home the win with a 1-second margin in A1 from Akio Sobue while in A2 it was Naoto Matsukura who was hot on the heels of Alexander, however the Swede would bring home the win in A2 also, meaning an early overall title for the Xray driver. Naoto Matsukura would take the win in A3, that was sat out by Alex, cementing his overall runner-up spot from Akio in 3rd.
Touring Modified final results:
1. Alexander Hagberg – Xray
2. Naoto Matsukura – Infinity
3. Akio Sobue – Infinity
4. Bruno Coelho – Xray
5. Jilles Groskamp – Infinity
6. Viktor Wilck – Infinity
7. Marc Rheinard – Infinity
8. Ronald Volker – Yokomo
9. Viljami Kutvonen – Mugen
10.Takuma Sasaki – Tamiya
In the Open Brushless 13.5T Touring class, drawing over 100 entries, it was Awesomatix's own Max Mächler who would take the overall TQ after winning three of the four qualifiers, leaving behind Thailand's Kriengsak S. (Xray) in 2nd. Xray's Dominic Quek came in 3rd and in front of Tom Kraegefski. The triple A-mains than saw Max sealing the overall win after coming out on top in A1 and A2, securing himself the overall title from A3 winner, Kriengsak S. in 2nd. Dominic, with 2-3-2 finishes had to settle for 3rd overall to round out the podium.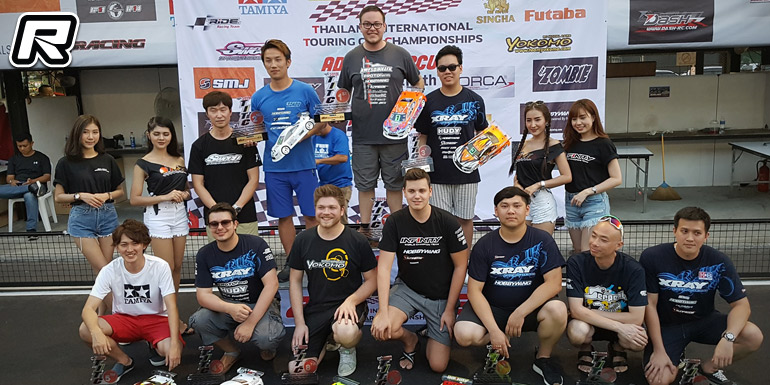 Touring Open Brushless 13.5T final results:
1. Max Mächler – Awesomatix
2. Kriengsak S. – Xray
3. Dominic Quek – Xray
4. Tom Kraegefski – Xray
5. Takayuki Kono – Tamiya
6. Dominic Vogl – Infinity
7. John Lu – Xray
8. Martin Hofer – Yokomo
9. Stick King – Serpent
10.Purisek J. – Xray
Images: Akio Sobue & Leung Sutthiprawat
---