March 8, 2019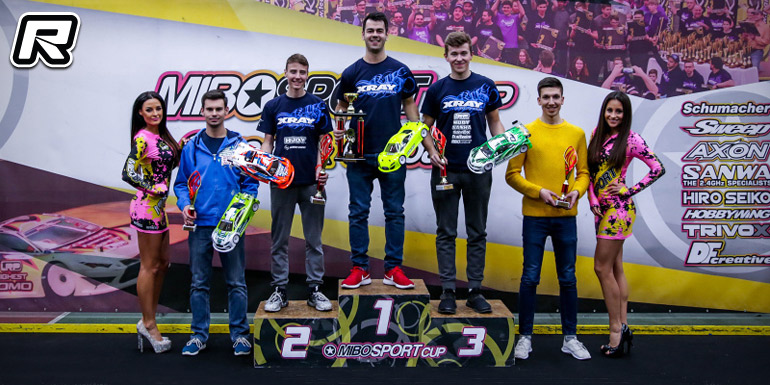 The 2018/19 Mibosport Cup held its season finishing final round last weekend with the series attracting a total of 414 drivers. 229 attended in the off-road classes while the on-road categories drew a total of 185 entries. This season drivers from twelve countries including the Czech Republic, Slovakia, Austria, Germany, Poland, Hungary, Great Britain, Estonia, Netherlands, Italy, Bulgaria and Canada made their way to the traditional location of he Hotel-Sport in Hrotovice. The final round of the season attracted a record entry of 261 racers. The Touring Modified attracted 27 racers to compete at the season finale with Zdenko Kunak taking the overall title thanks to winning four of the five rounds this season. Oliver Havránek finished in 2nd ahead of round 2 winner Matěj Šulc.
Touring Modified overall top 5:
1. Zdenko Kunák
2. Oliver Havránek
3. Matěj Šulc
4. Andreas Stiebler
5. Kuba Šimurda
57 drivers attended in the Stock LRP Touring class with Oliver Havránek dominating the category, winning all rounds except round 1 when the 1st place went to Tom Krägefski. Marton Tóth and Lukasz Mach finished in 2nd and 3rd respectively. Unlike the Modified class the Stock LRP A-main had a different composition of drivers every single race.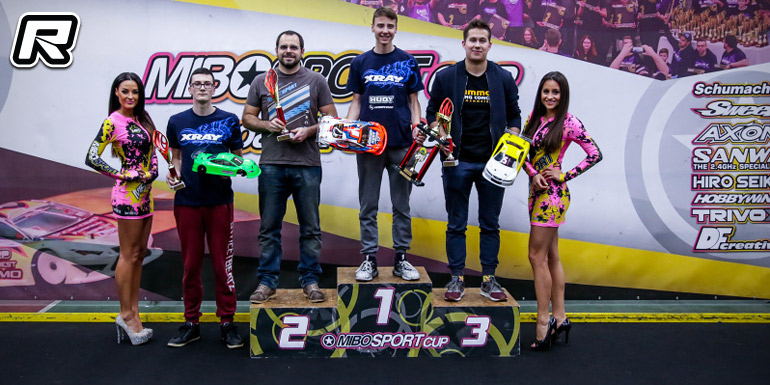 Touring Stock overall top 5:
1. Oliver Havránek
2. Marton Tóth
3. Lukasz Mach
4. Radko Černohous
5. Tono Sloboda
The Formula class attracted 54 drivers overall with Lukáš Hoch taking the overall title. Lukáš took wins in round 4 and 5 and thanks to double points at big final he snatched the overall win. The runner-up spot went to Andreas Stiebler, winner of the opening three races as Herbert Weber came in 3rd overall.
Formula overall top 5:
1. Lukáš Hoch
2. Andreas Stiebler
3. Herbert Weber
4. Thomas Dvorszky
5. Aleš Horák
A total of 20 drivers attended the 1/10 GT Pancar class that was ultimately won by on-road ace, Igor Lipták with four from five wins. Martin Zvára took the runner-up spot thanks to a win in round 4. Marek Helbich finish behind his back in 3rd place.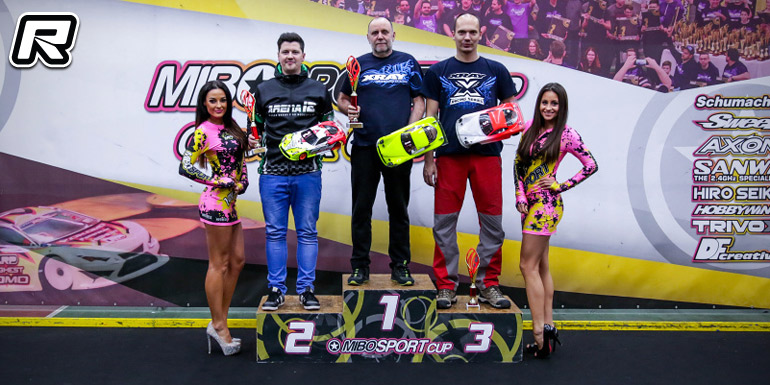 1/10 GT Paccar overall top 3:
1. Igor Lipták
2. Martin Zvára
3. Marek Helbich
The 1/12 Pancar class attracted 18 drivers overall with one absolute winner – Tomáš Lipták was able to make a clean sweep, taking the wins in all five rounds. Branislav Panak pushed hard to get into 2nd place and Martin Zvára finished 3rd overall.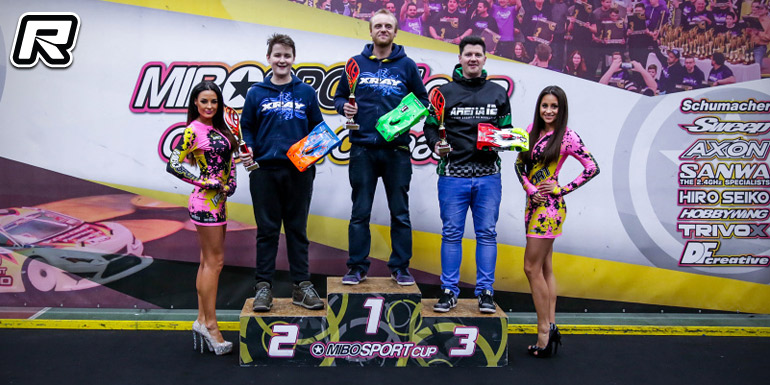 1/12 Paccar overall top 3:
1. Tomáš Lipták
2. Branislav Panak
3. Martin Zvára
Overall 105 drivers attended the 2WD Modified Buggy class with three different winners in five events. Michal Orlowski won the opening round with Hupo Hönigl coming out successful at the second event. The third, fourth and fifth rounds were all won by Martin Bayer. In spite of such situation, it was quite clear that the battle for the overall victory will be between Hupo Hönigl and Martin Bayer. The final round would decide, also thanks to double points. Ultimately the top podium spot went to Martin Bayer ahead of Hupo.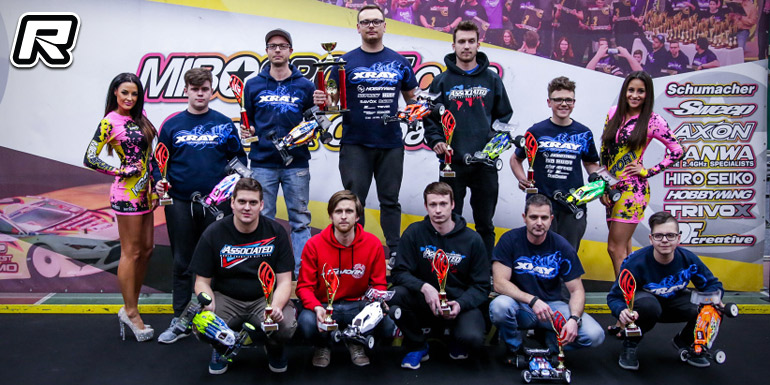 2WD Modified Buggy overall top 10:
1. Martin Bayer
2. Hupo Hönigl
3. Aleš Bidovský
4. Max Götzl
5. Adam Izsay
6. Jiří Mára
7. Philipp Märzinger
8. Marek Schiller
9. Zsolt Bajusz
10.Roland Hauleitner
A total of 88 drivers attended the 4WD Modified Buggy class which almost took the same direction as the 2WD Modified Buggy class with three different winners in five races. The first round was won by Michal Orlowski, the second one and fourth one by Hupo Hönigl and Martin Bayer won the third and last round. When the dust had settled, Martin Bayer took his second overall title ahead of Hupo.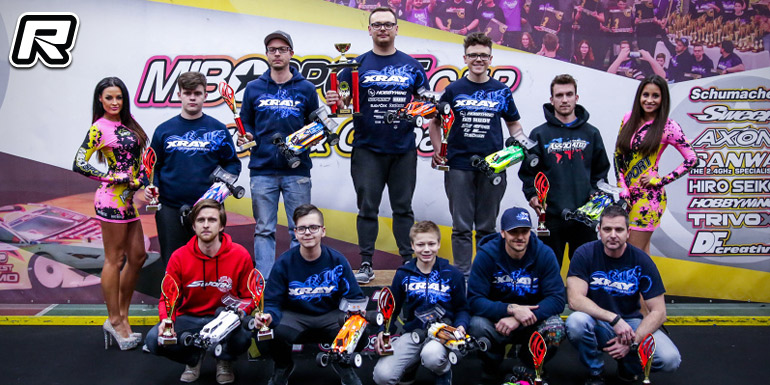 4WD Modified Buggy overall top 10:
1. Martin Bayer
2. Hupo Hönigl
3. Max Götzl
4. Aleš Bidovský
5. Adam Izsay
6. Zsolt Bajusz
7. Jiří Mára
8. Bartlomiej Kramza
9. Kurt Rubik
10.Roland Hauleitner
25 drivers attended the growing 2WD Stock Buggy class. The overall win went to Pepa Vích ahead of his two sons Matěj and Adam Vích in 2nd and 3rd place.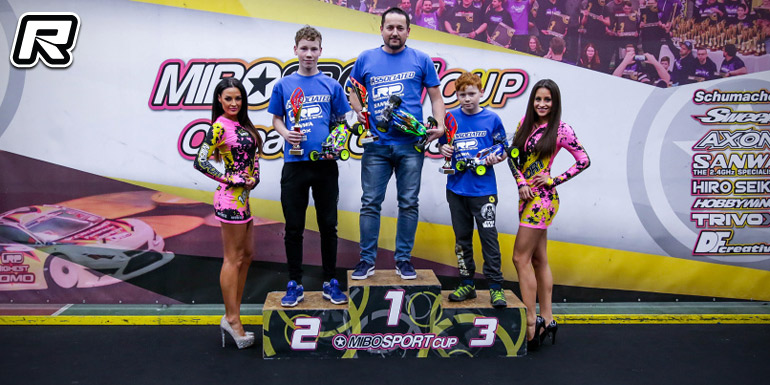 2WD Stock Buggy overall top 3:
1. Pepa Vích
2. Matěj Vích
3. Adam Vích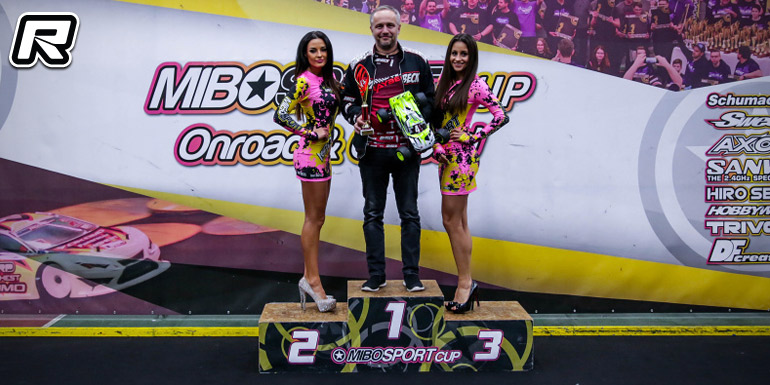 A total of 11 drivers attended new Stadium Truck class that was dominating ny Jiří Rybák ahead of Philipp Märzinger and Christian Wukonig.
Source: Mibosport [mibosport.com]
---