March 4, 2019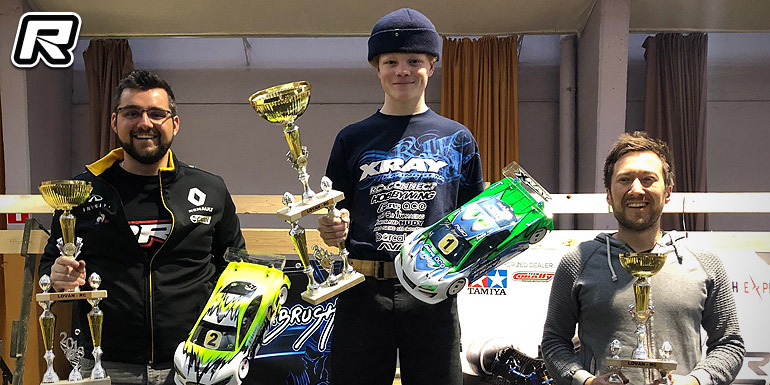 The third and penultimate round of the 2018/19 Lovan Winter Series was held this past weekend. The organisers yet again created a fast but challenging track on the huge 40x30m track surface. As always, the very liberal rules regarding tyres, motors and additive meant the competitors had to be well prepared in order to fight for the available podium spots. Entries were a bit less this time, but the field was more than competitive to provide exciting races in the five available classes of 1/12 GT and LMP, Formula and Touring Stock and Modified. The latter only saw seven entries, but among those entries were two former European Champions; Stock Touring Champion Rémi Callens and 1/8th nitro Champion Robin D'hondt. It was also interesting to notice that this class did feature the most youngsters with Liam Van de Wouwer, Athan de Witte and Florian Joos.
In the past, the flat and fast Lovan track always suited the Awesomatix of Rémi, but he seemed to be lacking traction in this race. Florian Joos, who once again doubled both touring classes, was the driver to beat in the premier Modified class. Florian reverted to one of Alexander Hagberg's setups and his car was on rails. He won all four qualifiers and held a four seconds advantage over Rémi Callens. Hugo Ragaut (Awesomatix), Robin D'hondt (Capricorn) and Athan De Witte (Yokomo) rounded off the top 5.
In A1, both front runners experimented with different additives. Florian used MR33V4 whereas Rémi used CS High grip in order to get some more traction. During the first three minutes, Rémi was able to challenge Florian, but then his traction wore off and had to let Florian go. Athan De Witte took a fine P3 coming from P5 on the grid in front of Liam Van de Wouwer (ARC) and Hugo Ragaut). In A2, Rémi was again able to stay close to Florian during the early stages, but on lap ten, Rémi's transmitter shut down due to a low battery voltage. This promoted Hugo to P2, but he was chased down hard by Robin D'hondt. Robin is relatively new to 1/10th electric racing, but he showed his class by passing Hugo and claiming P2. Athan and Liam finished in P4 and P5 respectively. Having already bagged the overall win, Florian switched his Volante tyres to Sweep EWS 28 rubber in order to prepare his car for next week's EWS race in Essex. His car had less corner speed and also less steering corner entry. This allowed Rémi to stay even closer as he challenged Florian's lead for the full five minutes. Being a super fair driver, Rémi tried to pass Florian cleanly, but the latter just kept the door shut, despite having a slower car. The final order then was Florian Joos (Xray), Rémi Callens (Awesomatix), Hugo Ragaut (Awesomatix), Robin D'hondt (Capricorn) and Athan de Witte (Yokomo).
Touring Stock was quite exciting to watch as there was a great variety in cars, motors, electronics and tyres among the top 10 drivers. Motorwise, the most popular brands were Surpass, Trinity and R1 Wurks. The top 3 drivers would all use Volante tyres, but there were just as many Sorex and TeamPowers tyres in the top 10. Despite this variety, it was clear from the start that the driver to beat would be Florian Joos. He constantly set the fastest times during free practice and he also swept all qualifiers. The battle for the 2nd place would rage on between Belgian 1/8th scale star Yves Zoma and former Belgian 1/10 Stock champion Stefan Rommens. After the four qualifiers, Yves but his Awesomatix 0.5 of a second in front of Stefan's Yokomo. Jeremy Deram (Xray) and Tom Adams (ARC) rounded off the top 5.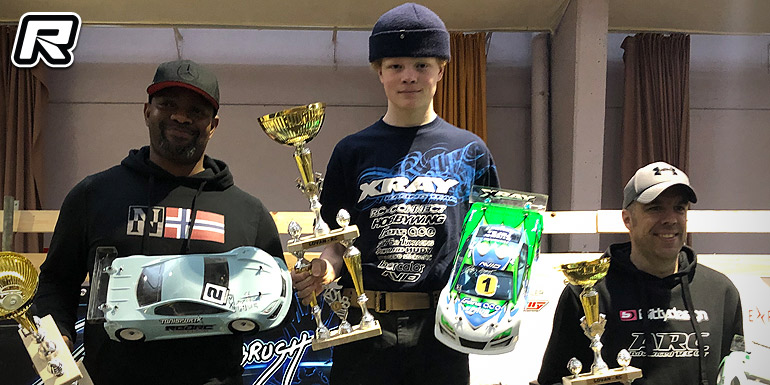 A1 and A2 were easily won by Florian, but the battle unfolded for the remaining podium spots. In A1, Yves Zoma made a mistake on lap two, which caused total mayhem for the rest of the field. The biggest beneficiary of this mayhem was Éric Sautereau, who claimed P2 coming from P7 on the starting grid. Tom Adams drove a very intelligent race and avoided the collisions to claim P3, in front of the unlucky Yves Zoma while Jean Hannecart finished in P5 in A1. The most unlucky driver was Stefan Rommens who got caught up in the first lap melee and only finished in P7. In A2, Yves had a much better start and comfortably finished 2nd. Tom Adams yet again drove a good race to finish in 3rd, in front of the Xray of Jeremy Deram and Eric Sautereau, who fought a very hard battle for the entire race. As he already claimed the event, Florian decided to switch to Sweep 28 tyres for the last final, as his next race would be run on those rubber. The difference in performance was quite huge, as Yves was able to put Florian under enormous pressure. On lap 14, Yves tried a pass, but unfortunately gave Florian a body tuck. Yves sportingly waited, but this allowed Jeremy Deram through to take the lead. Once his body was fixed, Florian and Yves set off in hot pursuit to nail Jeremy down. Florian made a nice pass drag-racing Jeremy who ran a bit wide, while Yves overtook him at the end of the straight. Jeremy took a nice P3 in front of Jean Hannecart and Tom Adams. The overall positions were Florian Joos (Xray), Yves Zoma (Awesomatix), Tom Adams (ARC), Jeremy Deram (Xray) and Eric Sautereau (Xray).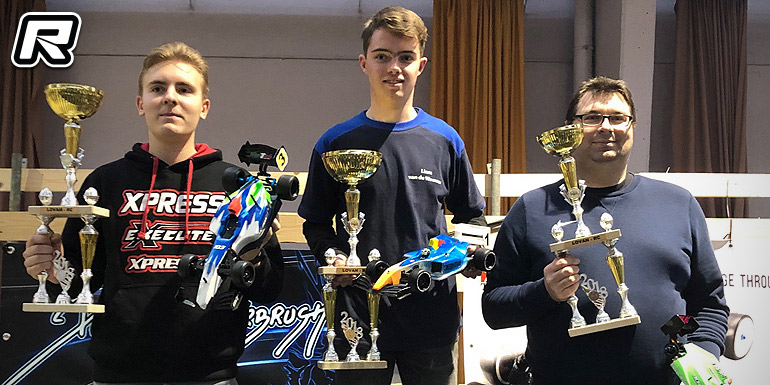 Formula was the second biggest class with a full grid of F1 cars. 15 years old Liam Van de Wouwer finally found his race speed again and he dominated the grid in style. Having sorted out his Xray, he simply was out of reach of the other racers. French driver Thomas Blondeau won the battle of the best of the rest, albeit being some six seconds back. Young Tamiya driver Thomas Gavelle had some solid runs and claimed P3 on the grid in front of the local heroes Jannick Rommens and Kris Vanbleu, both also running Xray cars. Given his speed in the qualifications, everyone expected a walk over from Liam in the finals. The young driver punched down some very fast lap times right from the start and started to create a gap to both Thomases. On lap 17 however, all his efforts came to nought as he made a mistake and lost the lead to Thomas Blondeau. Liam started to hunt down Thomas, who made a mistake and allowed Liam to slip through and claim A1 in front of Thomas Blondau, Thomas Gavelle, Jannick and Kris. Liam took A2 some 8 seconds in front of the Tamiya of Thomas Gavelle, who managed to sneak through and claim P2 early in the race. A3 saw a great drive from Kris Vanbleu who claimed P2 coming from P5 on the grid. This effort wasn't enough to yield a podium as he finished in P4 behind Liam Van de Wouwer (Xray), Thomas Gavelle (Tamiya) and Thomas Blondeau (Xray). Jean Hannecart claimed P5 with his Yokomo.
1/12th LMP only attracted four drivers, and this time Laurent Desperries took the TQ in front of Olivier Pierrat, Kris Vanbleu and Jan de Boelpaep. Laurent continued his walkover and won the event in front of Olivier, Kris and Jan.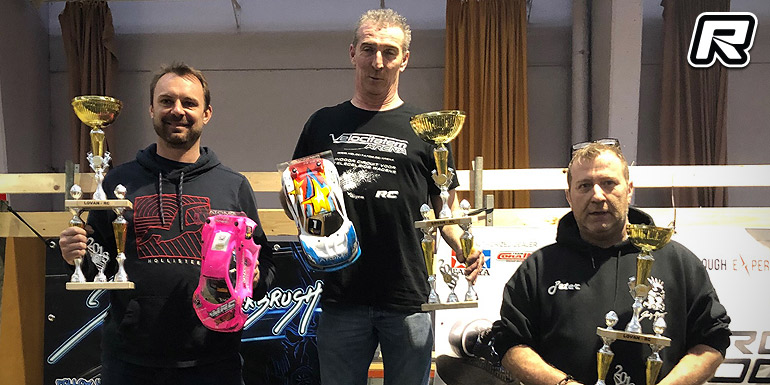 1/12th GT also only attracted four drivers, but three of them qualified really close to each other. In the end it was Olivier Cornard who would take the TQ honors in front of Laurent Desperries and Peter Roeygens, but 10 years old Alix Cornard wasn't too far off in P4. Strangely enough, Olivier Cornard only finished P2 in the first final while Laurent took the win. Eager to continue his total domination of the qualifiers, Olivier dully won the remaining two finals and took the overall victory in front of Laurent, Peter and Alix.
Thanks to David Joos for the report.
---