April 14, 2019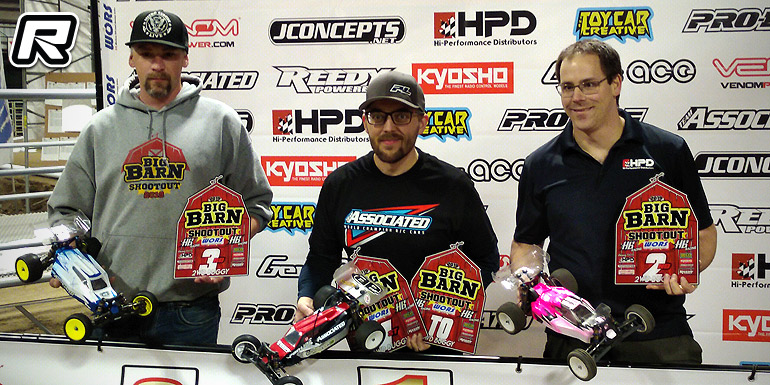 The recent 2019 edition of the Big Barn Shootout was also round 1 of the Western Offroad Race Series WORS. The Series travels though British Columbia with five rounds of 10th scale and 8th scale classes. This year saw the entries top 430 with over 130 drivers with radios in hand. Entries were from Ontario, the Northwest USA, and the three western provinces. Ty Tessmann joined the fun in the feature 8th Scale Buggy classes. 1/10th qualifying would finish up with Jason Mardon TQing in 2wd Buggy with Dan Schellenberg behind. Schellenberg in return would TQ in Truck with Mardon behind. Both drivers also raced secondary classes, but it was clear the 2WD classes were going to require full attention from both drivers through mains day.
First up was 2WD Buggy A1 main. A Late error in the final minute would allow second place Dan Schellenberg to sneak ahead of Mardon; the final two laps the gap would close from six seconds to less than 0.5 at the line. A2 would see another close battle with Dan for most of the run, but he would have the bad luck in the final minute and fall back giving the top spot to Mardon. 2WD Buggy would go to A3 to decide it. Three buggies would stretch out from the group in the first minute with Paul Moria joining the battle for the lead. An error from Dan would let Mardon and Moria through, with some open track Mardon would build a cushion and take the win. The final podium would end Mardon, Schellenberg and Moria.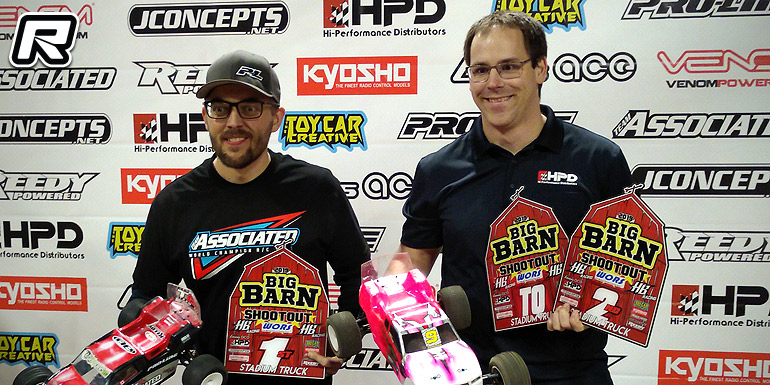 Truck would be a similar show down between Schellenberg and Mardon. A1 would see a nail biter of a last lap with a photo finish … neither of driver knew until the RD announced it. 0.08s at the line with Mardon over Schellenberg. With such a close finish, both were making changes in prep for A2. Schellenberg found some additional grip and made the most of it with a comfortable win in A2 pushing Truck to A3. At the tone it was on, immediately making room from the pack the two would follow each other around with the odd bobble and contact, each waiting accordingly. Mardon with an error would let Schellenberg build a two seconds lead. This would hold until the final minute as the top two started to approach lap traffic. Schelleberg would have some unlucky contact, leaving the inside line clear for a pass and giving up the top spot Mardon along the Overall win. Podium would be Jason Mardon, Dan Schellenberg and Evan Millard
Thanks to Mason Mardon for the report.
---