April 1, 2019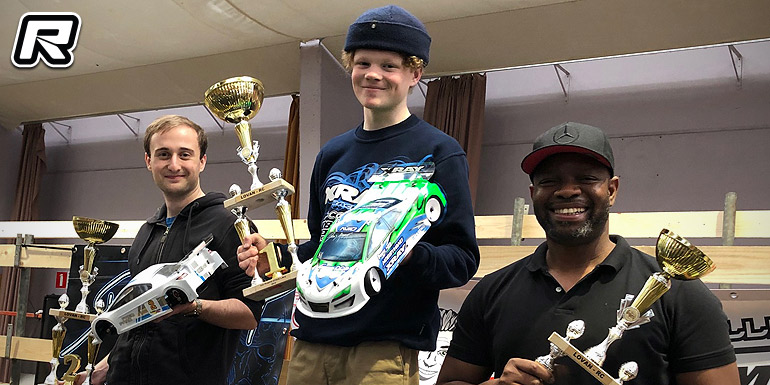 The fourth and final round of the popular Belgian Lovan Challenge was held over the past weekend at the large indoor track in the western part of the country. Being the last race meant that the championship would also be decided with the best three of four rounds to count. Due to the warm spring weather the turnout was a bit low. There were still over 30 starters in the popular Stock class, but the Modified class only saw two entries. The main class would thus be the Open Stock class with over 30 entries. The popularity of this class is mainly thanks to the liberal rules, with free motor, speedo and tyres. The first of four qualifiers was run on Saturday. As everyone expected, Florian Joos' Xray took the overnight TQ by quite some margin over his usual competitors. Young French driver Jean Hannecart and winner of the previous Lovan Fun race, held on the same layout finished within two seconds of Florian. This was a great performance as Jean came back to RC racing after a long break and was driving a two years old Schumacher car. 3rd went to Belgian top nitro driver Yves Zoma. Yves was followed by his fellow Awesomatix driver Mathieu Da Rocha, who started from the slowest qualifying group. Jeremy Deram's Xray topped of the top 5.
In the remaining three qualifiers, Florian upped his game and increased his advantage over Jean to over six seconds. The battle for the P2 spot was however fierce between Jean, Yves and Mathieu, with Mathieu having a disadvantage to race in the slower group. After four frenetic qualifiers, the three of them finished within 0.7 of a second, with Jean starting from P2 and he was followed by Yves and Mathieu with Stefan Rommens taking P5 with his Yokomo.
Florian had the strongest cards to win this final race and to clinch the overall championship. The other podium contenders would start from P3 (Yves Zoma), P5 (Stefan Rommens), P8 (Eric Sautereau) and P10 (Tom Adams). The finals were pretty much smooth sailing for Florian as he won them by about eight seconds. Jean Hannecart drove a sterling race and took P2 in A1 with a bit of luck. Yves thought he finished the race, but still had to end his final lap. After a great drive, he handed P2 back to Jean. Xavier Debroye finished in a fine P4 with his Xray in front of the Yokomo of Stefan Rommens in A2. A3 would decide the fight for the remaining podium spot and the overall championship. Jean again took P2 in front of Yves, but he again had to fight hard for his trophy. He was chased down for the full five minutes by not only Yves, but also Stefan and Xavier. Mathieu was also in contention but dropped out of the fight when he clipped a corner marker, so the final result was Florian Joos (Xray), Jean Hannecart (Schumacher), Yves Zoma (Awesomatix), Stefan Rommens (Yokomo) and Xavier Debroye (Xray).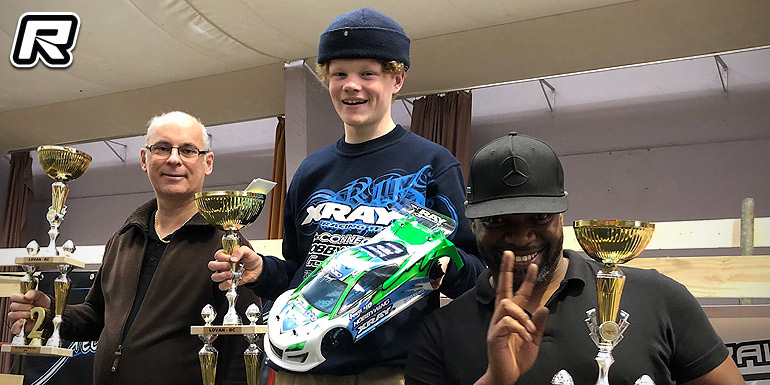 The championship also went Florian's way, with Eric Sautereau finishing in a great P2, in front of Yves Zoma. Tom Adams (ARC) finished in P4 with equal points, but a P2 finish gave Yves the last podium step. Stefan Rommens finished in P5 out of 76 racers.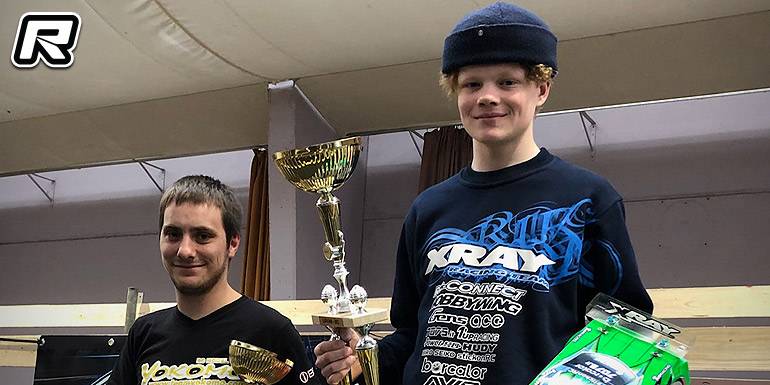 Modified was only run by 2 drivers, Florian Joos (Xray) and Stefan Rommens (Yokomo). Because the Belgian nats will be held on the same track in two weeks time, the organiser decided to let the drivers get some extra practice for this race. Florian set a new lap record in this class and subsequently also clinched the championship in front of Rémi Callens (Awesomatix) and Hugo Ragaut (Awesomatix).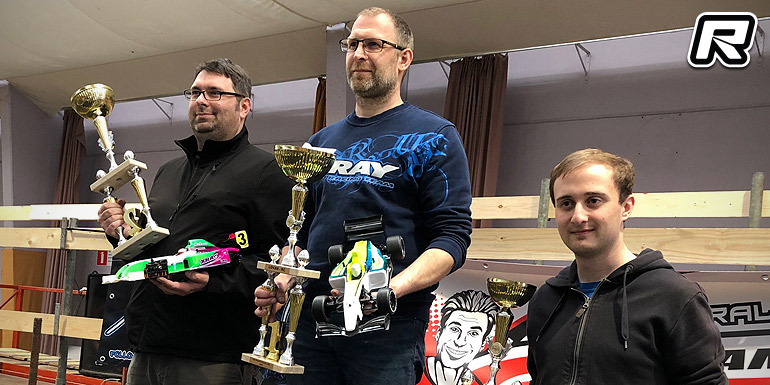 In Formula the winner of the third round, Liam Van de Wouwer, was absent due to his school exams. The man to beat was local driver Kris Vanbleu. Jean Hannecart, driving a Yokomo, however took the first two qualifiers. Kris had some difficulties to combine 1/12th scale and Formula on the same event. From Q3 onwards, he found a very good setup for his Xray and won the remaining two qualifiers in front of Jean Hannecart and Thomas Blondeau (Xray). P4 went to the Xray of Ingo Wrissenberg in front of fellow Xray driver Sylvain Cordonnier. A victory in this final round would also allow Kris Vanbleu to clinch the overall championship. He won A1 in dominant style in front of Thomas and Jean. Any chances to seal the overall victory in A2 were gone when he made an error on lap 9. Jean Hannecart inherited the lead and held on to it despite a late charge from Kris. By winning A3 in front of Thomas and Jean, Kris took the overall victory. The final ranking was Kris Vanbleu (Xray), Thomas Blondeau (Xray), Jean Hannecart (Yokomo), Ingo Wrissenberg (Xray) and Sylvain Cordonnier (Xray).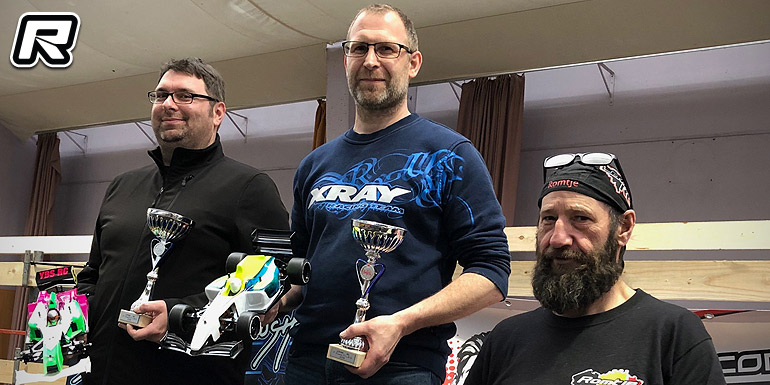 The championship was won by Kris Vanbleu, in front of Thomas Blondeau and Yannick Rommens (Xray).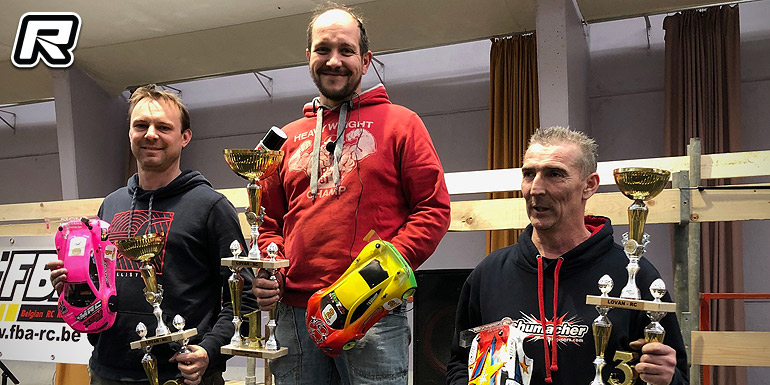 The small and nimble 1/12th GT cars proved to offer exciting races. All qualifiers were won by different drivers. In the end it was French racer Laurent Desperries who took the overall TQ in front of Tony Bekaert, Olivier Cornard, Kenny Vanden Briele and young Alix Cornard. Tony Bekaert was proving to be the man to beat in this class, by winning A1 and A2. Laurent took A3 in front of Alix and Kenny, and this would earn him the overall P2 spot. The final ranking was Tony Bekaert, Laurent Desperries, Olivier Cornard, Kenny Vanden Briele and Alix Cornard, all driving Schumacher cars.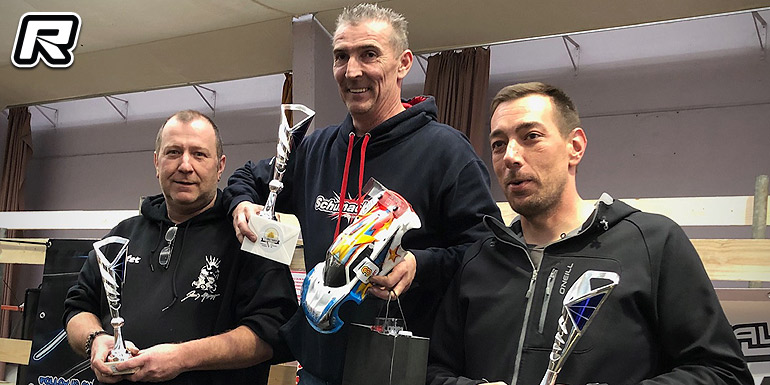 The overall championship went to Olivier Cornard, while Peter Roeygens and Kenny Vanden Briele took P2 and P3 respectively.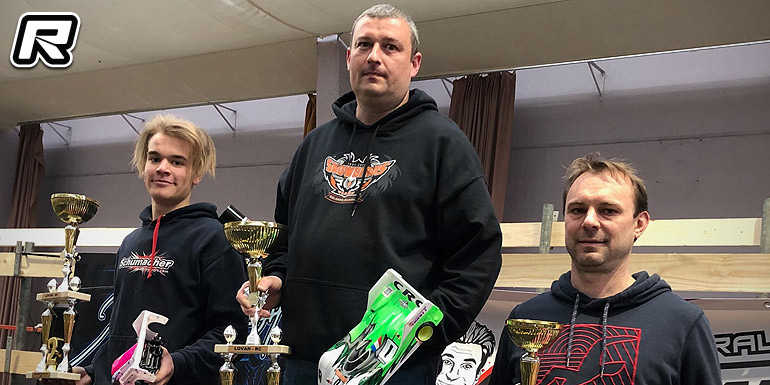 The swift 1/12th class was run in 13.5 blinky mode. Due to the technical track, many drivers suffered DNF's in the early qualifier. From Q1 onwards it was clear that the fight for the TQ would go between French drivers Olivier Pierrat (CRC) and Laurent Desperries (Xray). After the four qualifiers, Olivier took the overall TQ by 0.4 of a second in front of Laurent. Kris Vanbleu, Gilles Le Piniec and Alix Cornard, all three of them driving Xray cars, rounded off the top 5. Olivier then convincingly won A1 and A2. His biggest challenge would however come from young Belgian driver Ian Bekaert. Ian had technical gremlins during all his qualifying runs but came charging to the field to win A3 and clinch the overall P2. The final ranking was Olivier Pierrat (CRC), Ian Bekaert (Schumacher), Laurent Desperries (Xray), Kris Vanbleu (Xray) and Gilles Le Piniec (Xray).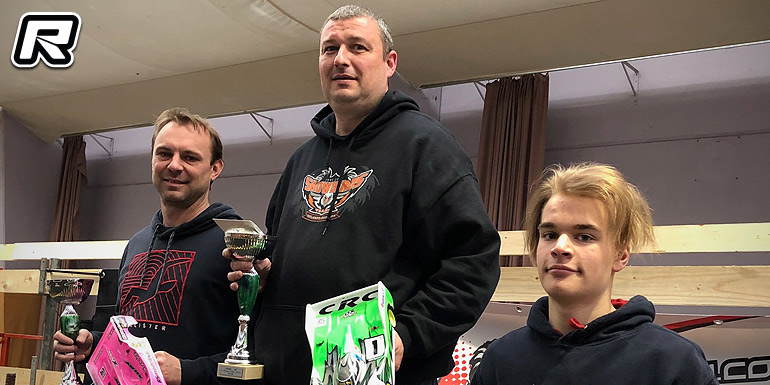 The overall championship was won by Thomas Blondeau, in front of Laurent Desperries and Ian Bekaert.
Thanks to David Joos for the report.
---