April 30, 2019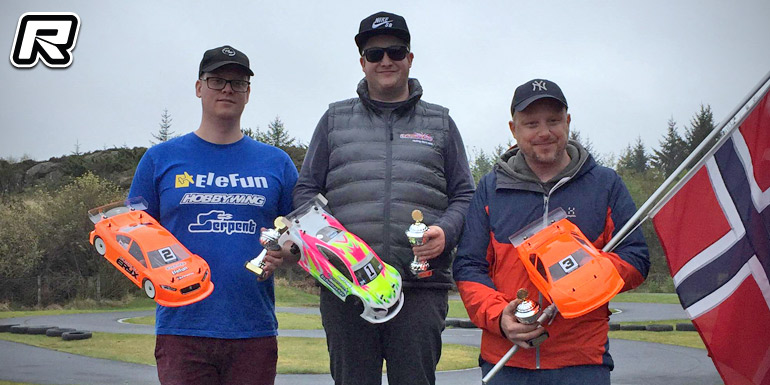 The opening round of the Norwegian Touring Nationals was held in wet conditions at the Helganes Motorsports Centre in Karmøy. With several entrants pulling out due to the weather conditions, only 6 drivers made up the Modified qualifiers, that already from the start seemed to be a battle between Øyvind Stusdal and Nikolai Håheim. As the rain had been pouring down during the night, and the rain showers were expected to continue during the day, the race officials decided to declare it a wet race, and the track was indeed very wet. Stussdahl took Q1, five seconds ahead of Håheim, before Håheim fought back in Q2 securing the heat. An unfortunate mechanical error set an early stop for Stusdal in Q3, securing Håheim the TQ. The remainder of the participants struggled heavily with the conditions.
As expected the rain kept on coming throughout the finals and the track conditions stayed very wet. Stusdal had an early mechanical issue in A1, with Nikolai Håheim taking the first final, three laps ahead of Lars Møller Holst. Helge Naley was way behind both of them, commenting that slicks were definitely not the appropriate tyre choice after the first final. Stusdal fought back in A2 securing the win three seconds ahead of Håheim , however Håheim clinched it on A3, ten seconds ahead of Stusdal, taking the overall victory.
Modified final results:
1. Nikolai Håheim – Schumacher
2. Øyvind Stusdal – Serpent
3. Lars Møller Holst – Team Associated
4. Helge Naley – Team Associated
5. Jostein Helland – Team Associated
6. Mathias Nedrebø – Yokomo
The 13.5 Stock class had five participants that gave the difficult conditions a try. A close fight between two brothers and one of the locals would see Andreas Bryne securing TQ, in front of Ole Thomas Bryne and Odd Helge Johansen. Some close racing was seen in the Stock finals, Odd Helge Johansen and Andreas Bryne fought well against the winner, but had some bad luck and mechanical issues, Ole Thomas on the other hand, seemed to have everything working perfectly, with some impressive driving.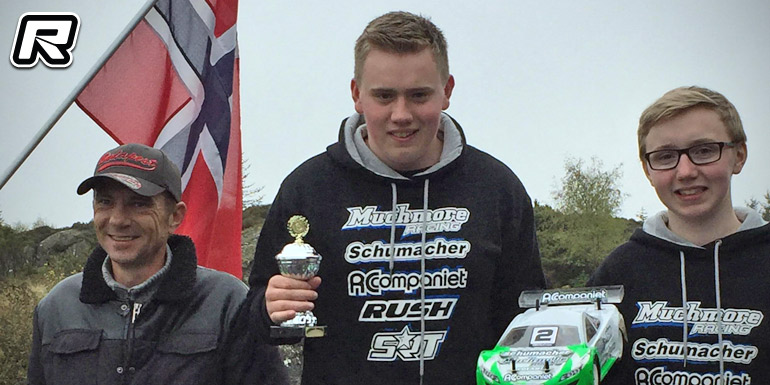 Stock final results:
1. Ole Thomas Bryne – Schumacher
2. Odd Helge Johansen – Team Associated
3. Andreas Bryne – Schumacher
4. Per Velde – Team Associated
5. Henrik Helland – Team Associated
Thanks to Helge Naley for the report.
---