May 6, 2019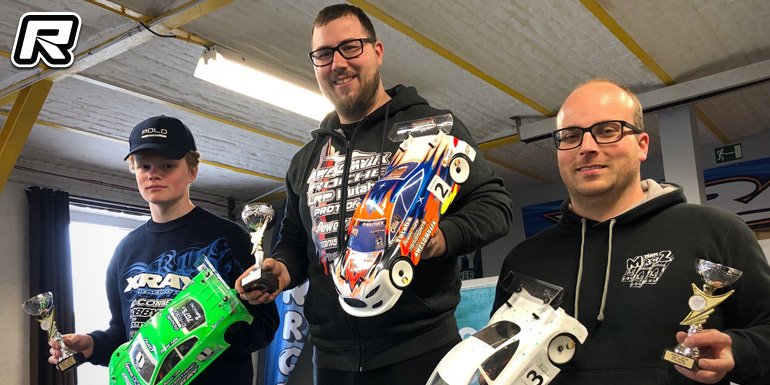 The second round of the 2019 FBA Belgian EP On-road Nationals was held this past weekend at the outdoor track of the MRCZ Zwevegem. Due to the bad weather that affected races all over Europe this weekend, the turnout was a bit lower than expected. The MCRZ club however did a great job to provide the drivers with a fun and technical track on the available parking lot. Free practice on Saturday proved that finding a good setup would be extremely difficult. The frequent rain showers meant that the drivers practiced with different grip levels on each and every run. When the racers arrived on Sunday morning, the track was fully wet and a wet race was declared. This meant that the racers could chose between a rain chassis and a dry chassis to cope with the changing track.
The first qualifying session of Touring Modified was run on a full wet track. Before the start, the wet weather conditions already caused mayhem as Olli Bultynck had to retire his Awesomatix due to an electronic problem. Local hero Thomas Stockman opted to skip this qualifier and Florian Joos was handed an easy Q1, as his Xray rain car was excelling under these conditions. Former Belgian champion Steve Lambrechts and Rico Claeys rounded off the top 5.
Q2 was run on a drying track and most drivers opted to use the dry car with slick tyres. Under these treacherous conditions, Florian Joos again took the first spot and thus claiming his TQ spot on the grid. He led Olli Bultyinck and Thomas Stockman home. Q3 was completely dry, and Florian decided to run even though he already had the TQ spot. His car was much faster with the setup changes, but was lacking rear grip. Olli also had the same problem but held off a challenging Thomas Stockman to claim P2 on the grid. Thomas (Xray) took P3 and was followed by Steve Lambrechts and Rico Claeys, both running Xrays as well.
A1 saw an easy victory for Florian who used his second set of new tyres. Olli was struggling for pace and had to fend off a once again hard charging Thomas Stockman who's car seemed to be on rails. Despite Thomas's best efforts, he could not pass Olli and had to settle for 3rd. Mitchell Van Ess (Awesomatix) and Rico Claeys (Xray) rounded off the top 5.
Olli's experience and racecraft showed off at the start of A2. The multiple Belgian champion saved his new tyres for A2 in order to put maximum pressure on Florian. On one run old tyres, Florian simply was no match for Olli and had to let Olli through. Florian kept pushing hard but clipped a kerb on lap 13 and fell back. He kept on pushing but another error saw Thomas coming back in his slipstream. Thomas finished within a whisker of P2. He was followed by Rico and Steve.
A3 would thus decide the overall win of this second round of the Belgian nats. Florian took a cautious start, but this allowed both Olli and Thomas to keep really close. When Florian's car slightly understeered in front of the podium, Olli took his chance to leap into the lead. Olli then put in hot lap after hot lap while Florian took huge risks in order to stay in touch. He unfortunately rolled his car on a kerb and this gave Olli a gap of 2 seconds. Florian kept on pushing and after he set his fastest lap, he had to retire his car after a mechanical problem. This DNF promoted Thomas to P2, while Steve, Rico and Mitchell rounded off the top 5. The overall result was Olli Bultynck (Awesomatix), Florian Joos (Xray), Thomas Stockman (Xray), Steve Lambrechts (Xray) and Rico Claeys (Xray).
In Stock 13.5 and during Q1, which was run in full wet conditions, round 1 winner Vincent Van Gansen had a horror run. His car was virtually undriveable and way off the pace. This promoted his biggest challenger Giovanni Moguez (Xray) in the lead. Unfortunately for Vincent his transponder didn't work correctly. This gave the lead according to the software system to Stefan Rommens (Yokomo). Stefan never set a foot wrong and claimed a nice victory in front of Jeremy Deram (Xray) and Vincent Van Gansen. After the race, the race director assembled the stock drivers and asked them to reinstate Giovanni's result. Even though he could directly benefit from Giovanni's troubles, Stefan sportingly agreed to reinstate Giovanni. This meant Gio took Q1 in front of Stefan and Vincent.
Q2 was run under half wet conditions. Vincent went for slicks without additive, while Giovanni took the risk to run prepped slicks. Gio's gamble seemed to pay off as he was building out his lead. Vincent and Stefan were struggling with understeering cars, but Gio could just place his car wherever he wanted. Unfortunately a motor plug came loose and he had to retire his car. Vincent thus took Q2 in front of Stefan and Jeremy Deram, who put in yet again a solid run.
Q3 was held on a dry track. Vincent dug deep to find some more speed. He managed to build out his lead while Gio had to retire his car due to the same problem. Stefan took P2, but his car was still understeering so he could not defend his chances. Young Alexander Van Gansen took a fine P3 spot in Q3. Vincent (Xray) took pole position in front of Stefan Rommens (Yokomo), Jeremy Deram (Xray), Alexander Van Gansen (Yokomo) and the unlucky Giovanni Moguez (Xray).
At the start of A1 everyone was wondering how long it would take Giovanni to pass the field. A melée on the second lap saw Jeremy Deram and Alexander Van Gansen drop down the field but promoted Giovanni to P3. In the meantime Vincent had pulled a gap and set his fastest lap of the race. When he saw that Giovanni passed Stefan for P2 but was quite far away, he just controlled the race and won it with ease. Giovanni finished in P2, followed by Stefan, Alexander and Xavier Debroye (Xray).
Another first lap incident at the start of A2 saw young Alexander drop down the field while Jeremy also had his share of bad luck. This once again promoted Giovanni up the order. He pushed hard and managed to get within 1 second of Vincent, who was once again controlling the race. Jeremy fought back to P3 in front of Stefan Rommens and young Niels Degryze (Xray).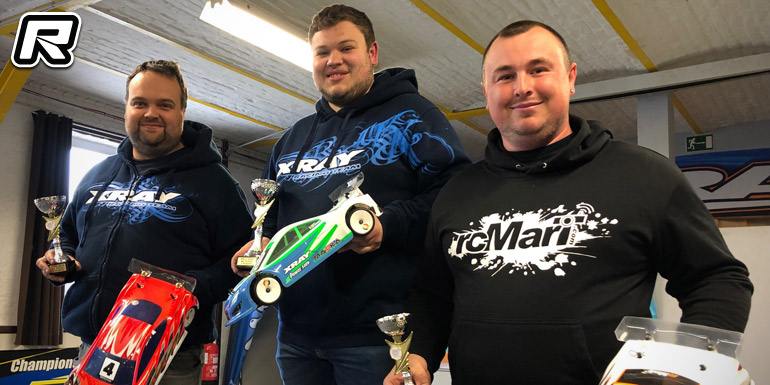 Vincent opted to race A3 in order to test another body shell. When A3 was started after Stefan requested a 10-minutes delay in order to fix his broken car, the heavens opened again and it started to hail. In these difficult conditions, Vincent and Gio once again excelled and took P1 and P2 respectively. The top 5 was rounded off by Jeremy, Alexander and Stefan. The overall ranking was Vincent Van Gansen (Xray), Giovanni Moguez (Xray), Jeremy Deram (Xray), Stefan Rommens (Yokomo) and Alexander Van Gansen (Yokomo).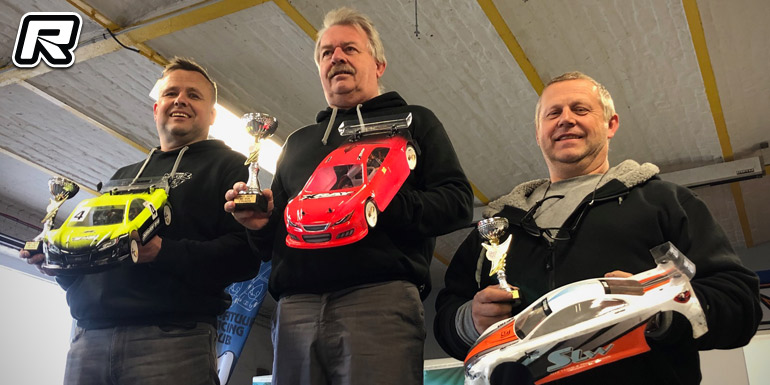 In Fun 17.5 and before the start of the event, everyone knew it would be hard to beat local driver Rony Claeys. His Xray is always the best set-up car in this class and on his local track Rony excels. The fight for P2 would be run between young Aaron Vandepoele (Team Magic), Luc Wauters (Xray) and Thierry Baekeland (Xray). Aaron was in a solid P2, but when the track got faster in Q3 he managed to close the gap to Rony a bit more. Luc and Thierry were however not close, so the finals would prove to be very exciting. A1 was quite easily won by Rony as he had a 9-seconds lead over Luc Wauters while Thierry took P3. Aaron had very rough laps 2 and 3 and dropped back the order after being tangled by other cars. He however fought back to a nice P4 spot in front of Patrick Room, who came from P8 on the grid. A2 was won in style by young Aaron. He finished in front of Rony, Thierry, Dieter Stock and yet again a strong finishing Patrick Room. During A3 Aaron was hanging in a solid P2 and challenging Rony for the lead when his receiver came loose and he had to retire his car. This allowed Thierry to take P2, in front of Luc, Patrick Room and Herman Van Gansen (Yokomo). The overall result was Rony Claeys (Xray), Thierry Baekeland (Xray), Luc Wauters (Xray), Aaron Vandepoele (Team Magic) and Patrick Room (Tamiya).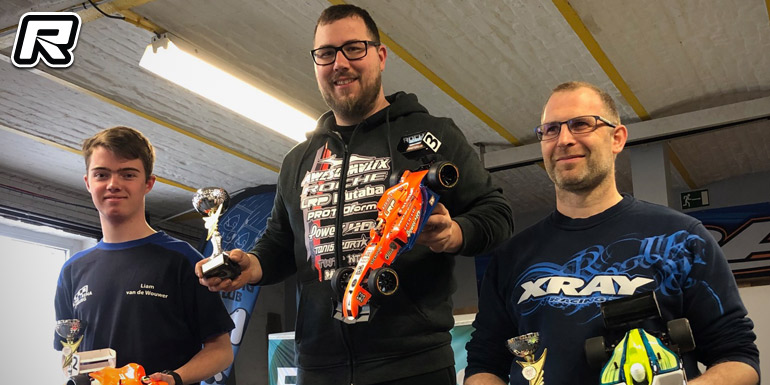 The Formula cars were really a handful to drive in the mixed weather conditions on this technical and low grip track. Olli already prepared his Roche car for the ETS race in Wiener Neudorf, so he opted not to run in Q1 and Q2. This allowed Kris Vanbleu and Liam Van de Wouwer to fight for the TQ. In the end it was Kris (Xray) who TQ'd this round in front of Liam (Xray) and Olli Bultynck (Roche). Olli easily won A1 and A2 while Liam took P2 on both occasions. A3 would thus decide who would take the runner up spot on the podium as Olli would sit this final out and concentrate on his modified final. Kris and Liam tangled on lap 2 and lost about 5 seconds. Liam then set off and charged hard. He nearly missed the 27 lap mark, which was the benchmark set by Olli.
Round 3 of the Belgian nationals will be run on the technical track of Houthalen on 19 May.
Source: David Joos | FBA [fba-rc.be]
---