May 20, 2019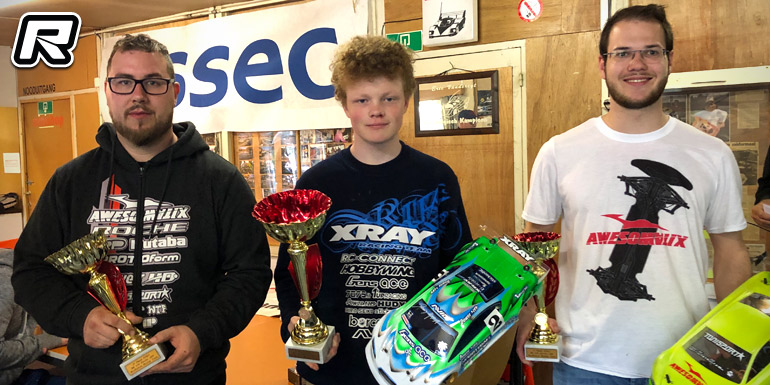 Round 3 of 6 of the Belgian Electric On-road Nationals was held at the outdoor asphalt track of HRT club in Houthalen. The technical track is ideally suited for electric touring cars, however the bumpy surface meant that the pilots would face a real challenge to find the ideal setup for their cars. Saturday was open for free practice and the fastest driver in Touring Modified would be Oli Bultynck. Oli posted a 15.6 lap time and was closely followed by Florian Joos with a 15.8 and Mitchell Van Es. In Stock, the fight for the title between current championship leader Vincent Van Gansen and Giovanni Moguez would see a third contender. After a short break from racing, Nicolas Delisé made his return with an Xray and posted the same lap times as the other two protagonists. In the Fun class, Luc Wauters seemed to hold the upper hand with a lap time nearly 0.3 seconds faster than his competitors. On Sunday however, everything would change as heavy showers were expected to hit the track.
Due to various reasons, the Modified class only attracted four racers. Multiple champion Oliver Bultynck and his Awesomatix team mate Mitchell Van Es would be challenged by youngsters Liam Van de Wouwer and Florian Joos. It was the latter who made a statement by claiming the first qualification run, albeit just 0.5 of a second in front of Oli. Mitchell was a few seconds further back. Oli made a diff change for Q2 and immediately attacked Florian. Florian seemed to be struggling with an oversteering car and crashed out in lap 7 while fighting for the lead. Mitchell thus took over the second spot. In the new round by round qualification system, the third run would thus decide the overall TQ. It was again a neck and neck race between Florian and Oliver, and they were swapping the lead lap after lap. Both cars still looked very tricky and lacking grip on this track. In the end, Oli took the last qualifier and the overall pole from Florian, Mitchell and Liam.
The track conditions seemed to have worsened though as both Oli and Florian lost about 0.5 of a second per lap compared to the testing on Saturday. The local drivers said it was due to the lower ambient temperature and the fact that tire additive has always been forbidden on this track. All the touring drivers just cleaned their tires with brake cleaner and applied no additive before the run, as additive only seemed to last for 2 laps and resulted in deteriorated handling afterwards.
When the drivers lined up on the starting grid, the skies were very dark and menacing. Florian discovered the reason for his car's erratic handling. It seemed that one of his tyre warming cups was defective. As it was the rear left, it caused the car to drive strangely. He decided to mount a fresh set of tires whereas the other drivers were on older rubber. Oli took the holeshot, but while everyone expected him to clear off, Florian was hot on his heels. The youngster made a move, but touched Oli and waited for him to recover. This allowed Mitchell to get into the mix however. On lap 6 Oli made an error and this allowed Florian through in the lead. Afterwards, the marshals indicated it started to rain lightly. This rain caused Oli's car to spin. As Florian inherited the lead, he too was aware of the changing track conditions and started to drive slightly different lines. Oli was recovering from his spin and set out in hot pursuit. His challenge came too late as he finished in 2nd position, just 0.8 seconds behind Florian. After this final, the heavens opened and a huge downpour flooded the race track. The officials decided not to run the remaining two finals and the ranking was made based upon the first A-main. The overall position was Florian Joos (Xray), Oliver Bultynck (Awesomatix), Mitchell Van Es (Awesomatix), Liam Van de Wouwer (ARC).
As Nicolas Delisé needed to start from the slowest of the two Touring Stock heats, he didn't really know what his true race pace was. He convincingly won his heat, but when Vincent and Giovanni hit the track, it was obvious he had some more work to do. Both Xray drivers were tight in a close battle. Giovanni however slightly edged out Vincent and took Q1. Vincent was followed by Nicolas, Stefan Rommens (Yokomo) and the Awesomatix of Niels Meurs. In Q2, Nicolas upped his game and shaved eight seconds off his previous best time. The battle between Vincent and Giovanni raged on. Vincent seemed to have the upper hand until lap 10 when he made a mistake. This encouraged Giovanni to push harder. He managed to win Q2 as well and took the overall TQ. Vincent finished in 2nd, just in front of Nicolas Delisé, Niels Meurs and Stefan Rommens (Yokomo). To everyone's surprise Giovanni took the start of Q3 to test a different setting on his car. He retired his car after 8 laps and handed the run to Vincent. Nicolas took P2 in front of the young rising star Alexander Van Gansen (Yokomo). This up and coming driver held experienced racers Niels Meurs and Xavier Debroye at bay. The qualification order was Giovanni Moguez (Xray), Vincent Van Gansen (Xray), Nicolas Delisé (Xray), Niels Meurs (Awesomatix) and young Alexander Van Gansen (Yokomo).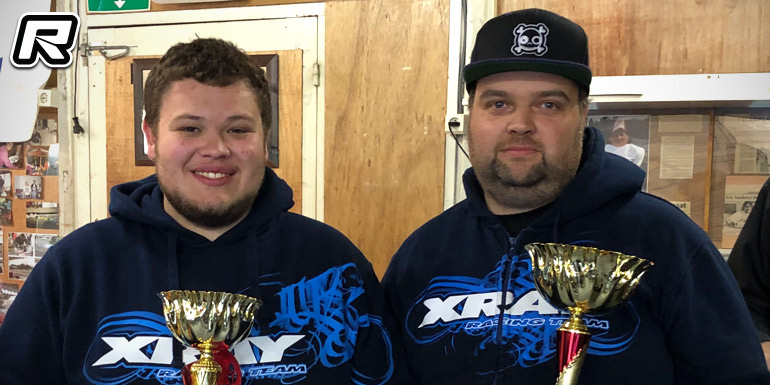 At the start of the first A-main, it was obvious that Giovanni's tactics were defending rather than attacking. He was driving cautiously during the first laps. It seemed that the fight for the lead would become a 3-horse race as Nicolas was pushing hard to come back from a slow start. On lap 6, Nicolas came back into Vincent's slipstream but made an error the next lap. This gave Giovanni some ease of mind and he started pushing as well. In the meantime, Alexander Van Gansen managed to pass Niels and found himself in P4. He even opened up a gap on P5 driver Xavier Debroye and drove a steady race. At the front, Gio and Vincent were still intertwined in a heavy battle. Whenever Gio went faster, Vincent responded. Gio saved his last punch for the last couple of laps. He set his fastest lap time in the very last lap and won by just .7 of a second. The overall ranking was Giovanni Moguez (Xray), Vincent Van Gansen (Xray), Nicolas Delisé (Xray), Alexander Van Gansen (Yokomo) and Xavier Debroye (Xray). Just like in Modified, the final ranking was made upon the result of this single A-main final.
The man to beat in the Formula class was Oliver Bultynck. Since Steve Deblaere and Nicolas Delisé quit Formula racing, he didn't have a lot of challenge. He dominated the qualifications by being almost two laps faster than local driver Niels Meurs (Roche). Liam Van de Wouwer (Xray) and Ludo Van Hoeydonck (Tamiya) finished in P3 and P4 respectively. The first final was also dominated by Oliver Bultynck as he lapped Niels and Liam twice. Liam, who was much closer to Oli during the previous rounds didn't quite get his setup together and was lacking tracktion and steering on this track. A late error from Niels saw Liam come back, but Niels held his calm and took P2 in front of Liam and Ludo.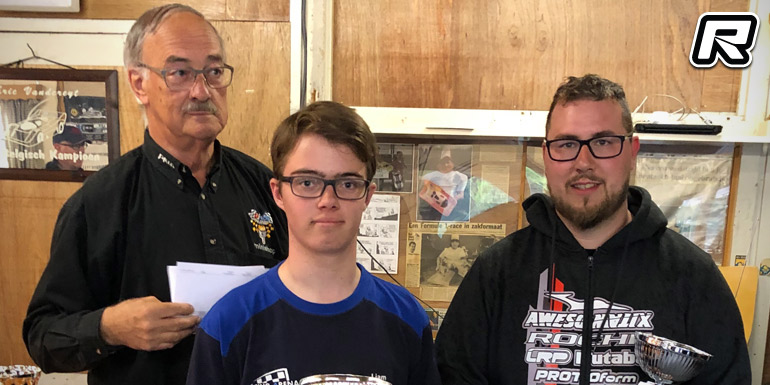 After the first rounds of finals the heavens opened. When the storm eased of, the start for the second Formula A-main was given. Liam Van de Wouwer had his rain car ready and won the second A-main. The investment in a rain car paid dividends to the young driver as he sealed the overall win with his strategy. The overall ranking was Liam Van de Wouwer (Xray), Oliver Bultynck (Roche), Niels Meurs (Roche) and Ludo Van Hoeydonck (Tamiya). Unfortunately Niels was unable to attend the price giving ceremony.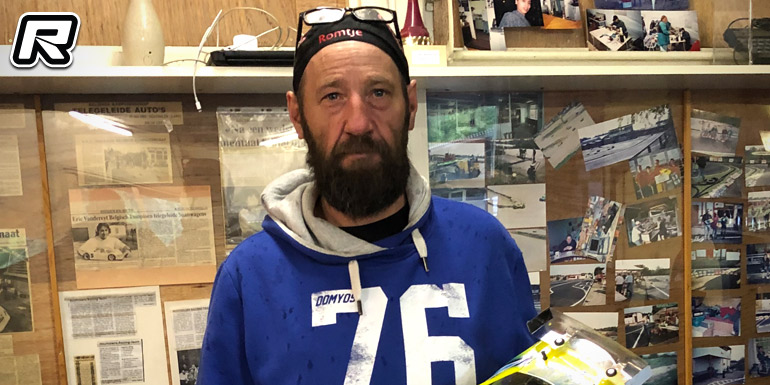 The fun class seems to increase in popularity as new faces appear during every race. The concept of this class is quite simple. Four independently sprung wheels, Volante tires and a spec T2M Rush 17.5 motor. The fastest driver in this field is Luc Wauters. Luc dully put his Xray on pole and set the fastest single lap time as well. New Fun racer Jannick Rommens took the P2 position with his Yokomo while Krist Bultynck showed his skills by putting his VBC on the 3rd position of the grid. Youngster Aaron Vandepoele (Team Magic) and Herman Van Gansen rounded off the top 5. The Fun class managed to get one dry and one half dry final done. In the dry final, Jannick took the victory in front of Aaron Vandepoele who drove a stellar race. Herman, Luc and Bruno Vanhauw completed the top 5. In the half dry, half wet final, Krist Bultynck took a popular victory in front of Janncik, Dieter Stock, Herman Van Gansen and Luc Wauters. The overall result was Jannick Rommens (Yokomo), Herman Van Gansen (Yokomo), Luc Wauters (Xray), Krist Bultynck (VBC) and Aaron Vandepoele (Team Magic).
Source: David Joos | FBA [fba-rc.be]
---