June 19, 2019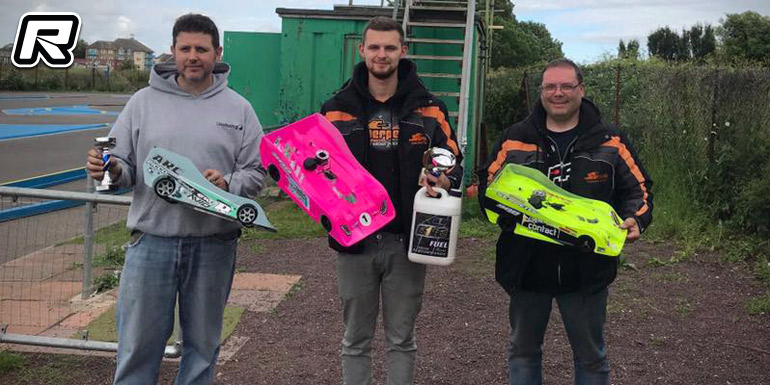 BRCA 1/8 Nationals moved to the Adur track for round 5 of the series recently. Things started well with a nice blue sky on Saturday morning but phones were quickly out to check if rain was on the way. Unfortunately it was and everyone tried to make the best of the morning to find a good setup before things got wet. There was some drizzle in the air from lunchtime and it started raining from 3h30. No cars were to hit the track from that point. Sunday morning was dry for drivers' briefing. Tim Wood, current championship leader, and Andy Hastings were absent, meaning their usual spot in the A was up for grabs. Practice started at 9am and drivers were eager to get going. There were 7 cars in electric and 23 in nitro, all making the most of the dry conditions as it was clear that it would quickly change. And it did. The rain started just before 10. Out with the phones again.
Round 1 Wet track, all cars stayed in the pits. Round 2 The track was still very wet. Only 1 driver in electric and 1 driver in nitro went out. Round 3 Most cars were fitted with damps to try a drying track. It was probably the right strategy as the weather still looked quite unpredictable and we could have had rain again for round 4. The track was wet at the start of the round but became more drivable for the faster heats, only 14 drivers decided to go out. TQ was set by Alex Thurston with a 17 laps in 315, still 4 laps off the pace on a dry track. David Spashett was 2nd and Sam Snell 3rd. Round 4 the track was finally dry and this was the round to get right. Alex (Serpent) was on it and managed a 21 laps in 305, followed by David Spashett (ARC) 21 in 312 and James Conolly (Mugen) 20 in 301.
The A-final of Nitro saw a very clean start. Mark Green had qualified 7th but made clear it didn't mean he wasn't in for the win. Everyone was treated to a very nice battle on track between Alex and Mark. After the 30 minutes Alex won with 122 laps, mark was on 121 and David Spashett came 3rd with 119 laps. The best lap of the race, and of the whole weekend was from Mark in 13.99.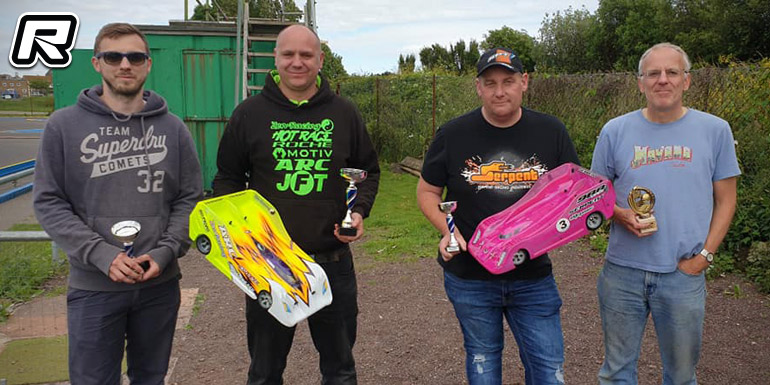 The finals however started with the electric category. Greg Fairlie had FTD, followed by Graham Hurley and Adrian Dew. Craig Nutting had qualified 5th following electrical issues but quickly made a move in order to take the lead and won leg 1 with a 22 laps in 362, followed by Liam Ross (21 in 369) and Jason Hurley (20 in 363). Best lap was Craig Nutting's in 15.07. Leg 2 was rather similar to leg 1 with Craig making a move in the first lap to take the lead and keep it until the end of the race. Best lap was Craig's with a 14.63. This meant Craig won overall, Liam Ross came 2nd and Adrian Dew came 3rd.
The next Nationals will be on the 14th of July in Mendip
Thanks to Franck Dambrine for the report.
---