June 16, 2019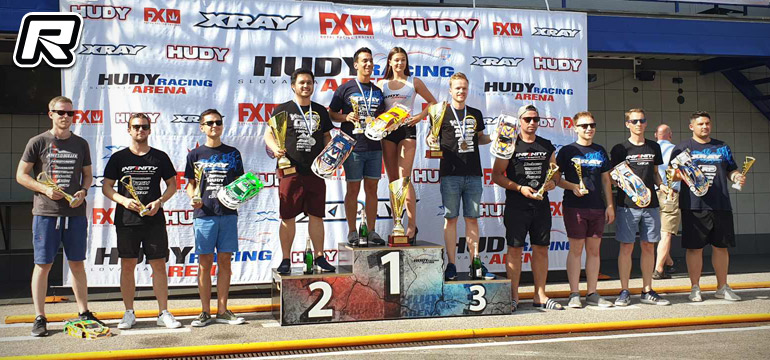 The 2019 EFRA Electric On-road European Championship was held at the Hudy Racing Arena in Trencin, Slovakia this weekend. The event started off on Thursday with three rounds of free practice, two rounds of timed practice, and one round of qualifiers. After the timed practice it was Bruno Coelho sitting in 1st position in Touring Modified, while Jan Ratheisky was 1st in Touring Stock and Formula. The day finished with the opening qualifying round where Bruno Coelho took the Modified, Oliver Bultynck took the Stock class and Jan Ratheisky topped the Formula class. Another four rounds of qualification were held on Friday. Qualification in the Stock class was very competitive and four different drivers had at least one TQ run including young Oliver Havranek. After all good racing it was Bruno Coelho taking overall TQ in mMified, Oliver Bultynck in Stock class and Jan Ratheisky in Formula.
Going into the final day, everybody was excited to see some great racing in the warm weather conditions. In Modified, Bruno Coelho took A1 and A2 and secured the 2019 European Championship title in the Touring Modified class. Ronald Volker took A3 which secured him the overall runner-up spot. Christopher Krapp wrapped up the podium in Modified.
Touring Modified top 10 results:
1. Bruno Coelho – Xray
2. Ronald Volker – Yokomo
3. Christopher Krapp – Yokomo
4. Alexander Hagberg – Xray
5. Frederik Sudhoff – Awesomatix
6. Victor Wilck – Infinity
7. Marc Rheinard – Infinity
8. Elliott Harper – Xray
9. Jilles Groskamp – Infinity
10.Patrick Gollner – Xray
Best Junior: Matej Sulc – Xray
In the Stock class, Oliver Bultynck showed clean runs in A1 and A2 which secured him the 2019 European Championship title. Dominic Vogl and Oliver Havranek were tie on points after A3 but Dominic had better time and finished ahead of Oliver Havranek.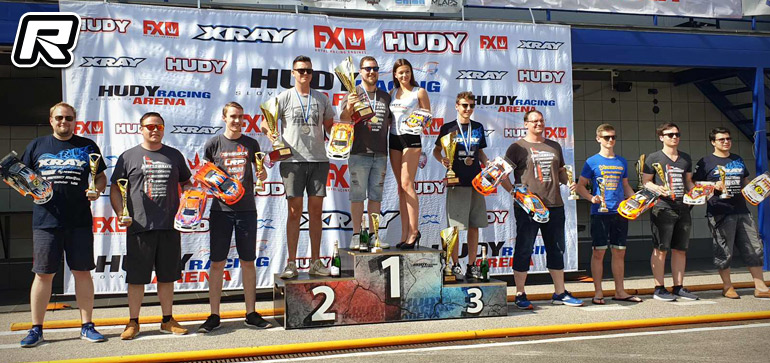 Touring Stock top 10 results:
1. Oliver Bultynck – Awesomatix
2. Dominic Vogl – Awesomatix
3. Oliver Havranek – Xray
4. Frederik Brolos Mikkelsen – Awesomatix
5. Max Machler – Awesomatix
6. Jan Ratheisky – Xray
7. Christian Donath – Awesomatix
8. Bartolomiej Zambrzycki – Yokomo
9. Simon Lauter – Awesomatix
10.Tom Krägefski – Xray
Best Junior: Oliver Havranek – Xray
In Formula class Luke Lee took A1 but Jan Ratheisky came out on top in A2 & A3 for the overall title. Luke Lee finished 2nd and David Ehrbar 3rd.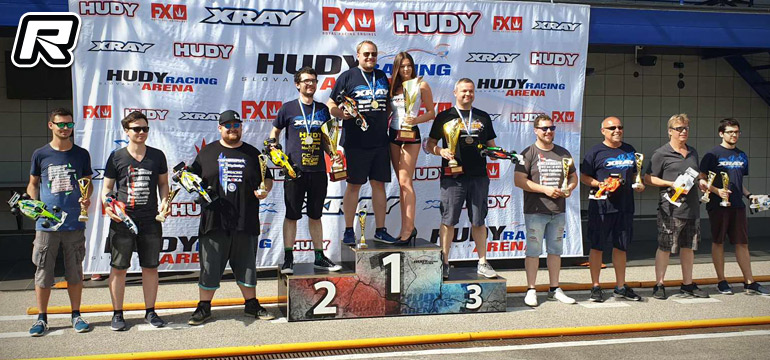 Formula top 10 results:
1. Jan Ratheisky – Xray
2. Luke Lee – Xray
3. David Ehrbar – Serpent
4. Jacques Libar – n/a
5. Simon Lauter – Tamiya
6. Andreas Stiebler – n/a
7. Oliver Bultynck – Roche
8. Herbert Weber – Xray
9. Thomas Dvorszky – n/a
10. Michal Wojcik – Xray
Best Junior: Lukas Hoch
Source: Xray [teamxray.com]
---