June 24, 2019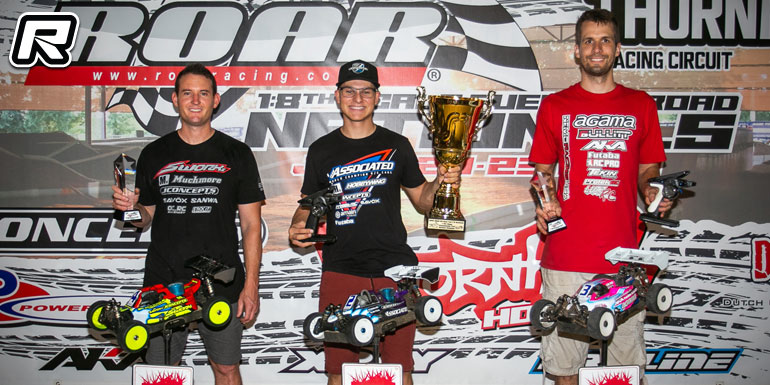 This year's host track to the ROAR 1/8th Fuel Offroad Nationals was none other than Thornhill Racing Circuit in Hutto, Texas. This legendary track has undergone some facility updates over the years with the addition of a roof but has remained as one of the best 1/8th tracks in the country. The covered roof guarantees a race, which was a major concern at last year's Nationals in Lake City, Florida. If you're new to RC racing, the 1/8th ROAR Fuel Nationals is one of the biggest races on the calendar and each year there are three new champions to crown: 15U buggy champ, Nitro Buggy champ, and finally a Nitro Truggy champion. With the best of the best in the industry all present to fight for each title, there's no holding back as everyone is pushing for maximum performance and a crack at being called a National Champion.
As always, the 1/8th Fuel Nationals is a popular event and for those who love nitro racing, it is definitely a must-attend event of the year. There are only 2 classes along with the addition of the 15U A-final, which makes things a lot more simple to where you stack against the entire US field of nitro racers. Where you finish at this event is probably very close to your national ranking … if there was one.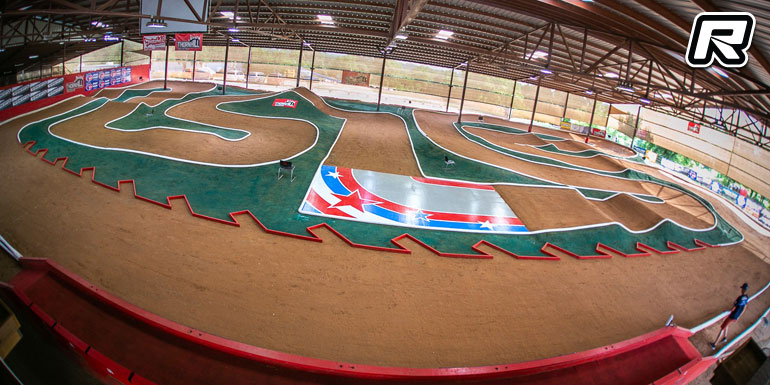 The track at Thornhill is simply amazing and for this year's 2019 ROAR Fuel Nationals, the Thornhill crew did a remarkable job building a layout that had great flow but was actually quite simple. This meant that the championship wasn't going to be decided on some fluke section or insane jump section, but rather came down to consistency, mental strength, and sheer speed. This year, racers were pushing the envelope by incorporating 1/10th indoor tire prep methods like scuffing, sanding, burning in, and some were even using tire warmers to get the tires to provide more grip. However, by the end of the event, just a slight scuff was needed as the grip levels were high and any of the burn-in and tire warmer techniques created a very edgy car to drive.
It was going to be hard to beat Team Associated's Spencer Rivkin on this day as his entire package was working so well and having won his 1st Nitro Buggy National title here back in 2016, Spencer was full of confidence and rightfully so. SWorkz's Ryan Cavalieri has been building momentum from AMS10 finishing 2nd in Pro Nitro Buggy and looked great throughout qualifying here at Thornhill. As the race started, TQ Dakotah Phend, led the field out but the 1st lap resulted in a lot of mayhem shuffling Spencer way back in the pack. After a rollover for Phend, Cavalieri took over the lead and looked to extend it from his competitors, but Spencer Rivkin slowly tracked Cavalieri down and contested for the lead and eventually made the pass on the far left double. After taking over the lead, Spencer was able to put down some clean laps and crossed the line in 1st and took his 2nd career Pro Nitro Buggy National title. Cavalieri drove an amazing race and closed out his run in 2nd with Agama's Ryan Lutz once again in 3rd.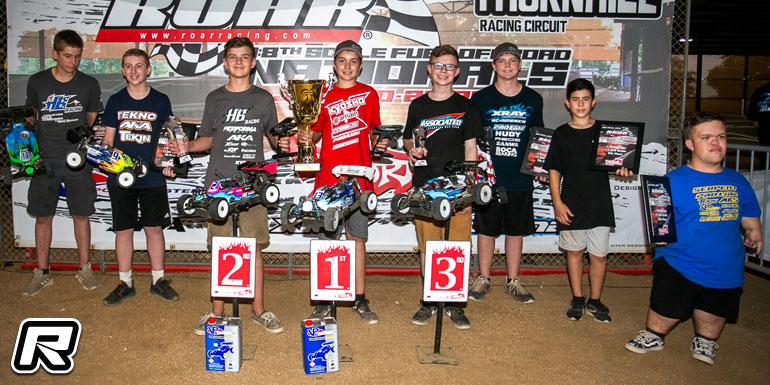 The talented group of 15 and Under Nitro Buggy drivers were impressive and currently the future of 1/8th racing as we know it. It was great to see them battle in a race of their own in the 15 and Under Nitro Buggy class and taking the exciting last lap win was Kyosho's CJ Jelin. With the speed to win and very close to doing so, HB Racing's Camden Lime put in a thriller of race as he and CJ left everything on the track. Finishing in 3rd place was Team Associated's Austin Wick, whose speed was starting to shine as we hit main-day.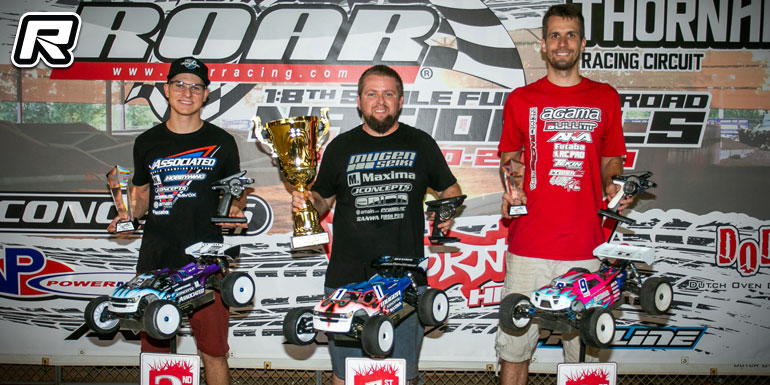 It was a picture-perfect race for Mugen's Ryan Maifield as he delivered one of the best runs of his life in Nitro Truggy. No crashes, no major mistakes, and a spectacular photo finish down to the wire with tyre teammate, Spencer Rivkin. Knowing he had to pit at around 7:30 and Spencer was going to pit every 9:00 minutes, Ryan had to make up a lot of time on the track as every second mattered to ensure he was in the lead after the final pit stop. As the final pits played out, Ryan launched down pit lane and came out in front with Spencer just .7 seconds behind and in a hard chase. The two fought it out for the last 7 minutes, but Ryan held out and took a hard fought win adding another National title to his super long list of racing accomplishments. Spencer Rivkin earned did all he could nearly winning both classes, finished in 2nd place with Agama's Ryan Lutz passing Ty Tessmann on the last laps to claim 3rd.
Source: JConcepts [jconcepts.net]
---