July 16, 2019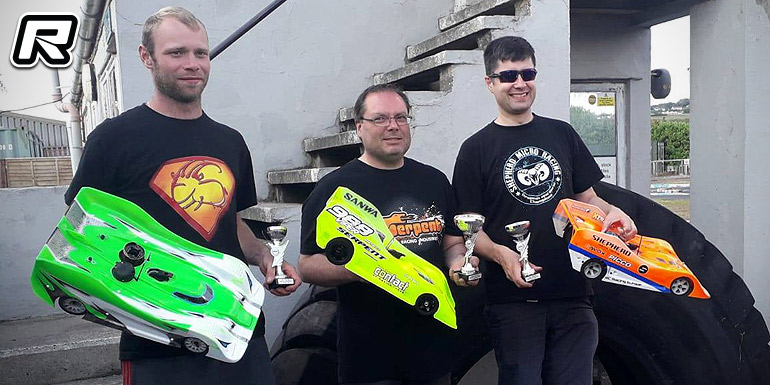 Round 6 of the BRCA 1/8th Circuit Nationals was held at Mendip RC Raceway this weekend. 32 drivers were in attendance in nitro and 7 had booked in electric. The track was nicely prepared and sprayed to ensure grip would be good and consistent. The track was still dusty for practice on Saturday morning but the grip quickly came up under the Somerset sun. It was all about getting good lines and watching tyre wear, which would prove to be a bit of an issue on race day. Sunday started as usual with the drivers' briefing, during which a minute silence was observed in memory of Dave Waters, former BRCA Chairman, who recently passed away.
Practice started at 9h15 to get ready for round 1 at 10am. David Spashett set the pace with a 19 in 301, and 19 laps seemed to be needed to make it in the A. It also looked like a few drivers were struggling to make the five minutes on fuel, so that would be another thing to watch. In electric Craig Nutting was the first one to manage 19 laps and seemed to be the man to beat.
There was no major pace improvement in round 2 and 3 but Mark Green managed 20 laps. Tim Wood was also on the pace for 20 laps but could only do 19 in 298 in round 3. After round 4 FTD went to Mark Green (Serpent) with 20 in 315, followed by Tim Wood (Shepherd) with 19 in 298. David Spashett (ARC) was 3rd with 19 in 301. The other 7 drivers for the A were Neal King 19L in 302, Andrew Hastings 19L in 306, Richard Hicklin 19L in 307, Sam Snell 19L in 307, Karl Dransfield 19L in 308, James Connolly 19L in 308 and Jason Frost 19L in 308. In electric Craig Nutting was FTD, followed by Luke Drinan and Neil Wallace.
To change or not to change, that was the question for the nitro A-final. There was a lot of tyres measuring done in the morning and a lot of thinking done before the start. Which strategy would pay off? Drive conservatively and not change tyres or push and gamble everything on changing? David decided not to change and finished 4th from 3rd on the grid. Mark won with 108 in 1793, followed by Tim, who finished on the rims, with 107 in 1821 and Neil King with 106 in 1803.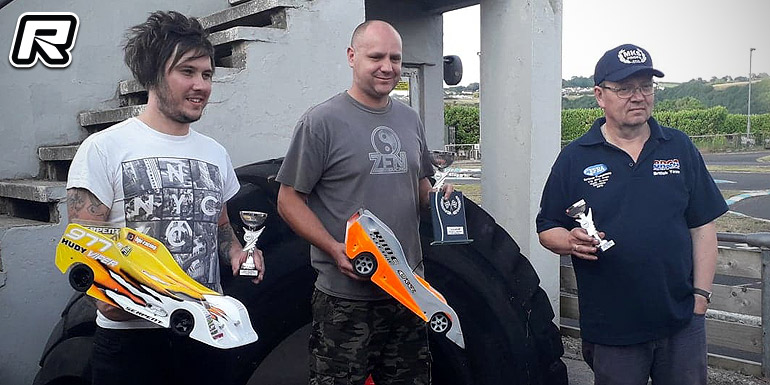 The electric final leg 1 was first on the line and after the five minutes Craig Nutting crossed the line in first place, followed by Luke Drinan. Craig won both legs and therefore was the electric overall winner. Overall, as in both legs, Luke was 2nd and Mark Passingham was 3rd. The best lap of the finals went to Craig with a 15.86.
Round 7 will be held at Brooklands on the 3rd and 4th of August.
Source: BRCA [brca.org] | Franck Dambrine
---