July 15, 2019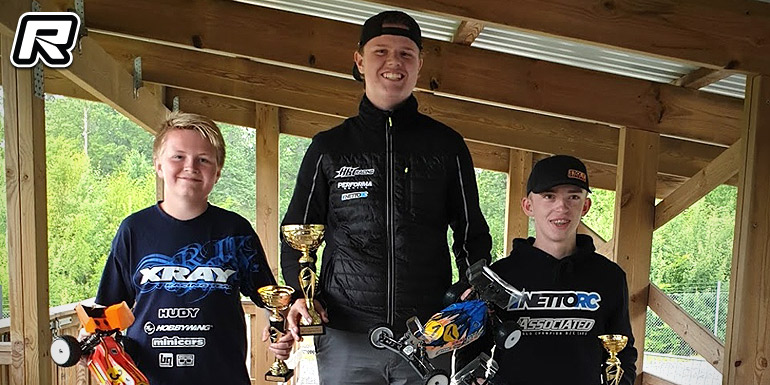 The second round of the Swedish 1/10th EP Off-road Cup was held at the K-raceway and hosted by the Karlskrona Miniracing Club recently. The weekend started off with a Friday evening practice session. Come Saturday and 2WD time it was HB Racing's Elias Johansson who led the way in A1 with Team Associated's Wilhelm Skjoldebrand and Xray's Alexander Landen being in a battle for the runner-up spot.
For the second round of finals it started to rain and it got to be very slippery. Alexander was able to take profit of the slippery conditions thanks to a matching car setup and smooth driving style, bringing home the win in A2 from Wilhelm and Elias. The third round was the ultimate decider, as all three drivers – Alexander, Elias and Wilhelm – would be in the position to take the overall victory. Again, it was slightly damp, so things were looking good for Alexander. The pace was good, but some first lap trouble saw him drop to 4th on the opening lap just to get back up to 2nd before the end of the race. Up front it was Elias with the overall from Alexander and Wilhelm.
Sunday was 4WD time and the conditions were roughly the same, a bit colder and with rain threatening to fall all of the time. Again it was Elias up front with Alexander coming on the 2 spot. In the first A-main Alexander and 3rd place qualifier Wilhelm again got locked in a battle for 2nd which let Elias take off and secure leg 1. For the second round Alexander's dad made some small adjustments to the speedo and slipper, and all of a sudden found more consistent pace. Alexander tagged along with Elias on the first lap, and Elias made a small mistake at the end of the first lap. Alexander got passed but just as doing so clipped a marker and ended up on his roof as well. This meant that both Elias and Alexander lost positions with Otto Ausfelt taking up the lead. Elias and Alexander were able to chase him down and get past him, and then the battle was on. Alexander was chasing Elias and after a couple of laps was able to make a clean pass. The battle continued, but Alexander was able to retain the position across the finish line.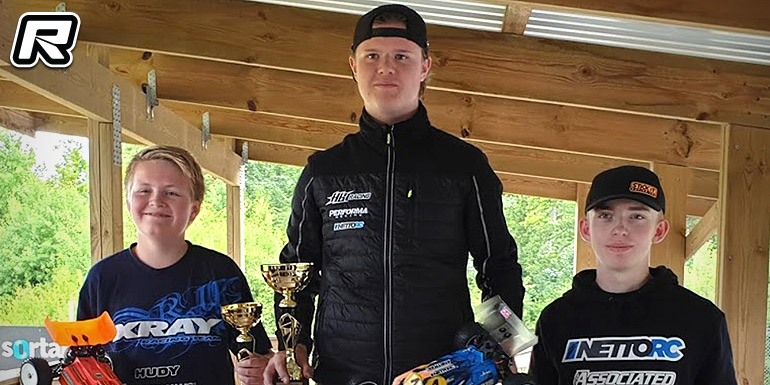 For the final leg the heavens opened up and it was run in full wet configuration. Alexander had a good car in the wet and the pace was really good, however a small first lap incident that Alexander was involved in gave Elias a couple of seconds margin, which was all he needed to secure the win in the final round. Alexander was catching up, but was never able to get close enough to challenge for the win so Alex came in 2nd from Wilhelm Skjoldebrand in 3rd.
Source: Xray [teamxray.com]
---