July 16, 2019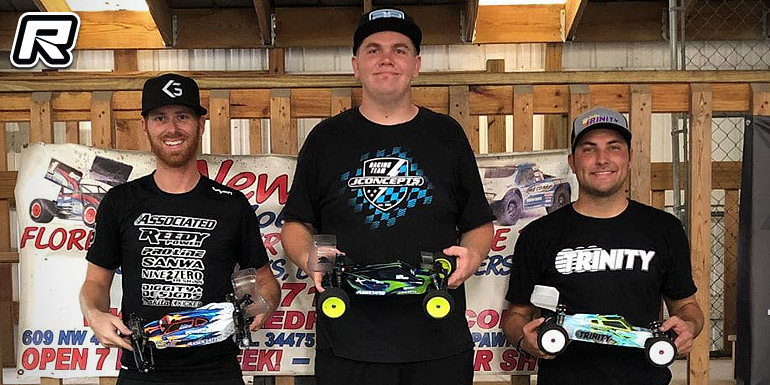 Summer time racing in Florida can be a huge challenge with daily thunder storms rolling through causing havoc with many of the state's outdoor tracks. JConcepts decided to keep racing going strong throughout the summer time rain and kicked off its inaugural Super Indoor Tour this past weekend at NewRed Hobbies located in Ocala, Florida. With this new 3-race series, the organisers decided to try out a new race format giving racers more track time and heads-up racing. Qualifying would consist of 2 rounds of 4-minute long qualifiers using the best 3 consecutive laps with a resort between rounds 1 and 2. All racers then get to race double mains (no bumps) for all classes giving them more heads-up racing and multiple chances to produce their best results. Overall finishing position would be determined by your best finish with fastest time being the tie-break, so if bad luck struck in the first main, you still had a shot of the overall win or a better finish from main 2.

Saturday morning saw a great crowd of 123 entries arrive bright and early as the gates opened at 6:30am and qualifying started around 9:45am. Race director Shaun Morrow ran a very quick and efficient race program which had 2 rounds of qualifying finished by 2:20pm. After a 40min break for open practice and main prep, the new double-main format got underway at 3:00pm. The double-main format proved to be very exciting and several racers took full advantage of the 2nd chance main by improving their overall finishing position after breaking down or crashing out of the 1st main.
2WD Modified was the Lee Setser show as he would dominated throughout qualifying and the double A-mains. Lee TQ'd and won both A-mains with flawless driving to take the overall win, but it was Kia Goff and Jeremy Harris who put on a show with epic battles in both Main events. In the end, Kai would finish 2nd overall with Jeremy rounding out the top 3.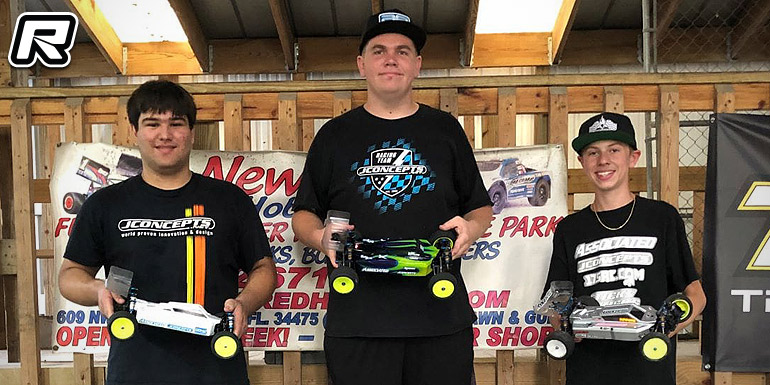 4WD Modified was a 2-way battle between Lee Setser and Julien Oliveras throughout qualifying and the double A-mains. Lee easily won A-main 1 with Julien having a mechanical issue, but A-main 2 was an epic battle down to the last lap where the 2 would collide in the air off the table-top and Lee was able to hold onto the win. Young gun Chase Uppole would settle for 3rd overall after losing the tie-break to Julien.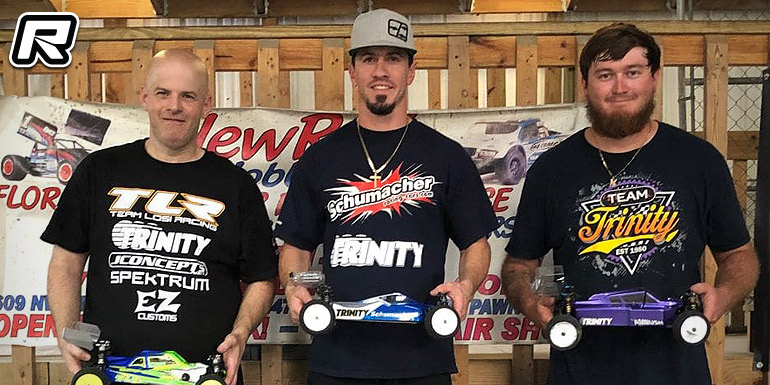 Expert 13.5 4WD Buggy had another dominating performance by Melvin Perez as he went on to TQ and win both double A-mains. Erik Everett would bump up from the 3rd qualifying spot to take 2nd overall and Brian Miller would round out the podium in 3rd.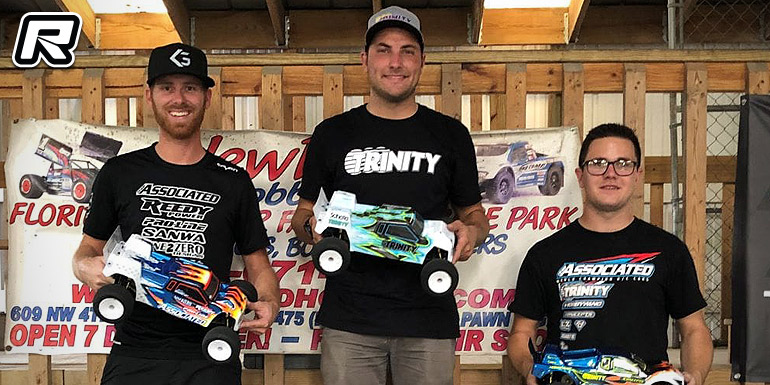 Expert 13.5 Stadium Truck was dominated by Jeremy Harris with a TQ and double A-main win. Kai Goff would finish 2nd overall and AJ Marasco rounded out the top 3 with a 26-year old converted EGT, an RC10 GT converted to electric.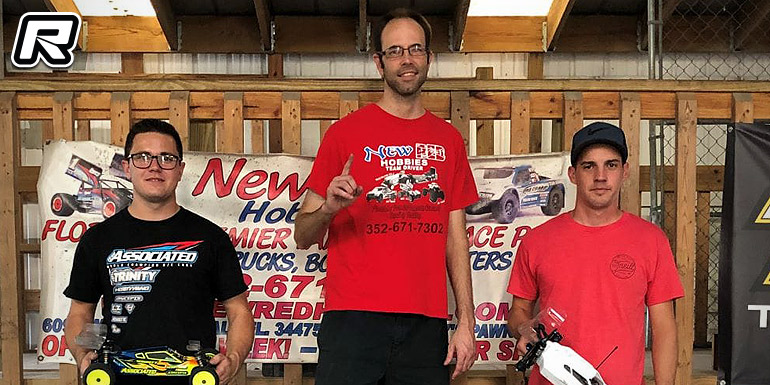 Expert 17.5 buggy was a bit of a "David vs Goliath" battle between factory driver AJ Marasco and local veteran privateer Mason Mccombs. AJ dominated qualifying with 2 round TQ's, but it was Mason who dominated the double A-mains with clean and consistent drives as AJ would have to settle for 2nd overall and Austin Craig rounding out the top 3 from his 8th qualifying spot.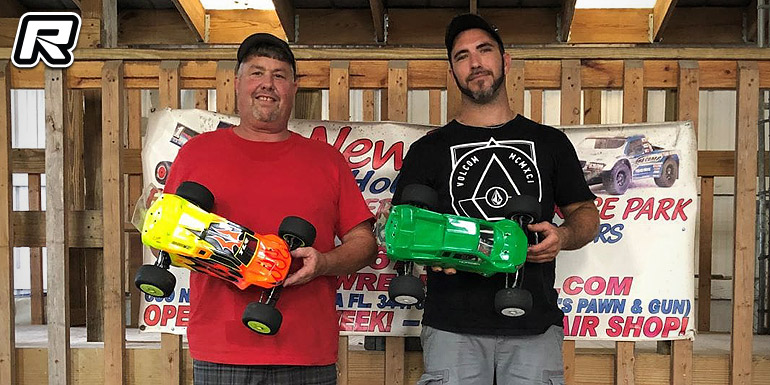 Independent 17.5 Truck saw local racer Joey Andre dominate as he went on to TQ and win the double A-mains for the overall. Keith Shivers would take full advantage of the 2nd chance main as he finished 6th in A-main #1, but stormed back with a 2nd in A-main #2. Tracey Proctor would bump up from his 4th qualifying position to take 3rd overall after the losing tie-breaker with Keith for 2nd.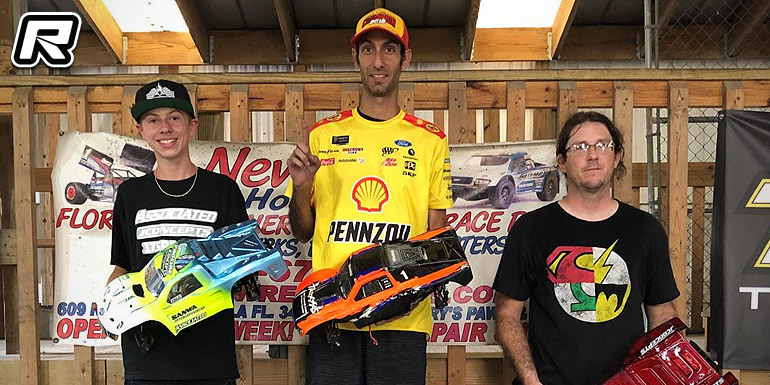 Independent 17.5 SCT had local racer Bobby Iafrate TQ and win the double A-mains. Scott Setzer and Jason Davis traded off 2nd place finishes with Scott winning the tie-breaker for 2nd overall and Jason settling for 3rd.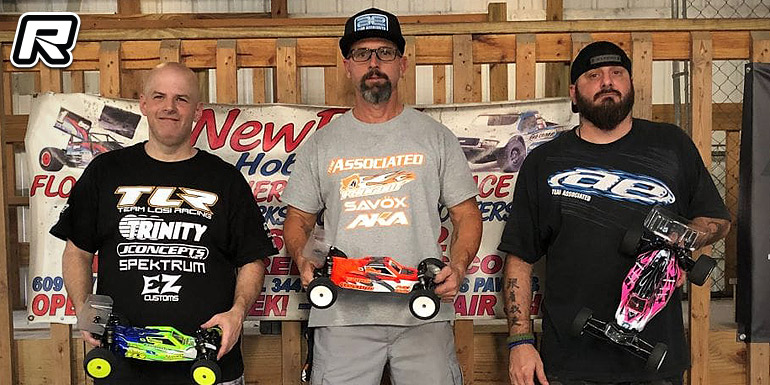 40+ 2WD Open Buggy saw a dominating performance from John Prickett as he went onto TQ and win the double A-mains. Erik Everett and Jason Hall would trade 2nd place finishing positions in both A-mains, but it was Erik who would win the tie-breaker for 2nd overall as Jason would have to settle for 3rd.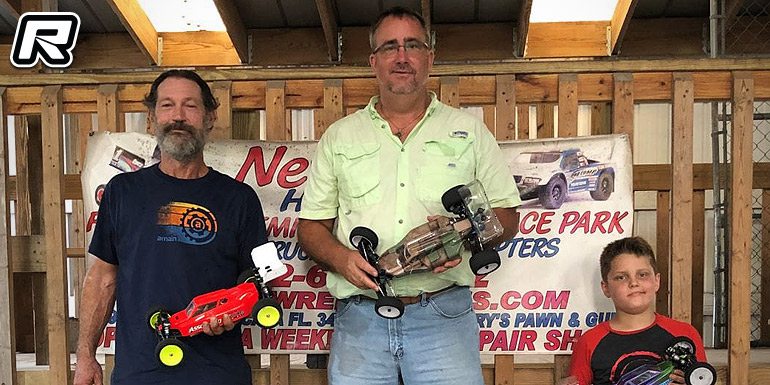 Open Novice class had a great battle for 1st place between TQ Bruce Kuni and George Andres. Bruce took the win in A-main 1, but it was George who took the win in A-main 2 with the faster overall time giving him the overall. Bruce would finished 2nd and young racer Daniel Raytharckmorton rounding out the top 3.
Round 2 of the JConcepts Super Indoor Tour will be hosted by Beachline Raceway and Hobbies located in Cocoa, FL on August 10th.
Source: JConcepts [jconcepts.net]
---