July 3, 2019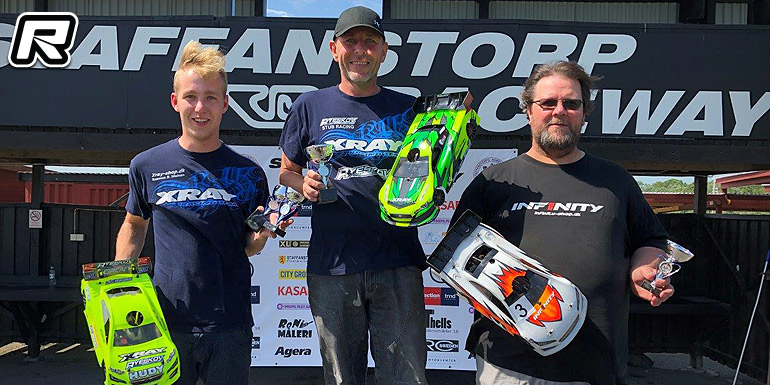 Last weekend the third round of the Swedish Nitro On-road Cup was held at the technical Staffanstorp Raceway track. The race attracted drivers from Sweden, Denmark and Norway and in the 1/10th 200mm Nitro Touring class it was clear right from the start that it would be a close affair up front with five drivers being on the same pace. Ultimately it was Rasmus Nielsen who set the pace in qualifying by claiming the TQ with a rocket drive in the last round of the qualifying. Lars Stub-Holm lined up in 2nd after being outpaced by three seconds over the 4-minutes round and Georg Ellingsen had to settle for the 3rd spot only six tenths behind Lars.
Going into the 45-minute final Rasmus looked to finish like he started, but after the start Rasmus, Lars and Georg opened a quite noticeable gap on the rest of the field. Georg was pushing hard and got past Lars but hit the curb while tracing Rasmus and needed to be restarted. Pitting a lap later than Rasmus but also a perfect stop for Lars, he was now leading the race by a small gap. Rasmus was however looking for the top spot and was trying to get back to Lars so he was pushing in order to get the lead but hit a curb at the end of the straight. This allowed Lars to extend the lead by two laps before the third round of stops, but Lars then took the curb at end of the straight and got a chunked tyre. This slowed Lars' pace so much that Rasmus was able to unlap himself and take the lead around the 17-minute mark. Since Lars had chunked the tyre he needed to change his pitstop strategy. But even with a full set of tyres at 20-minute mark he wasn't allowed to catch up to Rasmus, but a bad tyre change and a flameout some 30 minutes into the race meant Rasmus now was two laps down. But his pace allowed him to end up one lap down. At the end of the 45-minute battle it was Denmark's Lars Stub-Holm (Xray/One/Matrix) with the win a lap in front of fellow countrymen Rasmus Nielsen (Xray/Orcan/Matrix). Three laps down not was Norway's Georg Ellingsen Infinity/One/Matrix) in 3rd from Denmark's Claus Ryeskov (Xray/Orcan/Matrix) in 4th and Sweden's Viktor Lovén (Shepherd/Orcan/Matrix) in 5th.
Thanks to Claus Ryeskov for the report.
---