July 29, 2019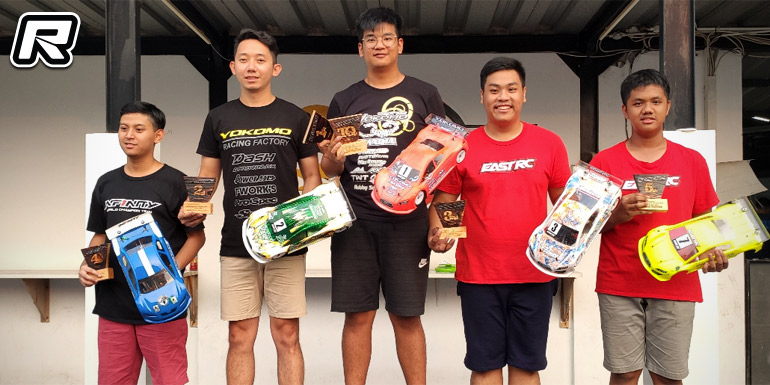 East RC of Jakarta, Indonesia held their 2019 East Summer Race this past weekend. With a fresh asphalt which resulted almost 1.5 seconds improvement of laptime, it was Meen Vejrak took the TQ spot in the Modified class, followed by Nicholas Lee and Bowie Ginting in 2nd and 3rd, while Charlee Phutiyotin rounded up the 4th and Muhammad Izzah secured 5th on the grid. The main final delivered some of interesting races as Meen took an easy win in A1 in front of Nicholas and Christian. Meen was pushed to retired in A2, allowing Nicholas to take the win in front of Bowie and Izzah. The deciding A3 went to Meen with a comfortable gap ahead of Nicholas. With this result Meen took the overall win followed by Nicholas and Bowie.
Touring Modified final results:
1. Meen Vejrak – Yokomo/Scorpion
2. Nicholas Lee – Yokomo/Dash
3. Bowie Ginting – Yokomo/Zombie
4. Muhammad Izzah – Xray/Hobbywing
5. Christian Mamesah – Xray/Hobbywing
6. Clarence Hartono – Xray/Hobbywing
7. Ridhwan Suteja – Xray/Hobbywing
8. Teddy Syach – Tamiya/Hobbywing
9. Arya Seta – Xray/Hobbywing
10.Charlee Phutiyotin – Yokomo/Scorpion
Thanks to Bowie Ginting for the report.
---