July 2, 2019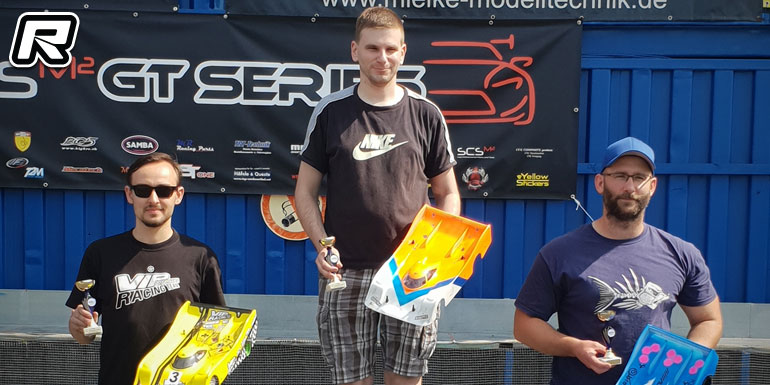 The MCC Rhein Ahr club near Koblenz, Germany played host to round 3 of this year's RC-Lemans Series this past weekend. The back-to-back race with round 2 saw Tim Altmann and Rainer Schad coming back in form with the two reigning champions taking the respective overall TQ's in the LMP1 Modified and LMP2 Stock classes. In Modified Tim's brother Kai came in 2nd from Timo Schad, Tobias Weist and Reinder Wilms. Over in Stock it was Kai Asmer, Sascha Lennartz, Jörn Bauer and Mathijs Hermens who were only separated by tenths of a second after the qualifiers, setting the stage for exciting A-main finals. In the fast LMP1 class it was Tim who dominated the show, however he was hotly contested by Timo who found a way past Kai at the start of A1. Mid-race Timo took profit of Tim who lost a bit of time while lapping backmarkers, however, shortly after Tim was back on top again. After a mishap of Timo it was Tobias who was promoted into 2nd place, while Tim up front was up and away and he would bring home the win in A1 from Tobias 2nd and Andreas Dick 3rd – the latter recovering from his P6 qualifying position.
The start of A2 saw Tim having a mishap right at the start that cost him some valuable spots. Kai, Timo and Tobias in return had a tight battle for the lead, with Timo for now obtaining the 1st place while again Andreas tried to recover from his P6 starting position. The latter would later be able to get by Tobias and also Timo to take the lead. Tim also gained some spots in the closing stages and he would come in 2nd following a mishap of Timo. Up front though Andreas would bring home his first RC-Lemans A-main leg win in the Modified class. A3 then saw a very controlled drive of Tim, who was willing to bring home the win. Behind him Tobias found a way past Timo and ultimately also got past Kai for the 2nd spot. As time was running out Tobias had to settle for 2nd place both in A3 and also overall while Tim brought home the win. Andreas would snatch his first podium finish in a tie-breaker with Tobias.
Over in LMP2 it was Rainer with the win in A1 and with the only 26-laps run. Mathijs came in 2nd after Kai Asmer made a mistake that would see him dropping back to 4th. A2 then saw Rainer upping his speed once more, taking the win with a 1-second faster run for an early overall win. Kai had to cope with temperature problems and sat out A2, making way for 3rd place qualifier, Sascha Lennartz. Joachim Behnken, a Modified class regular also started in LMP2 with a 200mm car and took 3rd place, coming from P6 on the grid. A3 then was pretty entertaining with lots of fights for the positions. Rainer would start despite having already taken the overall, however he scored a DNF following a mishap. Joachim again showed a great pace and after a lengthy fight with Mathijs, he would bring home the win from Mathijs in 2nd. Overall it was Rainer with the win from Mathijs Hermens in 2nd and Joachim Behnken on the 3 spot overall.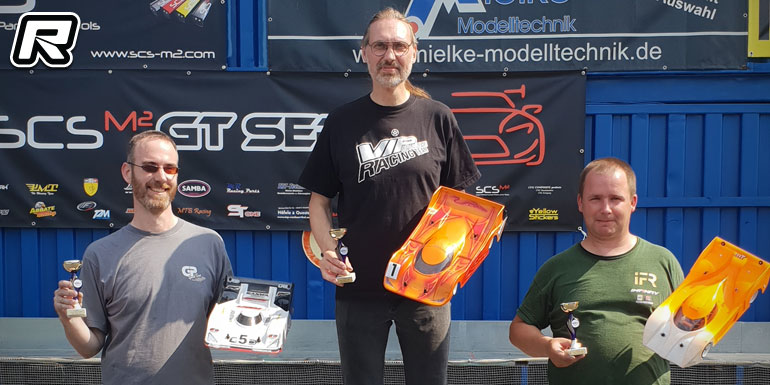 Source: RC-Lemans [rc-lemans.de]
---