July 10, 2019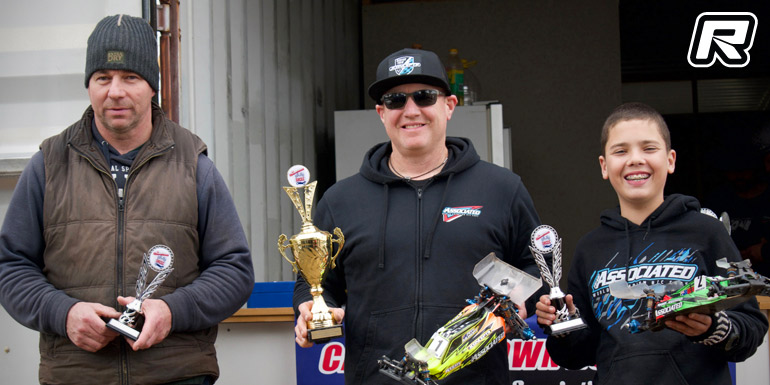 The 1st Showdown was held at Shepparton Radio Control Car Club the newest event to join the prestigious Victorian Drivers Series in Australia. With National and State Champions in attendance in the event was super competitive and well received. Starting on Saturday with a well prepared dirt/clay track a groove formed quickly during practice, however with a unfamiliar track and a un-abrasive surface tyre choice was a challenge for racers on the deceptively technical layout. With qualifying starting Saturday then finishing Sunday morning, the event was unfortunately cut short during the second round of finals due to rain, it was enough racing to get a result and competitors were more then happy with the event as a whole.

Competition was hot and it came down to the last qualifier for Ray to secure the TQ with a 0.2s margin over his 12yo son Lachlan and experienced racer Simon Healy. Each of them scoring a round win also with margins under half a second in every round. In what ended up being a class display Ray won each of the two finals by comfortable margins as the field fought it out behind him. With both Lachlan and Simon both having hard fought second places it was a tiebreaker by best time that relegated Simon to 3rd.
2WD Modified Buggy top 3:
1. Ray Munday – Team Associated
2. Lachlan Munday – Team Associated
3. Simon Healy – n/a
The most frenetic, fast-paced class on track the crowd were not left disappointed. Again, individual drivers took each of the qualifying rounds. With what was an incredible run, Lachlan Munday took TQ achieving the fastest ever time at the track with a 5s margin. However, luck was to change for him in the final. With only 1 final run due to the weather everyone witnessed an absolute classic. For most of the race there were five cars fighting it out all within a second of each other. Holding his nerve and with a late breather from a few mistakes from his rivals, Jordan made it a special victory under pressure. Glen Bonetti making a return had a stellar drive for 2nd and an unfortunate Lachlan with one mistake got 3rd. The rain meant only 1 final was completed and the results stood.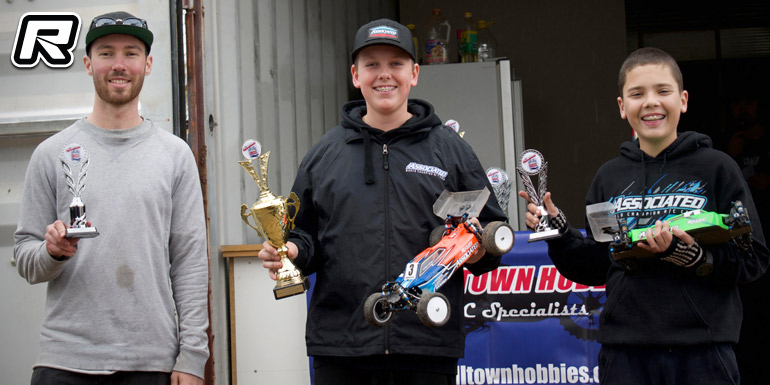 4WD Modified Buggy top 3:
1. Jordan Isergin – Team Associated
2. Glen Bonetti – Team Associated
3. Lachlan Munday – Team Associated
The Drivers Series Stock fields have historically had strong fields and no exceptions saw the reigning National Champion Leigh Cheeseman take 1 round and local Ben Howard taking the other two for the TQ. An early mistake by Ben in A1 gave Leigh the first final as Leigh's experience and consistency made it too much to make it up. With only one more final completed and Ben winning in a tight race with Simon McHugh, the winning time giving him the overall 1st Place.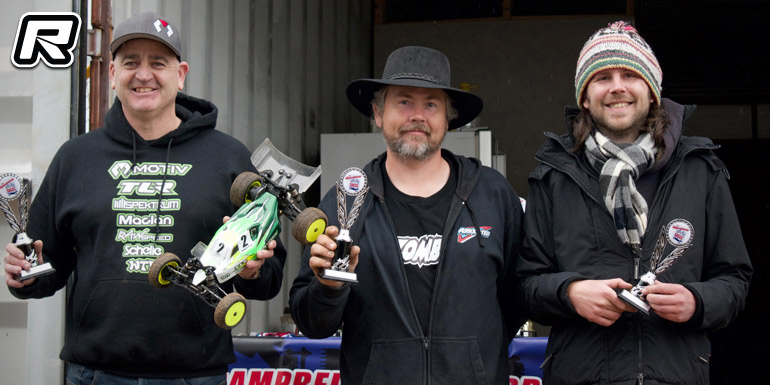 2WD Stock Buggy top 3:
1. Ben Howard – Team Associated
2. Leigh Cheeseman – TLR
3. Simon McHugh – Kyosho
Ben with the local track advantage was able to take all three 4WD Stock qualifiers, with Nathan Krohn qualifying 2nd behind him. In the deciding final Simon came from Q5 to get the 2nd place in a battle with Justin and Glenn Grinter, 3rd and 4th. Ben taking the double stock crown with a tone to tone win.
4WD Stock Buggy top 3:
1. Ben Howard – Team Associated
2. Simon McHugh – Kyosho
3. Justin O'Connell – Team Associated
The Vic Drivers Series prides itself on its strong Juniors' scene. This event saw the juniors all have a fantastic meet. With all of them improving their personal best times. TQ was won by Angus who won all 3 rounds. Kane Schembri pushed him and took the 2nd place on grid. In the two finals completed Angus cruised to victory in times that would have not been out of place in the seniors. Rob Holliday had a great first final earning him 2nd overall. Sash earning 3rd pushing his brother who had unfortunate set of finals to 4th.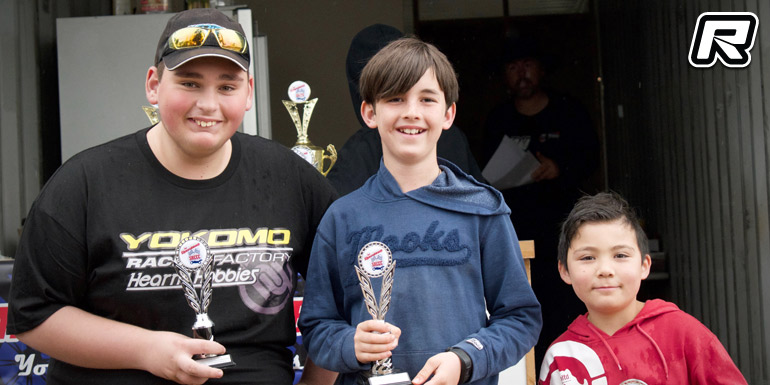 2WD Buggy Juniors top 3:
1. Angus Browne – Team Associated
2. Robert Holliday – Yokomo
3. Sash Schembri – Team Associated
Nathan Healy absolutely dominated stadium truck, winning comfortably with his fast style of driving. A popular victory for the young man it was Wayne and Mitch filling the remaining positions.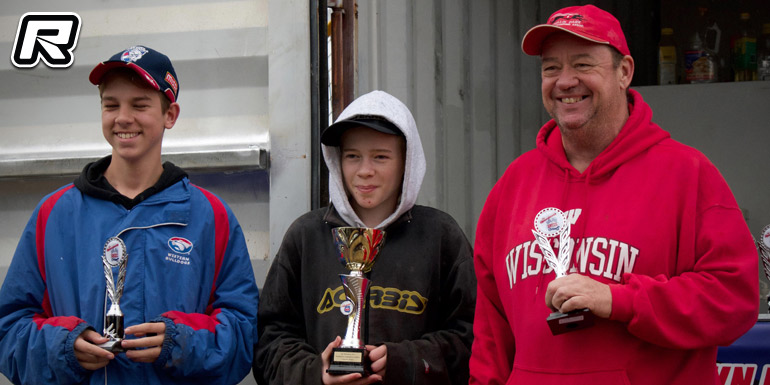 2WD Stadium Truck top 3:
1. Nathan Healy – n/a
2. Wayne Robinson – Team Associated
3. Mitchell Isergin – Team Associated
The 21.5T class has had some popularity in our area. And local Dale won all 3 qualifiers and all finals in a dominant display. Mark Casey was clearly next best and Racko earned his first podium.
2WD 21.5T Spec Buggy top 3:
1. Dale Brown – Team Associated
2. Mark Casey – Team Associated
3. Racko Schembri – Team Associated
In what feels like a Short Course resurgence, Leigh Cheeseman showed his class with flawless driving. The father and son team of Mark and Angus Browne came in 2nd and 3rd.
2WD Short Course Truck top 3:
1. Leigh Cheeseman – TLR
2. Angus Browne – Team Associated
3. Mark Browne – Team Associated
The 4WD 21.5T class was run for some keen competitors to try and spark some interest. A class for the average man had some good racing. Matt, Peter and Racko enjoying themselves.
4WD 21.5T Spec Buggy top 3:
1. Matt Coad
2. Peter Crowe
3. Racko Schembri
The Showdown was a success, some competitors camping out, others staying in accommodation around town. A great meeting for everyone to get together and have some serious competition in great spirits racing our cars. The club looks forward to seeing everyone again soon.
Thanks to Ben Howard for the report. Images: Claude Camilleri, Mozzed Video & Photography
---