July 15, 2019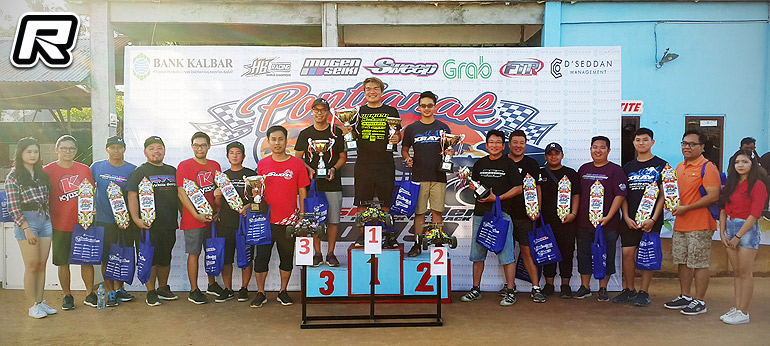 The 2019 Indonesia Challenge was held at the Forluck RC track in Pontianak, Indonesia this past weekend. The race attracted local racers as well as guests from abroad and it was Mugen's Shin Adachi from Japan who led the 53-driver field at the end of the qualifying, winning three of the five rounds. Another Mugen driver, Kenji Tsuruta came in 2nd after the qualifier. The hour-long A-main final then again saw Shin Adachi leading the way by taking the win with a 1-lap margin from Xray's Jason Nugroho. Mugen's Adrian Wicaksono came in 3rd to round out the top 3 podium result from SWorkz's Ryan Lee in 4th and Mugen's Kenji Osaka in 5th.
Final results:
1. Shin Adachi – Mugen/O.S.
2. Jason Nugroho – Xray/Novarossi
3. Adrian Wicaksono – Mugen/O.S.
4. Ryan Lee – SWorkz/Argus
5. Kenji Osaka – Mugen/Ninja
6. Kenji Tsuruta – Mugen/Ninja
7. Ray Timothy – Kyosho/O.S.
8. Kotani Kosuke – Mugen/O.S.
9. Arya BM – Kyosho/O.S.
10.John Agus – Kyosho/O.S.
11.Apex Kim – HB Racing/O.S.
12.Pragnya Defalla – Mugen/O.S.
13.Atek Jaya – Mugen/Ninja
14.Kenji Liono – Xray/O.S.
15.Ery Setiawan – Mugen/O.S.
Image: Jason Nugroho
---