July 22, 2019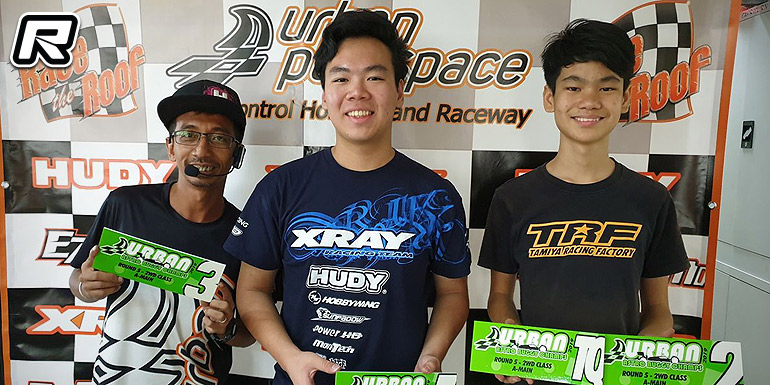 Round 5 of the 2019 season of the Urban Astro Buggy Champs in the 2WD class was held this past weekend at the challenging rooftop astroturf offroad circuit of Urban RC in Singapore. Warm sunshine greeted racers for once on an off-road race weekend. Running four qualifying rounds, the TQ fight would go to the wire as Sean Lee, Esmail Apandi and Dominic Quek, who was making his season debut, each TQ'd the first three rounds. Lee showed that he was the one to beat when he TQ'd round 4 by some three seconds from Apandi. Quek would start 3rd on the grid, with Andrew Tow taking the final direct entry into the 6-car A-Main. Running bump-up finals, and gaining the two bump-up spots into the A-Main were TS Bay and Sebastian Lee, father of Sean.
In A-main leg 1, Lee got off to a good start as a mistake by Apandi in the middle double on lap 2 allowed Tow and Quek to gain positions. On the next lap, a roll by Tow exiting the ramp saw Quek move up into 2nd. Quek chipped away at Lee's lead until a mistake at the front double by Lee gave Quek the lead. Quek would hold on to take the Leg 1 win, with Lee in 2nd and Tow in 3rd.
In leg 2, it was a race of attrition and the first to fall by the wayside was Apandi who made a mistake at the last turn. Tow was next as he rolled coming off the ramp. That left the 2 youngsters to fight for the win. With just over a minute remaining and a fast charging Quek, Lee made mistake in the middle double, opening the door for Quek to take the lead. Lee was not done just yet as he put in a couple of fast laps to close in on Quek. However a close encounter with one of the pipes by Lee, and another mistake in the middle double, would give Quek the win for leg 2 and the overall win for the day. Bay finished Leg 2 in 2nd, with Sebastian Lee in 3rd.
Leg 3 would see a fierce fight for the final podium spots. With Quek sitting out, Apandi would win by just under two seconds from Lee.
Source: Urban RC [facebook.com]
---