July 15, 2019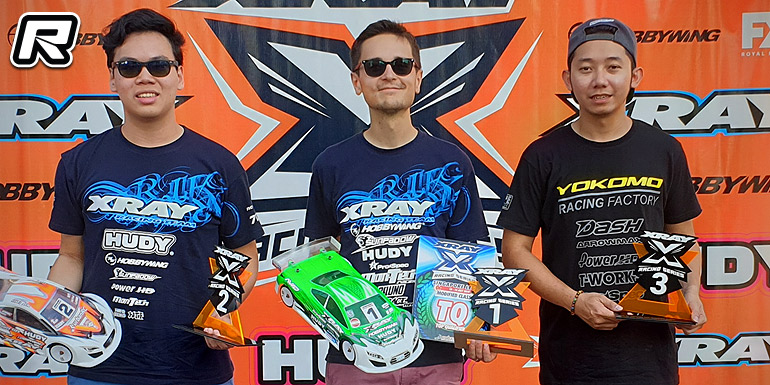 The 2nd running of the Xray Racing Series Singapore took place this past weekend at the Urban RC onroad circuit in downtown Singapore. The event was headlined by the entry of Xray factory driver Alexander Hagberg, who joined his Singapore teammate, Dominic Quek. Singapore's 2-time IFMAR finalist, Nicholas Lee, also participated, alongside a number of notable foreign entries. A total of 63 entries took to the starting grid, making this one of Singapore's largest EP events in recent history. In qualifying for the premier Modified Class, the crowd witnessed a close battle by the trio of Lee, Quek and Hagberg, with each taking TQs in Q1, Q2 and Q3 respectively. With 2 of the 4 rounds counting, the overall TQ would be decided only on day 2 of the event when Q4 took place. With intense pressure to secure the coveted TQ spot, it was Hagberg who finished 0.5secs ahead of Quek to secure the pole position start in the finals. Lee would start 3rd.
In the A-Main finals, Leg 1 saw an easy win for Hagberg as contact between Lee and Quek on lap 2, and a resulting bodytuck for Quek, saw them both drop down the order. Esmail Apandi inherited 2nd, a position he held on till the closing stages when Lee put on a charge and made a sublime overtake to finish 2nd. In Leg 2, the drivers got off to a clean start this time. In Lap 2, Quek passed Hagberg on the straight to go into the lead. While Lee held on to 3rd, a costly roll on lap 5 saw him drop down the order. Hong Kong's Kenrick Fong benefited with a 3rd place finish. In Leg 3, the drivers once again got off to a good start, with Hagberg showing his class immediately by pulling clear of the field as the early attention was on the close battle for 2nd between Quek and Lee. The pair would duel for the entire duration of the final as Quek's tight lines made it difficult for Lee to execute a pass. Quek would eventually hold his nerves to finish just 0.8secs ahead of Lee, and secure 2nd overall, with Lee 3rd.
Modified A-main results:
1. Alexander Hagberg – Xray
2. Dominic Quek – Xray
3. Nicholas Lee – Yokomo
4. Esmail Apandi – Xray
5. Kenrick Fong – Yokomo
6. Simon Nicholson – Yokomo
7. PY Tang – ARC
8. Koh Boon Yang – Serpent
In the Stock class which had the largest entry count, qualifying also saw a ding-dong battle between Daryl Thong and Julien Foo. Foo secured the TQ run in Q1, but Thong bounced back with TQs in Q2 and Q3 to sit as the overnight TQ. In Q4, a mistake in the late stages of the run by Daryl would gift the TQ to Foo. Thong had to be content with a P2 start, with Nicolas Madar starting in P3. In the A-Main, the pair of Foo and Thong resumed their battle in Leg 1, with Thong eventually taking a close win over Foo, with Allister Lim in 3rd. In Leg 2, Foo held on to his lead from the start, but a problem for Thong would see him DNF. Sebastian Lee finished 2nd while Madar took 3rd. The overall winner would be decided in Leg 3, but the highly anticipated battle failed to materialize as it was Foo's turn to suffer car gremlins which would see him DNF. This gave Thong an easy win, with Madar in 2nd and Sebastian Lee taking 3rd.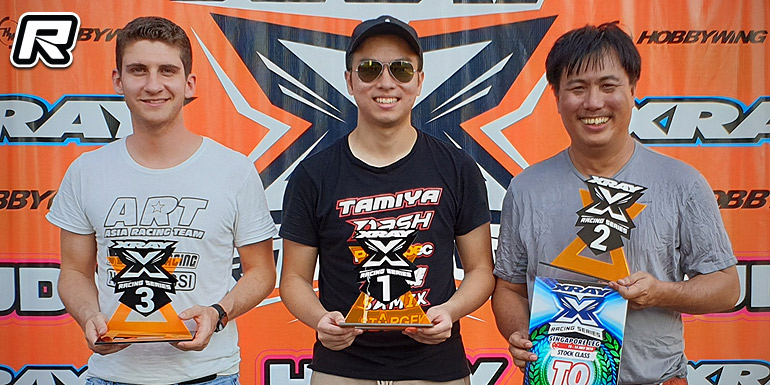 Stock A-main results:
1. Daryl Thong – Tamiya TRF
2. Julien Foo – Awesomatix
3. Nicolas Madar – Yokomo
4. Sebastian Lee – Tamiya TRF
5. Adrian Quek – Tamiya TRF
6. Allister Lim – HB Racing
7. Kamen Koh – Serpent
8. Danny Lim – Tamiya TRF
In the Formula class, Allister Lim denied Julien Foo a second TQ as Lim would benefit from the tiebreak. In the finals, Foo managed to secure the Leg 1 win by a 0.5s margin from Lim, with young Korean racer Ha-Jin Jung taking a popular 3rd place finish. In Leg 2, Lim and Foo battled it out again, and it was Lim who would square things out with an even closer winning margin of just 0.1s, with Kamen Koh in 3rd. In Leg 3, it was once again the Lim and Foo show with the highlight being the last lap when the duo traded positions almost every turn. Catching up to a back marker, it would be Lim who would come off better and eventually seal the win, with Foo in 2nd and Tapana V in 3rd.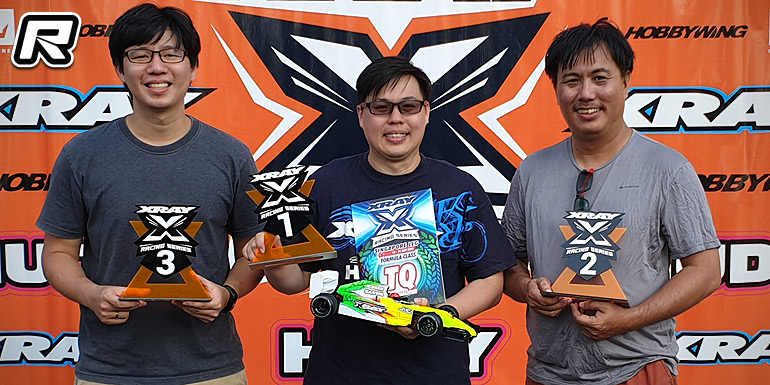 Formula final results:
1. Allister Lim – Xray
2. Julien Foo – Serpent
3. Tapan V – Xray
4. Kamen Koh – Serpent
5. Ha-jin Jung – Xray
6. Andy Tan – Serpent
7. Charles Lim – Xray
8. Patrick Ong – Xray
Source: Urban RC [facebook.com]
---