August 7, 2019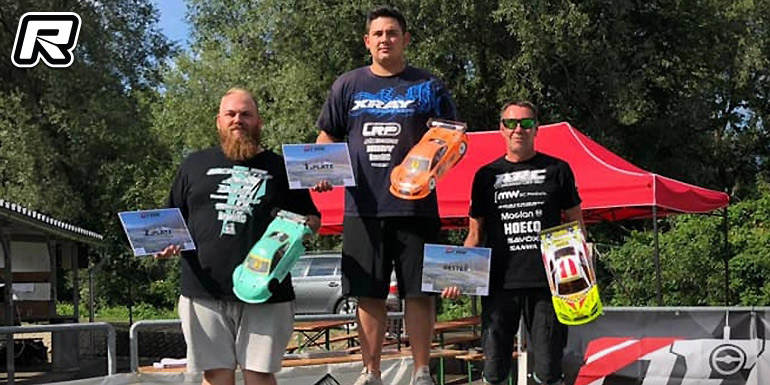 The fifth round of this year's Austrian Electric On-road Nationals was held at the LAMAC track in Carinthia last weekend. In the Touring Modified class the race for the win looked to be on between Patrick Gollner, Dominic Vogl and Sascha Klug. Right from the start it was Patrick who set the pace with Dominic and Sascha close behind. It also looked like Patrick would dominate the opening A-main also but in the penultimate lap Patrick's car lost drive which allows Sascha to close up and eventually take the win while Patrick was lucky enough that the remainder of the drivers weren't able to make the extra lap. Dominic, also in the mix after the qualifiers, had his own problems as he took the exit on the straight too optimistically.
The second final again saw Patrick settle down straight away, Dominic came in 2nd and Sascha in 3rd. However this time the Patrick was able to holds the lead until the end to take the win with a 5-seconds margin on Dominic and Sascha.
The rain then came back for the decisive third A-main and this caused a bit of havoc. At first it was Patrick who had to stop his car after three laps with Dominic also running into trouble. Up front it was rain god Christoph Ramsauer who once again showed a great pace in the wet with Toni Eder coming on the 2 spot while Sascha was able to bring home a 3rd place finish. When the "dust" had settled it was a lucky Patrick with the overall win from Sascha Klug in 2nd as Toni Eder was able to grab the final podium spot thanks to his 2nd place finish in A3.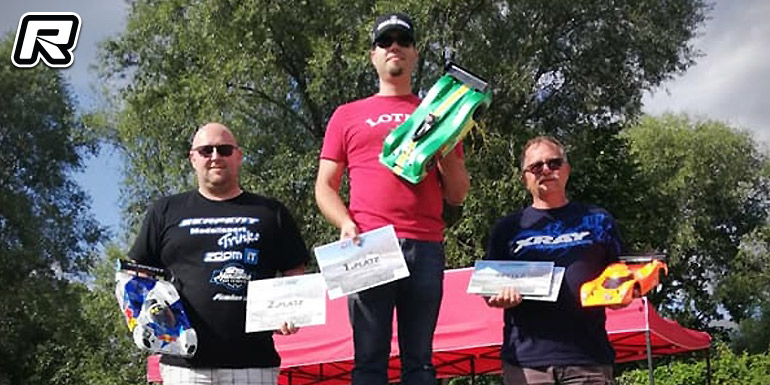 In Pro10S the usual suspects lead the field with Markus Wurmhöringer and Andreas Teubl leading the way. In the end it was Markus who was just getting a tad faster than Andreas. As soon as Andreas scored a new fastest lap on the track, Markus was able to up his pace. Thus Markus took the TQ and was able to win the opening two A-finals for the overall. Andreas came in 2nd while Manfred Danner took profit of the weather gods to take 3rd overall.
Source: Xray [teamxray.com]
---