September 3, 2019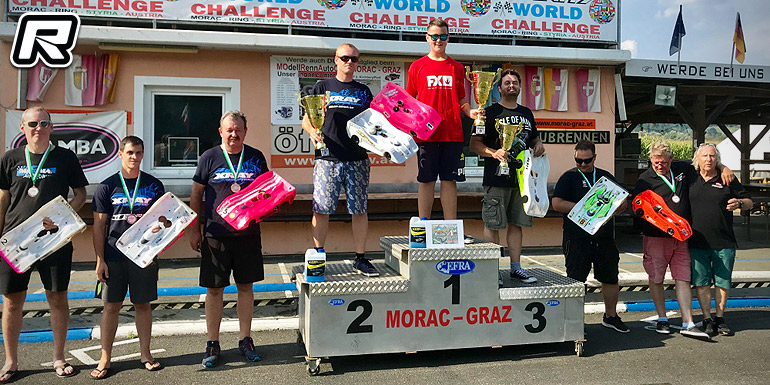 Last weekend the Infinity World Challenge Race was held at the Morac Ring in Austria. In the 1/8th IC Track class it was Nejc Mihelic with the round TQ in Q1 from Branislav Panak in 2nd. Q2 was lead by Branislav most of the time but a last lap mistake allowed Tomas Liptak to TQ the round. Overall however it was Nejc Mihelic with the TQ after the qualifiers. In the first of the two finals it was a clean run for Nejc Mihelic as he managed to run away from Branislav and Tomas while the two battled for 2nd position. The battle was lost for Branislav later as he ran out of fuel on lap 52 and then again on the last lap so it was an easy win for Nejc who would finish 1 lap ahead of Tomas and 2 laps in front of Branislav.
In the second final Branislav was sitting in 3rd chasing Tomas, but after the pitstops at lap 17 Panak overtook him thanks to a faster pit stop. So, Branislav was in 2nd with Tomas sitting about 1.5 seconds behind him while Nejc was leading in front. After a few minutes, Nejc got a problem with his engine which allowed Branislav to get into the lead with Tomas in 2nd. Later Tomas caught up and as both entered the pitlane for fuel there was a slow car entering the pitlane as well. Branislav had to slow down, but Tomas was not able to brake as quickly so he accidentally ran into the back of Branislav's car. The latter dropped into the 2nd position since his engine flamed out, allowing Tomas to pull a half-lap gap. A few laps later Tomas crashed at the end of the straight which allowed Branislav to catch up and lap him. From that moment on Branislav was able to shift into cruise mode to bring home the win from Tomas in 2nd and Anze Setina in 3rd.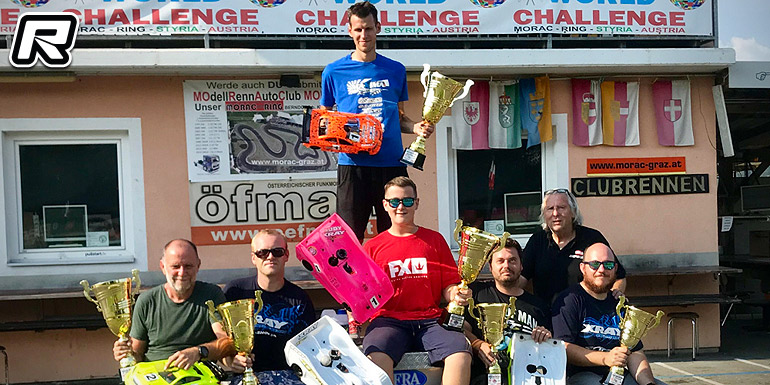 Over in the 200m Nitro Touring class it was Michal Abrahamek with the win from Igor Liptak and Lovro Sustersic.
Source: Xray [teamxray.com]
---