October 8, 2019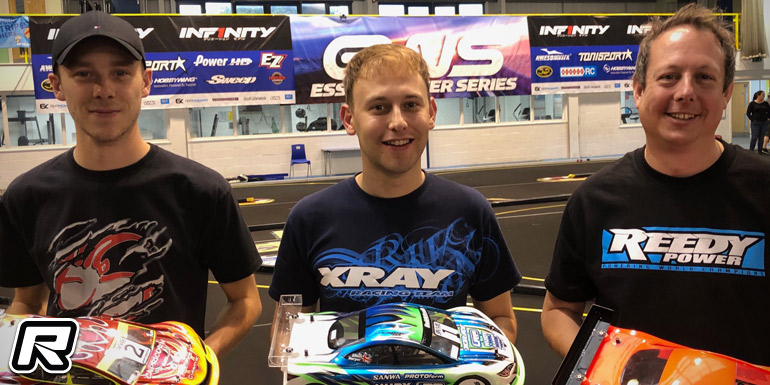 The 2019/2020 Essex Winter Series kicked off this weekend. With the championship continuing to be one of the most popular and prestigious races around, the competition was high and a few small tweaks to the series had positive responses from drivers across the board. In the Modified class, it was Elliott Harper who was out to defend his series title from last year and he kicked off qualifying by setting the best time, two and a half seconds ahead of Kyle Branson, with Matthew White and Chris Grainger just half a second further back and Paul Pinkney rounding out the top five. It seemed like it would take something special to stop Elliott dominating the race, but an element of luck is always needed and his luck ran out in Q2. After leading for over four minutes, he got caught up on a track marker that had moved, taking him out of the round.
That allowed Kyle to take his Capricorn to the top spot, with Chris second with his Associated, and Belgian youngster Florian Joos once again making the journey over to support the series still ensuring Xray was represented in the top three. Former champion Stefan Chodzynski had made the move back to Capricorn and being back with his close friend Kyle clearly helped as he took fourth in the round, with Matthew completing the top five. Elliott's luck was back on his side and he re-asserted his dominance by taking both Q3 and Q4 with his Xray, with the top four in both being the same as Kyle showed he would be Elliott's closest challenger and took second in both, Florian continued his impressive run and had a further pair of thirds, with Chris taking fourth in both. That left Elliott to start on pole, with Kyle second and Chris's second place in the second qualifier giving him third on the tie-break with Florian.

One new addition to EWS this season is the B-Finals running earlier in the final schedule, and the winner now bumping up to make an 11-car A Final. Lee Woodhams secured pole in the B Final and, despite an early challenge from second place starting Steve Davis, didn't look back and ran off to the win and secured the extra place in the main event. In the A Final, Elliott led the field off, but Kyle seemed to have race mode engaged and kept Elliott very honest in the opening stages. As the race progressed however, Elliott's car settled down and he extended the gap out in front, leaving Kyle in a somewhat lonely second place. Behind, Chris ran in third with Florian not far behind, until the closing minute of the race where they both seemed to find some extra speed and started to close in on Kyle once again. However Kyle's earlier gap proved to be enough, and he held on finish second, just under one second ahead of Chris, who in turn was just three-tenths up on Florian – whilst Elliott cruised to victory by over five seconds at the buzzer.
Touring Modified final results:
1. Elliott Harper – Xray/LRP
2. Kyle Branson – Capricorn/Hobbywing
3. Chris Grainger – Team Associated/Reedy
4. Florian Joos – Xray/Hobbywing
5. Matthew White – Team Associated/Reedy
6. Stefan Chodzynski – Capricorn/Hobbywing
7. Alan Bickerstaff – Team Associated/Reedy
8. Alex Thurston – Capricorn/Hobbywing
9. Harley Eldridge – Yokomo/Maclan
10.Lee Woodhams – Capricorn/Trinity
11.Paul Pinkney – Awesomatix/Hobbywing
In the Super Stock class, Billy Fletcher opened proceedings with his Awesomatix, but only half a second up on Florian Joos's Xray. Tony Broad, making the move to ARC for this winter season, took third in front of Sam Law (Awesomatix) and Richard King (Xray). The top three remained the same in Q2, with Northern Irish racer Andrew Smith taking fourth with his Associated chassis, and Sam rounding out the top five. The penultimate qualifier demonstrated that Billy wasn't having it all his own way as Florian topped the times, Billy still fast enough for second and Tony once again in third. Sam took fourth as this time it was Tom Dadswell taking his Xray into fifth. But Billy wasn't to be denied pole, as he took the final round to secure the top starting spot, with Florian again second, Tom taking third, as Vasiliy Siminov (Awesomatix) and Dani Young (ARC) put in great runs to round out the top five. Sadly, Tony Broad was involved in a big accident in the run and, despite him qualifying third overall, the damage was too great to be repaired in time for the final, forcing him to sit out the main event.
In the B Final, it was a great race for the bump up position as Richard King led from pole, but clearly didn't have the fastest car. However, as Ashley Wiffen, Dani Young and Matt Quinlisk all challenged him, none could keep it on the carpet and thus allowed Richard into the big show. With Tony's third place grid spot left free, it allowed the top two to get a nice gap at the start and Florian to keep the pressure on Billy. However, Florian was never quite close enough to mount a proper attack, and the race was essentially decided at the four minute mark as Florian was collected by a car he was lapping, giving Billy enough space to drive to the win, with Florian consolidating second place from that point. Tom Dadswell came through to round out the podium, with the top five completed by a great drive from Adam Southgate to move from eighth to fourth, and Andrew Smith from sixth up to fifth.
Super Stock final results:
1. Billy Fletcher – Awesomatix
2. Florian Joos – Xray
3. Tom Dadswell – Xray
4. Adam Southgate – Xray
5. Andrew Smith – Associated
6. Sam Law – Awesomatix
7. Ben Moorey – Associated
8. Richard King – Xray
9. Vasiliy Siminov – Awesomatix
10.Ricky Copsey – Awesomatix
11.Tony Broad – ARC
Front Wheel Drive is a new addition for this year, and the take-up was overwhelming, with the organisers deciding to squeeze a full heat of 14 cars onto the large EWS track. The busy track and hand-out motor format ensured close racing, and it was Craig Nutting who secured the pole position, ahead of Mark Caton (who had TQ'd the opening round), with Craig Woods, Gary Taylor and Gareth Coates rounding out the top five.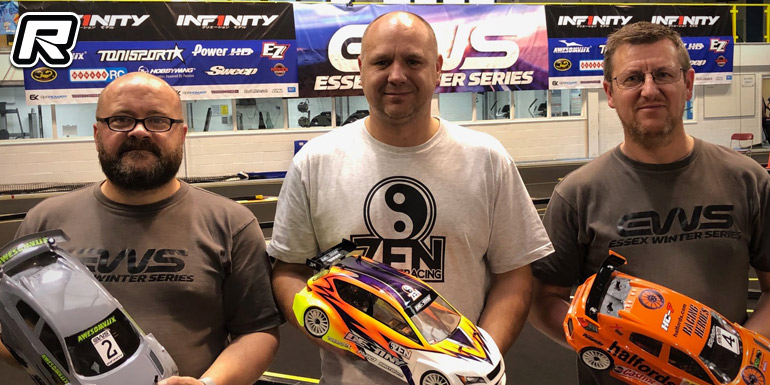 Craig Nutting took an early lead in the final and pulled a good gap over Mark, with Gary and Craig Woods fighting over third place for the majority of the run – and Gary taking the final podium spot. Paul Hill came from seventh on the grid to round out the first five finishers.
The series continues with Round 2 at the beginning of November. A few spaces remain – entries can be made here.
Source: EWS [ewsevents.co.uk]
---