October 28, 2019
The first round of the 2019/2020 Euro Touring Series takes place this weekend in Vienna, Austria. Being held once again at the Messe Wien exhibition centre, alongside the large Vienna Model Fair, the drivers were in the spotlight as passing visitors packed the barriers around the track throughout the day. In the Modified class, defending champion Bruno Coehlo opened proceedings by taking the first qualifying round, held on Friday evening. But come Saturday, it was his team-mate Alexander Hagberg who showed the pace as he took rounds two and three and four to put himself on pole position. Last securing the top qualifying position some five years ago back in February 2014 in Germany, the Xray driver was clearly happy with his new Xray chassis. Bruno amassed enough points to secure second on the grid, as the German world champions Marc Rheinard and Ronald Volker battled over third, with Ronald finally taking it with a P2 in the final qualifier. Elliott Harper showed a good amount of speed, mixing with the top four drivers during the qualifying heats and will start the A Finals from fifth on the grid.
Touring Modified qualifying top 10:
1. Alexander Hagberg – Xray
2. Bruno Coelho – Xray
3. Ronald Volker – Yokomo
4. Marc Rheinard – Infinity
5. Elliott Harper – Xray
6. Lucas Urbain – Awesomatix
7. Yannic Pruemper – Infinity
8. Frederik Suedhoff – Awesomatix
9. Christopher Krapp – Yokomo
10.Oliver Havranek – Xray
Over in the Pro Stock class, Jan Ratheisky set the pace in Q1, before rival Max Machler responded and took Q2 and Q3. Jan fought back to take Q4 and force a tie-break, but Max's was the only driver to make 22-lap runs in qualifying and so will start at the front. The defending series champion Simon Lauter had some good speed throughout, but missed a little luck and will start third on the grid, with Danish drivers Frederik Mikkelsen and Kevin Nielsen making up the top five starters.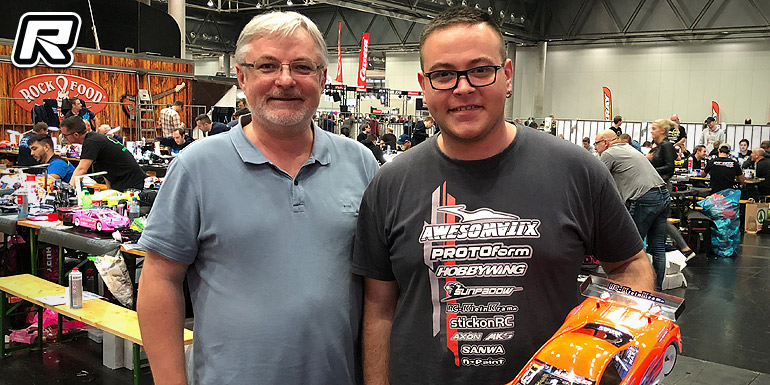 Touring Pro Stock qualifying top 10:
1. Max Maechler
2. Jan Ratheisky
3. Simon Lauter
4. Frederik Mikkelsen
5 Kevin Nielsen
6. Patrick Folman
7. Dominic Vogl
8. Oliver Havranek
9. Markus Wegmann
10.Leo Arnold
The newly introduced Front Wheel Drive class had the biggest entry of the event, and Steven Olsen wanted to be the first star of the class – he took Round 1, 3 and 4 of qualifying to wrap up the overall TQ, lining up for the A Final ahead of long-time ETS supporter Henrik Heitsch. Enrico Jung took the best time in Q2, but couldn't quite match that speed later on and so will start third, with Stefan Schulz and Christian Driessle rounding out the top half of the grid.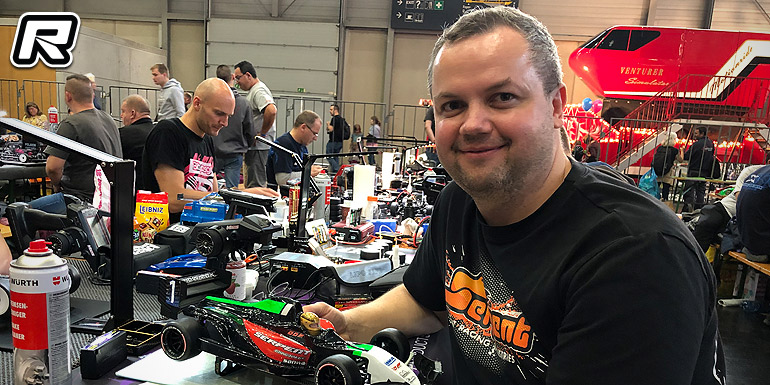 In the Formula division, David Ehrbar looked to have things under control despite pressure from Jan Ratheisky. David took three TQ's to Jan's one, meaning David will start up front. Behind the two Germans, Matej Dobnikar lines up third, ahead of Olivier Bultynck and Andreas Steibler.
The Masters class had Alexander Stocker, the defending champion, securing the pole position, despite some tough competition as Nathan Parker will line up second, Casper Morgen third and Toni Mateo and Patrick Meinecke completing the top five on the starting grid.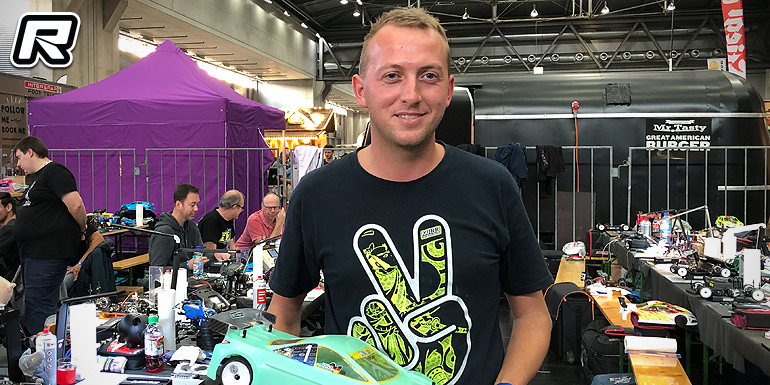 Finally, Daniel Poehlmann will be leading the field off for the Stock 17.5 A Finals, after taking two of the four rounds of qualifying. Klaus Waldmann took Q2 and will line up second, with Joachim Altendorf rolling off from third. Luis Moreno topped the opening qualifier, but couldn't back it up and will start fourth, with Tobias Baumback making the top five.
After the Touring Modified A-mains, Alexander Hagberg leaves the opening round of the series with a maximum points haul, having secured the overall TQ and then backed it up with wins in the opening two A Finals. With it being a long time since the Swedish driver led the overall standings, it was clearly an emotional win for the usually quiet driver, demonstrating how much the victory meant to him after a lot of extensive testing for the Xray team and their new platform. With A1 taking place on Friday night, Hagberg quickly opened up a small lead from team-mate Bruno Coelho. A fast starting Ronald Volker managed to pass the Portuguese driver in the early stages, with Coelho then dropping further down the field. This allowed Marc Rheinard up into third, but the Infinity driver had the close attentions of Elliott Harper for the remainder of the race. Out in front, Hagberg controlled the pace to win by a couple of seconds over Volker. Hagberg wrapped up the overall victory with another clinical drive in A2. With even Coelho, often regarded as the fastest Touring Car driver of the moment, unable to match his team-mates pace, Hagberg was quick to be congratulated by his competitors as he crossed the finish line. The action of A2 was between the German drivers of Volker and Rheinard, with Rheinard pulling off a pass on his countryman to move into third and leave things wide open for the podium places in the third final. With the pole position left empty, Coelho was able to drive a measured race to pick up the win in A3, securing second overall. Volker challenged him hard, but never was able to quite mount a serious challenge. Behind, Rheinard spent five minutes fending off the attentions of Harper, the British driver securing his best ETS result for nearly a decade.
Touring Modified final result:
1. Alexander Hagberg – Xray/Hobbywing/Sunpadow
2. Bruno Coelho – Xray/Hobbywing/Sunpadow
3. Ronald Volker – Yokomo/LRP/LRP
4. Marc Rheinard – Infinity/Muchmore/Muchmore
5. Elliott Harper – Xray/LRP/LRP
6. Yannic Prumper – Infinity/Maclan/Maclan
7. Lucas Urbain – Awesomatix/ORCA/ORCA
8. Oliver Havranek – Xray/Hobbywing/EZPower
9. Christopher Krapp – Yokomo/Racing Performer/Racing Performer
10.Frederik Sudhoff – Awesomatix/Hobbywing/Silverback
11.Patrick Gollner – Xray/LRP/LRP
In the Pro Stock class, Max Machler secured pole position for the triple finals, but the first final saw Max dropping to third after the first minute of the race, with Jan Ratheisky inheriting the lead. Max was able to work his was back up to second, but was unable to challenge the Xray driver up front, with Frederik Mikkelsen moving from fourth on the grid up to third, as defending champion Simon Lauter slipped from third to fourth. In A2, tragedy struck Max on lap two, as his Awesomatix spun and this ended up rolling his car over a barrier, breaking part of the steering system. Gifting the lead to Jan in the process, Max could only watch from the driver stand as Ratheisky pulled away out front and cruised to the win and the overall victory. Lauter could hold on to second this time, with Patrick Folman taking third in the leg. Machler was rewarded finally in A3, taking a tone-to-tone win but being pushed by team-mate Lauter the whole time. This was the result Machler needed to take the runner up position, with Lauter rounding out the podium.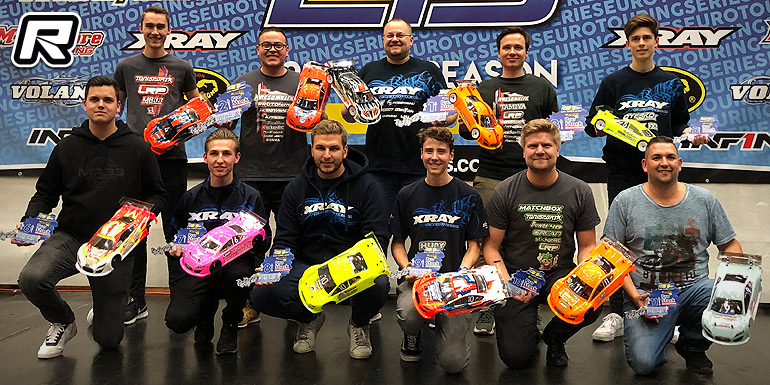 Touring Pro Stock final result:
1. Jan Ratheisky – Xray
2. Max Machler – Awesomatix
3. Simon Lauter – Awesomatix
4. Frederik Mikkelsen – Awesomatix
5. Kevin Nielsen – Xray
6. Dominic Vogl – Awesomatix
7. Patrick Folman – Xray
8. Leo Arnold – Xray
9. Oliver Havranek – Xray
10.Tim Benson – Xray
11.Markus Wegmann – n/a
The Front Wheel Drive class is new to ETS this season, and attracted the largest entry of all the categories. Steven Olsen secured the first ever ETS FWD pole position, but lost the lead after one minute as he fought with Henrik Heitsch and Enrico Jung. Enrico moved into first place and never looked back, as Olsen held onto second and Heitsch dropped further down the field. A2 again had Olsen making a mistake early on, and yet again it was Jung who came through from third on the grid to take the lead. This time, Heitsch held onto the second place he inherited, with Stefan Schulz taking third. With the overall win wrapped up, Jung didn't start the third A Final, and it was some redemption for Olsen as he took the win in A3 after a great fight with Heitsch again, with David Kuschnarew moving up the field to take third in the race.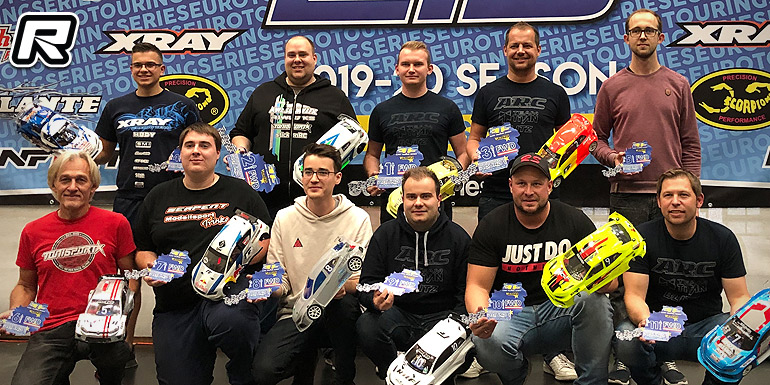 Front Wheel Drive final result:
1. Enrico Jung
2. Steven Olsen
3. Henrik Heitsch
4. Stefan Schulz
5. David Kuschnarew
6. Christian Driessle
7. Florian Luyer
8. Alexander Mayer
9. Kevin Sparbier
10.Rene Strasser
11.Patrick Meinecke
Formula has been staple of ETS for many years, and once again the battle at the front was between the current champion, David Ehrbar and former champ Jan Ratheisky. Ehrbar took the first leg, after Ratheisky dropped back and fought with Olivier Bultynck over second place – with the Belgian driver getting the upper hand by the end. A2 also saw a lights-to-flag win for Ehrbar to wrap up the overall victory early, and this time Ratheisky held onto second place – looking faster but not quite able to match the pace of the Serpent designer out in front. Bultnyck had to settle for third this time, with Andreas Stiebler rounding out the top four. Ratheisky then had a clear run to take A3, with third place starting Matej Dobnikar finally showing the same speed in the finals as he had in qualifying, to finish second ahead of Dominik Reile.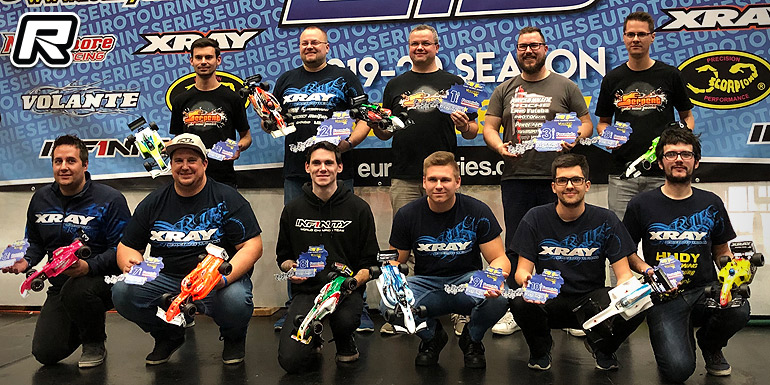 Formula final result:
1. David Ehrbar – Serpent
2. Jan Ratheisky – Xray
3. Olivier Bultynck – Roche
4. Andreas Stiebler – Serpent
5. Dominik Reile – Serpent
6. Matej Dobnikar – Xray
7. Werner Spannbruckner – Xray
8. Jitse Miedema – Infinity
9. Lukas Hoch – Xray
10.Michal Wojcik – Xray
11.Luke Lee – Xray
The Masters class, for drivers aged 40 or over, saw a great race in A1 as Nathan Parker managed to pass pole sitter Alexander Stocker. But just a few laps after taking the lead and looking on-track to end the German's domination of the class, Parker rolled his car off the track and dropped down the field, allowing Stocker to cruise to the first leg victory.The second leg saw Stocker open up a small lead and seemed on track to secure the overall victory early, but with less than two minutes to go, some mistakes started to creep in which even saw the defending champion rolling his car onto a barrier.Luckily, he landed on his wheels and whilst it allowed Parker to close in, it wasn't enough to deny him leaving Vienna with the maximum points haul and starting his season as he ended the last one. Despite Parker's clear pace advantage, his mistakes in A1 repeated themselves in A3, dropping him down the overall standings and letting Caspar Morgen take the win in the final leg, securing second overall, with Thomas Oehler taking second in A3 and thus third overall.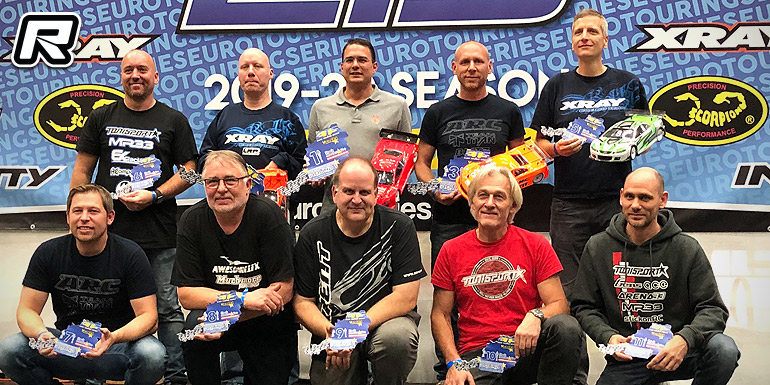 Touring Masters final result:
1. Alexander Stocker
2. Caspar Morgen
3. Thomas Oehler
4. Toni Mateo
5. Peter Miko
6. Nathan Parker
7. Patrick Meinecke
8. Trygve Berntsen
9. Mirco Thalheimer
10.Christian Driessle
11.Werner Schmitzer
Stock 17.5 was controlled by Daniel Pohlmann, the German driver putting his name on the winners trophy early after victories in the opening two legs. He was not without challenge, however, as Klaus Waldmann hounded him hard in A1 and A2, with Joachim Altenhof not far back in both legs as well. But Pohlmann held his nerve to take the win in the first two finals, with Waldmann rewarded for his speed and taking A3. Tobias Baumbach moved up to second in the final leg to secure the final step on the overall podium.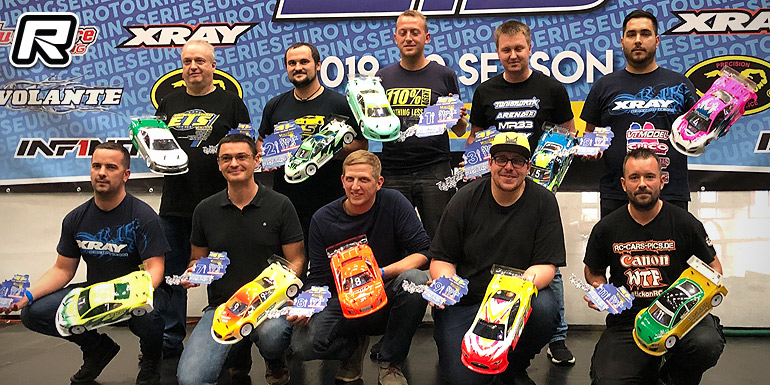 Touring Stock final result:
1. Daniel Pohlmann – Awesomatix
2. Klaus Waldmann – Awesomatix
3. Tobias Baumbach – Xray
4. Joachim Altenhof – Awesomatix
5. Luis Moreno – Xray
6. Tony Mur – Xray
7. Cristian Faur – Xray
8. Michael Gradl – Yokomo
9. Marwin Riedelbach – Awesomatix
10.Tobias Schuster – Schumacher
11.Christian Sandner – Yokomo
Thanks to Oli Meggit for the report.
---