October 14, 2019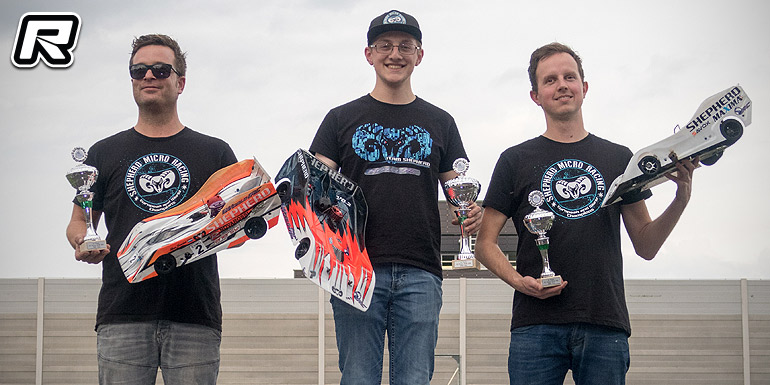 The final round of the Dutch IC Track Nationals was held at the EVMC Velp track last weekend. Due to unstable weather conditions practice was difficult and also the start of the race was still troublesome due to some small rain showers. In the 1/8th NK class qualifying Robbin Hertong managed to set the fastest time on a drying track with 14 laps. Joey Sorber showed a strong performance as well and took the 2nd place in front of Jesse Keller in 3rd place.
In the afternoon the sun showed up and all finals could be raced on a dry track. The A-main final started without pole setter Robbin Hertong who encountered engine problems during the warm-up. Joey Sorber took the lead from the start and started to separate from the charging pack. Martin Zevenhoven surprised Jesse Keller at the start and took 2nd position early. After five laps Joey Sorber made a mistake and needed to do some major repairs on his car, throwing him out of contention for the victory. At the same time Jesse Keller and Ben Jamini were able to pass Martin Zevenhoven. About halfway into the race it was local driver Ben Jamini who took over the lead from Jesse but due to a small problem he needed to hand the leading position back to Jesse at the 20-minutes mark. From there Jesse managed to keep the lead until the checkered flag to take the victory. Ben Jamini grabbed the runner-up spot while Ben Ciere completed the podium for an all-shepherd 1-2-3.
With this result it was Jesse Keller with the overall title from Joey Sorber in 2nd and Ben Ciere in 3rd, making it also a full Shepherd podium in the championship.
Source: Shepherd [team-shepherd.com]
---