October 18, 2019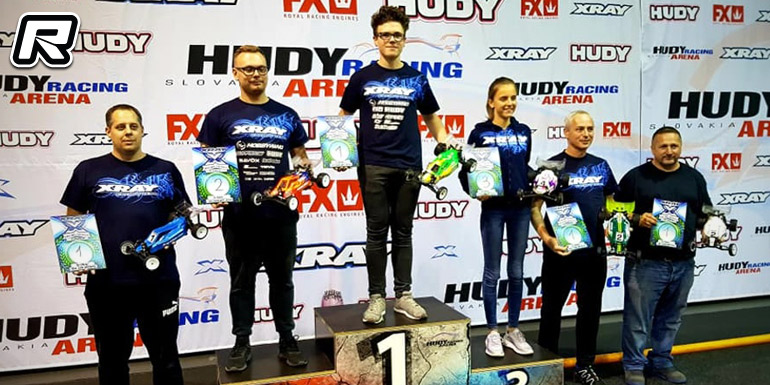 The opening round of the 2019/20 Xray Racing Series Slovakia was held at the Hudy Arena in Trencin last weekend. The event saw the running of both off-road and on-road classes with practice on Friday and racing on Saturday. In 2WD Buggy it was Max Götzl with the TQ in round 1 followed by Martin Bayer and Ales Bidovsky. Max was able to score another TQ run in Q2, again in front of Martin and Ales. Q3 then went to Martin, but as Max had faster time in the Q1, I took the overall TQ as Martin lined up 2nd and Ales 3rd.
The opening A-main then saw some good fights between Max and Martin with Max holding the upper hand to take the win from Martin in 2nd and Antonia Kovalzski 3rd. A2 again saw Max and Martin battle it out and this time it was Martin with the win from Max as Matus Benetin jumped into 3rd. In A3 Max was able to hold onto the lead to take the overall from Martin on the runner-up spot and Antonia in 3rd for an all-Xray podium.
4WD qualifying started with Max taking the TQ in Q1, in front of Martin and Ales. The remainder of the qualifying went much worse for Max as he made mistakes in Q2 and Q3 which didn't allow him to fight for the overall TQ, and as Martin set faster times in Q2 and Q3, he took the overall TQ from Max 2nd and Ales 3rd. The 4WD finals then also didn't go as planned for Max. He was in the lead in A1, but as Martin and Max fought for the lead and the two crashed a few times, it allowed Ales to take the lead and win the A1 and in front of Martin 2nd and Matus 3rd. A2 was looking better, Martin was in the lead and Max was comfortable in 2nd, trying to hunt Martin, but unfortunately for Max a few mistakes came, which dropped him down tor order. He fought with Ales for the 2nd place, but an unfortunate mistake in the final lap cost him any chances so Ales took 2nd and Max 3rd. When the dust had settled after the final A-main it was Martin Bayer (Xray) with the overall from Team Associated's Ales Bidovsky in 2nd and Max Götzl (Xray), who had to retire in A3, in 3rd.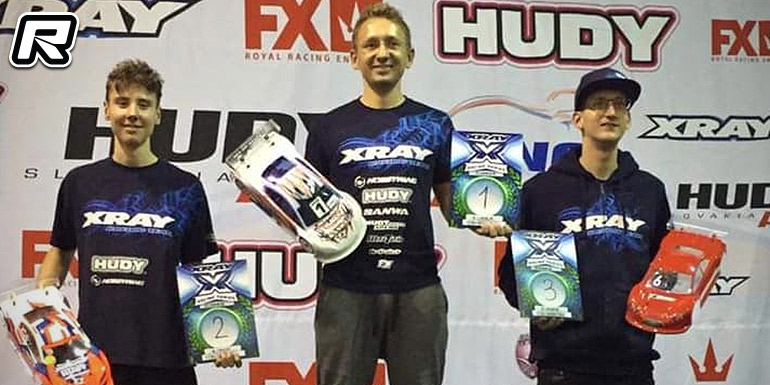 In the Touring Modified class it was Martin Hudy with the overall win from Oliver Havranek, who won A3, in 2nd overall. Zsolt Kalnay would complete the all-Xray top 3 podium result.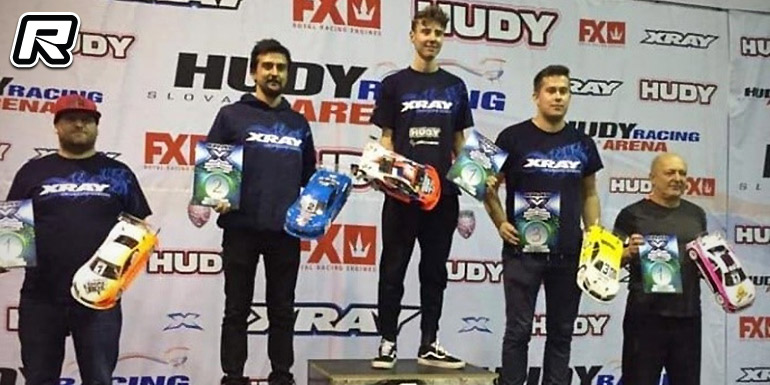 Over in Touring Stock it was Oliver Havranek with the overall TQ courtesy of winning Q2 and Q3 and also in the final it was Olivier who excelled as he took A1 and A2 for an early overall win from Mustafa Alp and Lukasz Mach (all Xray) in 2nd and 3rd respectively.
In FWD Touring Martin Hudy took the TQ and win ahead of Tomas Liptak and Lukas Hoch (all Xray).
In the Formula class Lukas Hoch took the overall TQ and win ahead of Andrej Vnucko in 2nd and Michal Wojcik in 3rd, again this was an all-Xray podium.
1/10th scale Pan Car saw Zoltan Polyak (Xray) taking the win after some good battles with Marek Helbich (Xray). Miroslav Hargas (Xray) completed the top 3 results. In 1/12th scale Pan Car Branislav Panak took the win from Zsolt Kalnay (all Xray) and Zoltan Polyak (Xray). Last but not least in the 1/12th GT category it was Juraj Sranko (Xray) with the day's win from Vladimir Viskup (Xray) and Ivan Viskup (Xray) in 2nd and 3rd respectively.
Source: Xray [teamxray.com]
---