November 12, 2019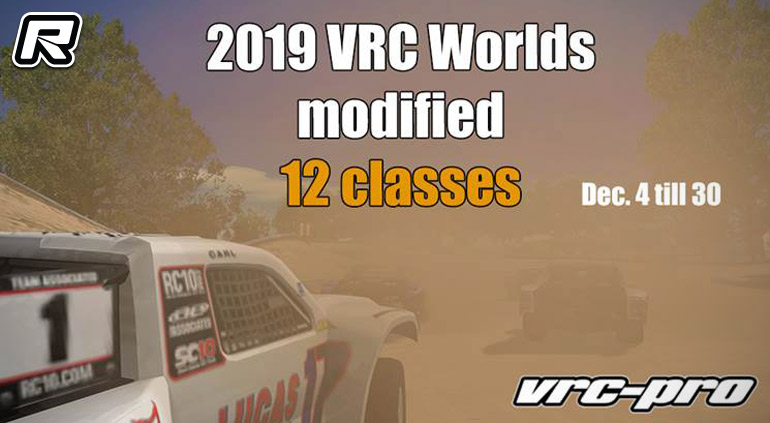 VRC Racing have announced the 2019 VRC-Pro Modified class World Championships will be held this coming December. During three weeks of action-packed virtual RC racing this year's worlds will see Nitro and Electric, On-road and Off-road racing as well as everything in between with Rally-X and also Nitro and Electric NASCAR Truck oval racing.
2019 Modified World Championship schedule

December 4th to 16th:
– 1:10 Nitro Sedans at Halifax
– 1:12 Electric Sports Cars at Oulu
– 1:8 Rally-X at VRC Rally-X 3
– 1:10 Electric Nascar Trucks at Keitune Oval

December 11th to 23rd:
– 1:8 Nitro Sports Cars at Pegaso
– 1:10 Electric Touring Cars at VRC Carpet 6
– 1:8 Nitro Buggies at Buenos Aires
– 1:10 Nitro Trucks at Osaka Oval

December 18th to 30th:
– 1:8 Nitro GT3 at Clermont Ferrand
– 1:10 Electric Short Course Trucks at Outback
– 1:8 Electric Buggies at Las Vegas PW
– 1:8 Nitro Nascar Trucks at Sao Paulo Oval
Full information and a promo video can be found on VRC-Pro's official website here.
Source: VRC-Pro [vrcworld.com]
---