November 11, 2019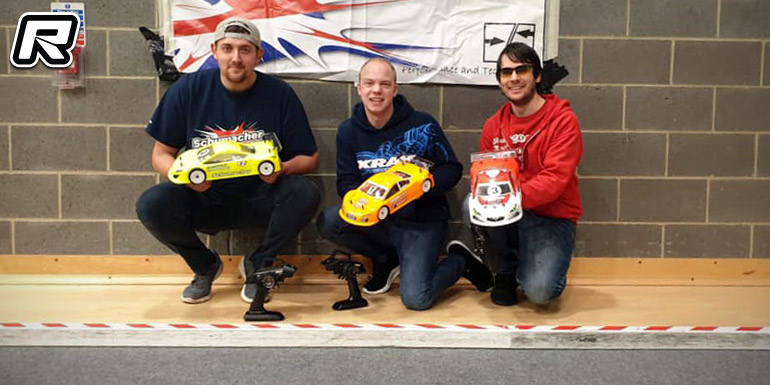 The second round of the 2019/20 Schumacher Winter Series presented by the Louth Radio Control Car Club took place this past weekend. Chris lovely who took the top spot in the opening round of the series would set the initial pace with his Xray in the 13.5 class. However he was pushed hard by the returning Alex Brocklebank and the new Schumacher Mi7. Joseph Cocking would place his Yokomo BD9 Medius into 3rd ahead of the X-rays of Callum Chapman, Andrew Green and Daniel Burks.
In the double headed final Chris wouldn't have it his own way, a mistake would see him tumble down the field and Alex Would take full advantage to cruise home to a victory in A1. Chris would battle from the back to second ahead of Joseph, Andrew, Daniel and Callum. The second final would be a different affair with Chris keeping it true and taking the win, Alex would have to battle through this time to finish 2nd as the field finished in starting order.
13.5 final results:
1. Chris Lovely – Xray
2. Alex Brocklebank – Schumacher
3. Joseph Cocking – Yokomo
4. Andrew Green – Xray
5. Callum Chapman – Xray
6. Daniel Burks – Xray
The 17.5 Open class things were wide open as there was no defending champion or round one winner. Stewart Mcleod would set the early pace with two TQ rounds. The resurgence dog Harvey Greenfield as he took rounds 3 and 4 and the fastest time. Peter Covell would show strong in 3rd ahead of young contender Warren Frith and Chris Chapman. The finals were all about the two up front. They pulled a gap early on but it looked all stalemate until the final lap in A1 when Harvey got his car on two wheels allowing Stewart through. Peter and Chris would slug it out for 3rd with Peter coming out on top. The second final was a different story with Harvey suffering a tyre issue early on, Stewart would get through an pull a gap. Harvey would still hold onto 2nd as Peter again would hold onto 3rd ahead of Chris and Warren.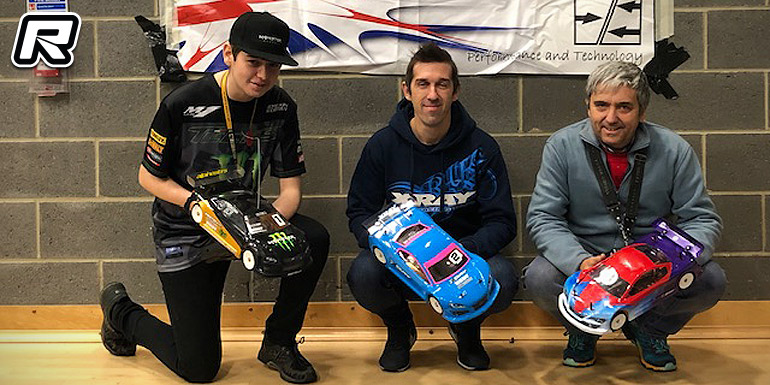 17.5 Open final results:
1. Stewart Mcleod – Xray
2. Harvey Greenfield – Xray
3. Peter Covell – Xray
4. Chris Chapman – Xray
5. Warren Frith – Xray
In a full heat of GT12 cars mixed with the MTC class Chris Whiteside would continue his domination from precious rounds. Craig Illingworth would show strong but be able to knock Chris off the top spot. Lee Ward would mix it with the GT12 running his MTC Xpress and bring home 3rd in the qualifying runs. Paul Vincent would secure fourth ahead of Chris Sleaford and Matt Dutfield. The double finals looked like it would be plan sailing for Chris Whiteside but an issue is final would see him to the back of the field. Craig Illingworth would take up the mantle and try to take the top spot, but it was Paul Vincent who would come through form 4th ahead of Craig. Followed by Lee, Chris and Matt would who stay in starting order. Normal service was resumed in final two as Chris would get the lead and pull from the field. Chris and Lee would battle through but the MTC would get ahead of the Schumacher GT12 on this occasion. Paul, Chris and Matt would finish in starting order as per the first final.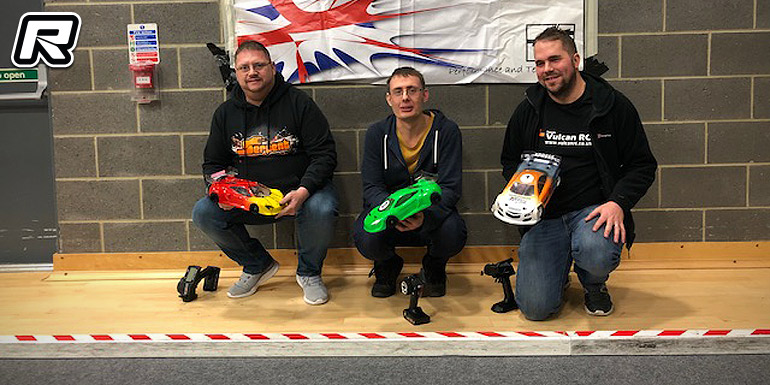 GT12/MTC final results:
1. Chris Whiteside – Schumacher
2. Craig illingworth – Schumacher
3. Lee Ward – MTC Xpress
4. Paul Vincent – Schumacher
5. Chris sleaford – Schumacher
6. Matt Dutfield – n/a
A depleted number for the Tamiya Euro trucks at this round. Callum Chapman would domaines round one of the series and continue on with that form. He would take a commanding top qualifier spot, Richard Howells could just keep tabs but not do enough to put enough pressure on. Ian Taylor showed strong in the opening qualifying rounds to third ahead of Matt Dutfield and Carl Worrall. The finals were a race of nutrition and who could finish. In both finals Callum was able to bridge a gap early on and keep it stalemate. Richard Howells again showed pace but wasn't able to do anything about the speed of Callum. The pair finished 1st and 2nd in both finals. The lower positions was a race to who would finish and it was Matt Dutfield who drove smart and got his truck up into the podium places. Carl Worrall has the match of Matt but wasn't able to see it through. It wasn't Ian Taylor's day as he fell to the back of the field.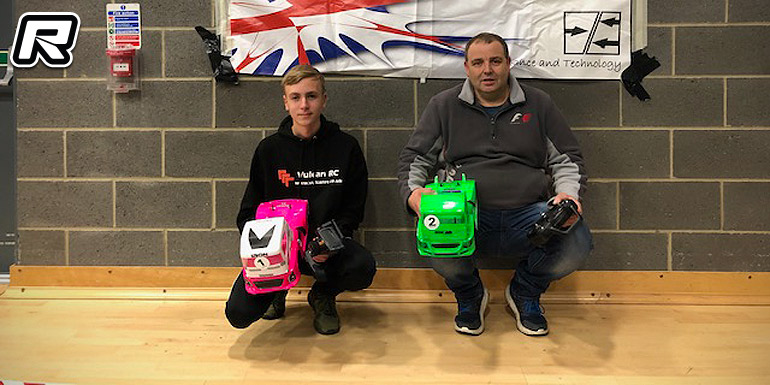 Tamiya Euro Truck final results
1. Callum Chapman
2. Richard Howells
3. Matt Dutfield
4. Carl Worrall
5. Ian Taylor
The next event is on the 8th of December for round three of this tightly contested championship. All information can be found on the club's social media page and website.
Thanks to Chris Lovely for the report.
---