November 15, 2019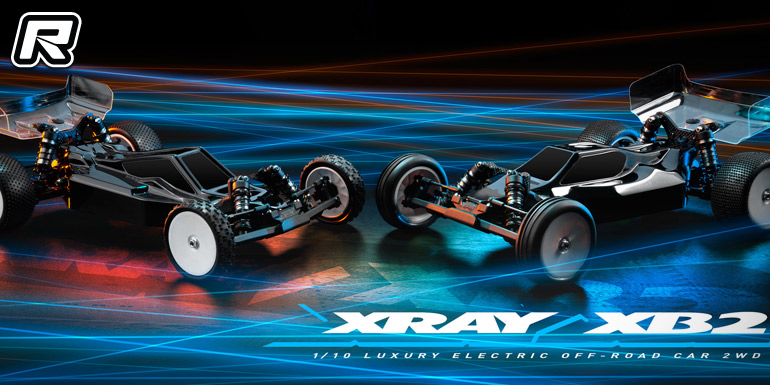 Following a series of teasers and insights on social media, Xray have finally introduced their all-new XB2 2020 2WD buggy kits. The popular buggy received a major make-over for the 2020 season with virtually no area being left untouched, be it the chassis, suspension or drivetrain. Two kits are available, the Carpet edition for high traction surfaces and the Dirt edition car for low grip conditions, with both sporting specific features in the drivetrain, suspension and weight balance area in order to maximise the cars' performance in the given conditions. Both kits are already shipping and available from now on.
Features:
– All-new chassis with bent sides for improved weight balance and maximum stability
– All-new side guards to fit the new chassis and the integrated adjustable battery holder
– All-new graphite side guard braces with redesigned shape for more stability and improved predictability
– All-new tweak-free battery holder for fast battery position adjustment and no negative effects on chassis flex or traction
– All-new super-narrow ultra-low CG gearboxes with quick & easy diff access
– All-new LCG Gear Box available in Front version (Carpet edition) and Rear version (Dirt edition)
– All-new diff height adjustment in 6 different settings
– All-new super narrow ball-differential with refined internal parts for smoother operation and increased traction (Dirt edition)
– All-new super narrow extra-large volume gear differential for improved consistency (Carpet edition)
– Longer rear drive shafts to accommodate the new suspension geometry
– Redesigned lightweight motor mount fits either gearbox design and diff cover
– All-new redesigned motor brace mounted via pivot ball ensures side flex for increased traction
– All-new roll centre mounts with new roll centre positions
– Updated aluminium roll centre mount on rear uprights with improved roll centre position
– All-new 2-pad slipper with increased slippage to generate smoother acceleration at low traction tracks (Dirt edition)
– All-new 3-pad slipper to generate more consistent breaking at high traction conditions (Carpet edition)
– All-new shorter top shaft to fit the narrower LCG gear box
– All-new lightweight gear protector ensures that body can be installed lower to avoid body contact with spur gear
– All-new front shock tower with lower design for increased stability of the car
– All-new rear shock tower with new shock positions and three different wing mounting positions
– All-new narrow rear suspension holders
– All-new rear suspension arms with different geometry and wheelbase adjustments for Carpet and Dirt Editions
– All-new front suspension arms with lowered shock mount locations work together with the new shock tower to decrease the CG and create smoother cornering
– All-new shorter shock springs allow greater ride height adjustment and makes the car more stable
– All-new eccentric lower shock mounting pivot ball allows to adjust angle of the mounted shocks influencing traction and corner speed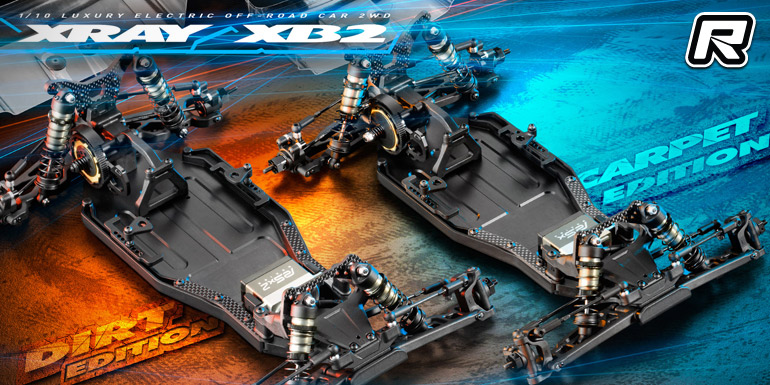 View the detailed presentation of the kits here.
Source: Xray [teamxray.com]
---