December 9, 2019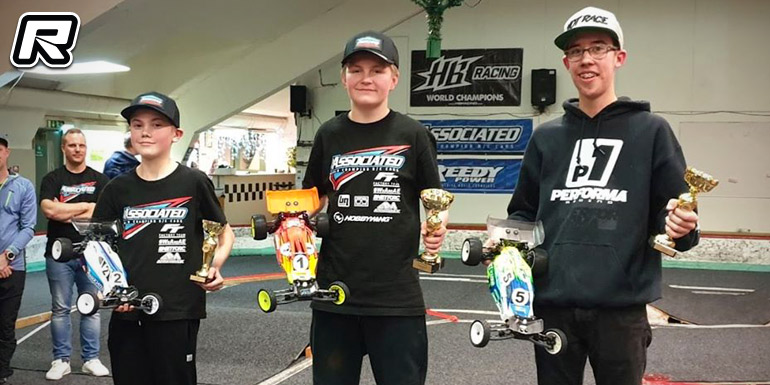 The Boras Miniracing club of Boras, Sweden held the Lucia race this past weekend with more then 50 drivers in attendance. In the 2WD Modified class it was Alexander Landen with the overall TQ after winning three of the four qualifying rounds, leaving behind Hampus Berg in 2nd and Pontus Larsson in 3rd. Nils Gustaffson won the final qualifier but had to settle for P4 on the grid. In the opening A-main Alexander and Nils initially pulled away and Alexander was able to create a gap as well. A small mistake on the jump section let the other drivers close in, but Alexander never lost the lead and after he was able to stretch the gap again he was able to take a comfortable win ahead of Hampus and Nils.
The second final was a bit more controlled as Alexander was able to get in a fairly calm run for the overall win as Pontus and Nils came in 2nd and 3rd in A2. For the third leg the battle was on between Nils, Hampus and Pontus as Alexander sat out A3. Nils, who was driving really well, was able to hold onto the lead for almost the entire race, but a small mistake a few laps to the end allowed Hampus to close in, and he managed to make a pass in the jump section on the final lap. Overall it was Alexander with the win and fastest lap from Hampus in 2nd and Nils in 3rd.
2WD Modified final result:
1. Alexander Landén – Team Associated
2. Hampus Berg – HB Racing
3. Nils Gustafsson – Team Associated
4. Pontus Larsson – Serpent
5. Petter Berntsen – Team Associated
6. Jesper Uvehall – Team Associated
7. Lukas Larsson – Team Associated
8. Mathias Fink – Team Associated
9. Kristian Johansson – Team Associated
10.Joel Rosengren – Team Associated
Thanks to Alexander Landen for the report.
---