December 9, 2019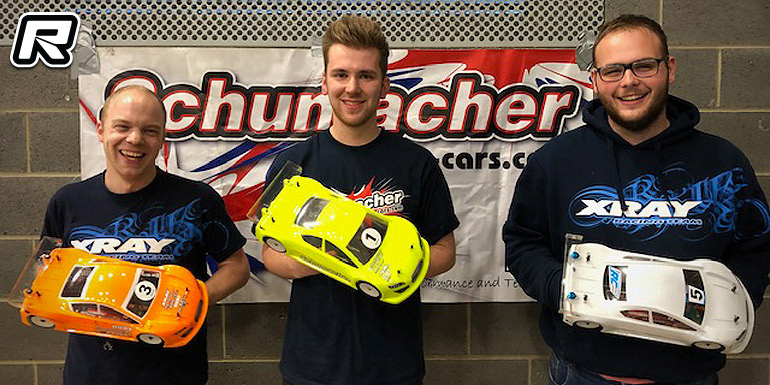 The third round of the 2019/20 Schumacher Winter Series presented by the Louth Radio Control Car Club took place this past weekend. Joseph Cocking would set the initial pace with his Xray in the Touring 13.5 class. However it was Mitch Fiddling who is best known for his off-road exploits who would take top with his Schumacher Mi7. Joseph Cocking would place his Yokomo BD9 Medius into 2nd ahead of Chris Lovely with the new Xray T4'20, Alex Brocklebank and his Schumacher and the Xrays of Callum Chapman and Jason Lovely the 2018 17.5 champion.
In the single final headed final Mitch would check out early on after a fiesty first corner incident involving the field. The battle for second would continue all race with four cars in the hunt. Alex Brocklebank would hold that until two laps from the end, allow Chris through to second, Nathan Winyard from the 5th place up to 3rd, Joseph would bring home 4th ahead of the recovering Alex. Callum Chapman and Jason Lovely would round out the final order.
Touring 13.5 final results:
1. Mitchell Fiddling – Schumacher
2. Chris Lovely – Xray
3. Nathan Winyard – Xray
4. Joseph Cocking – Yokomo
5. Alex Brocklebank – Schumacher
6. Callum Chapman – Xray
7. Jason Lovely – Xray
In the 17.5 Open class Peter Covell would top the timing sheets with his mid motor Xray. Harvey Greenfield would push him hard but have to settle for 2nd, Chris Chapman would secure a strong 3rd. Dave Greenfield would join his son in the A-final and Richard Howells returning to the touring scene along with Trevor Welbourn who would round put the a final listing.
In the A-final Peter wouldn't have the greatest of starts and would to the back of the field. Harvey would seize the lead and never relinquished it to the chequered flag. Peter would come back through the field. Chris Chapman would be comfortable for 3rd, Richard would move forward to 4th, Trevor a strong fifth and Dave wouldn't have the luck in 6th.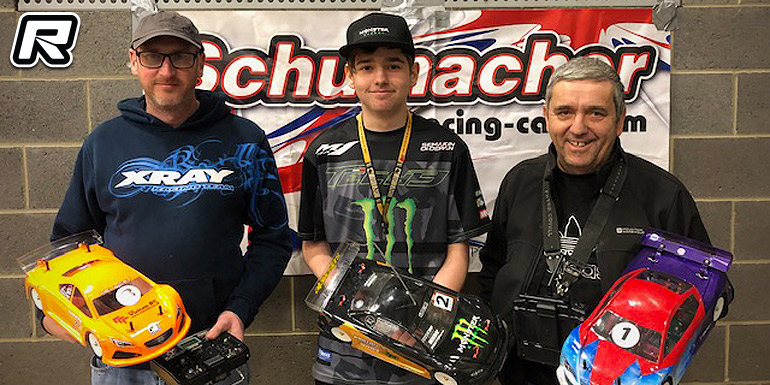 Touring 17.5 Open final results:
1. Harvey Greenfield – Xray
2. Peter Covell – Xray
3. Chris Chapman – Xray
4. Richard Howells – Xray
5. Trevor Welbourn – Hot Bodies
6. Dave Greenfield – Xray
In the GT12/MTC and Tamiya class, it would be the GT12 cars that would reign supreme. Last season's champion Matt Cook would make a return to racing and he would set the tone for qualifying taking all rounds. Chris Whiteside isn't use to second best but would have to settle for that on this occasion. Gary Williamson would edge out Craig Illingworth on this occasion with Paul Vincent making it a GT12 full final.
In the single final Matt would check out early and set the pace for this final. It would be a comfortable flag to flag victory. Chris would settle for 2nd. The battle for 3rd was a close affair between Craig and Gary. Craig would jump Gary mid race and take him the final podium place demoting Gary to 4th. Paul Vincent would have a lonely race and round out this final.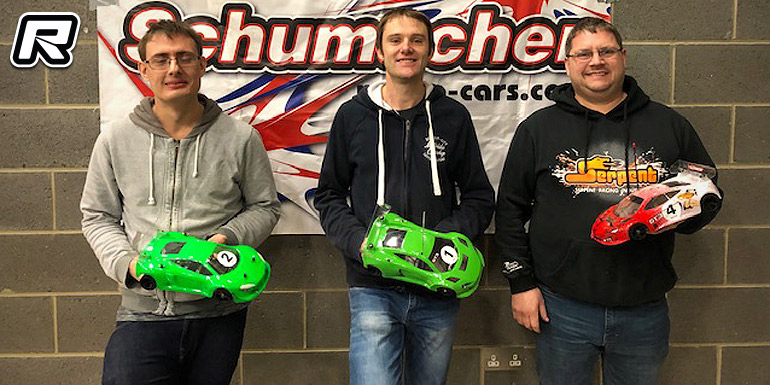 GT12/MTC final results:
1. Matthew Cook – Schumacher
2. Chris Whiteside – Schumacher
3. Craig illingworth – Schumacher
4. Gary Williamson – Schumacher
5. Paul Vincent – Schumacher
A depleted number for the Tamiya Euro Trucks at this round. Callum Chapman would dominate round from one of the series and continue on with that form. He would take a commanding top qualifier spot, Adam Jessop who showed pace to take 2nd, Richard Howells would be denoted to 3rd in this occasion, with Simon Babb and Ian Taylor dicing for order. Matt Dutfield and Young Charlie Jessop would round our the qualifying proceedings.
Callum would show pace as he has done all series long and get the hammer down early and checkout form the field. Setting the fastest laps along the way, the battle for 2nd was close between Simon and Adam, but Adam would up his pace and make his moves during the race to secure the podium spot along side Simon. It was a lovely race Charlie and sadly Matt dropped out of contention early.
Tamiya Euro Truck final results:
1. Callum Chapman
2. Adam Jessop
3. Simon Babb
4. Charlie Jessop
5. Matt Dutfield
The next event is on the 12th of January for round four of this tightly contested championship. All information can be found on the club's social media page and website.
Thanks to Chris Lovely for the report.
---