January 31, 2020
Round four of the 2019/20 BRCA LMP12 nationals took place in Chesterfield last weekend. A capacity entry of 85 drivers took part in the weekend's racing. Unfortunately round 3 of the championship had to be cancelled in December due to structural issues with the venue meaning that the Championship has been reduced to three counting rounds from five. Chesterfield hit their usual high standards laying a challenging track on perfectly smooth carpet laid with no tape joins to upset the cars. Saturday would see drivers competing in 13.5 and 17.5 stock classes. Winner of the first two rounds Olly Jeffries would be looking to complete the trio this weekend. From the start it was clear who was the racer to beat with Olly topping the timesheets on all four rounds of qualifying. Mark Stiles would get the closest to Olly lining up second on the grid from David Spashett and Ollie Payne. Olly would get a clean start and after a first lap error from Mark Stiles that overturned the car of David Spashett would complete the race unchallenged taking his third win and securing the 13.5 Stock Championship.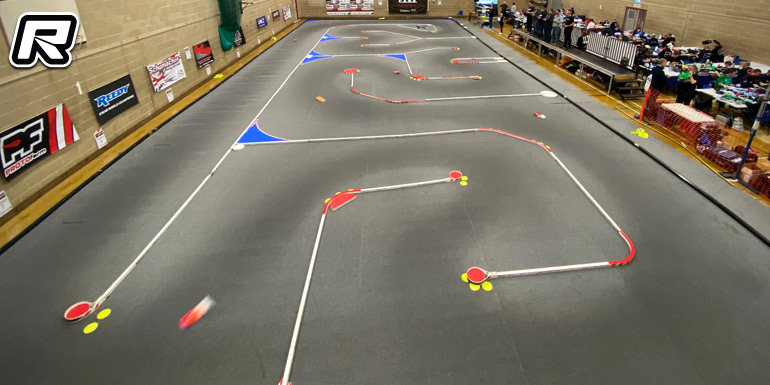 The early incident mixed up the field and in a fast and controlled drive Louis Parker who qualified fifth brought his car home in second place, a personal best finish in this class. Another great drive from further down the field would see Matthew Varah claim the final step on the podium from 7th on the grid.
F1 13.5 final result:
1. Olly Jefferies – Schumacher
2. Louis Parker – Schumacher
3. Matthew Varah – Roche
4. David Spashett – Roche
5. Andy Murray – Schumacher
6. Mark Stiles – Roche
7. Adam Mackman – Schumacher
8. Ollie Payne – Roche
9. Nathanael Goodban – Schumacher
10.Aidan Ripley – Schumacher
The 13.5 class also contains a F2 championship. Current leader Morgan Williams was missing from this event so others were looking to capitalise and it was Steve Donald who would take pole position from David Underwood and Ashley King. A mistake off the line would drop Steve well down the order and that was all that David needed to head to the front and take the win showing great pace throughout the final. Steve would race back to second place and third would be taken by Kenneth Rogers who raced through the field from 9th on the grid narrowly beating junior driver Sam Coult into fourth, who in his first LMP national is surely a name we will be seeing more of in the future.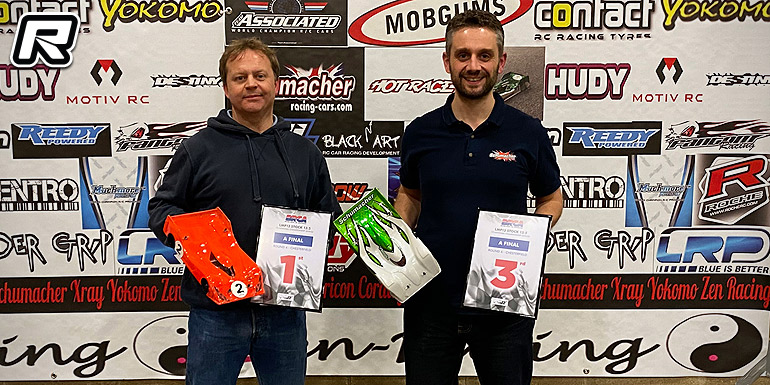 F2 13.5 final result:
1. David Underwood – Schumacher
2. Steve Donald – Schumacher
3. Kenneth Rogers – Schumacher
4. Samuel Coult – Schumacher
5. Simon Pole – Schumacher
6. James Eaves – Schumacher
7. Peter Stockton – Schumacher
8. Ashley King – Schumacher
9. Stuart Barber – CRC
10.Tony Wade – Schumacher
In 17.5 Marcus Askell was looking to secure the championship after winning the first two rounds. In qualifying he showed the form that he has had all season and lined up on pole half a lap clear of Mark Jewitt in second place. Niall Cochran would line up third just ahead of Andy Sawyer. Marcus and Mark would stretch an early lead over a three way battle for third between Niall, Andy and Adrian Thorpe. Mark had found some extra pace from qualifying and in the second half of the race closed up on Marcus. Despite having the faster car and trying different lines to find a clean pass Mark would finish second after Marcus drove clean and defended well to take the win and secure the championship. The battle for third would be won by Andy Sawyer with Niall in fourth.
17.5 final result:
1. Marcus Askell – Schumacher
2. Mark Jewitt – Schumacher
3. Andy Sawyer – Schumacher
4. Niall Cochran – CRC
5. Gavin Clinch – Destiny
6. Adrian Thorpe – Xray
7. Chris Hudson – Xray
8. Alex Curry – Schumacher
9. Glenn Atterton – Schumacher
10.Peter Winton – Zen Racing
Sunday would see the Open Modified class take to the track and there would be more 13.5 turn blinky racing in the Sports class. In Modified Olly Jeffries would take his second pole position of the weekend from Louis Parker and Andy Murray and Ollie Payne. This time Olly would have difficulty getting his car off the line and unfortunately Louis Parker would catch the back of his car and exit the circuit. Olly Jeffries would recover to a commanding victory finishing well clear of the chasing pack. Andy Murray would finish in second and Adam Catchpole completed the podium from fifth on the grid. Louis Parker would recover to fourth place and is surely a driver to watch for the remaining races this season.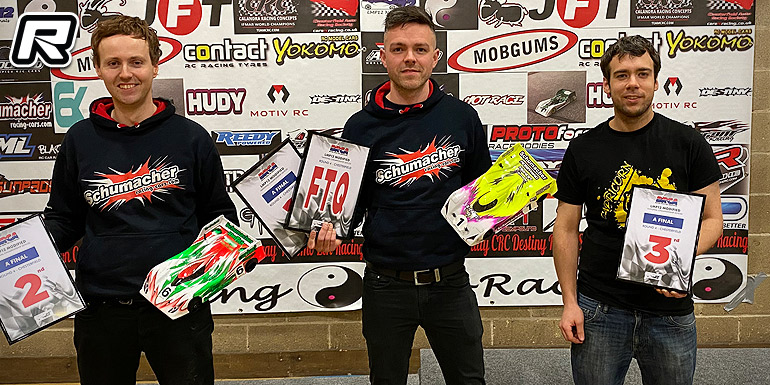 Modified result:
1. Olly Jefferies – Schumacher
2. Andy Murray – Schumacher
3. Adam Catchpole – Capricorn
4. Louis Parker – Schumacher
5. Daniel Robins – Schumacher
6. Mark Rogers – Roche
7. Andy Sawyer – Schumacher
8. George Brewer – Schumacher
9. Jonathan Simblet – Roche
10.Ollie Payne – Roche
In Sports David Spashett lined up on pole looking to secure the sports Championship after winning the first two rounds. Qualifying was very close with Mark Stiles leading the times for the first two rounds before David took pole position by a second. Ben Vincent would line up third and Andrew Smith in fourth. A clean start would see Mark in hot pursuit of David before an uncharacteristic early mistake would allow Mark to pass and take the lead. Another touch of the barriers would drop David further down the field. Mark was not going to waste this opportunity and drove a clean race to take the win. Ben Vincent would finish in second place and after an exciting battle with Andrew Smith, David would recover to third place. Third was not enough to secure the championship and we are sure to have some more great racing in the remaining rounds.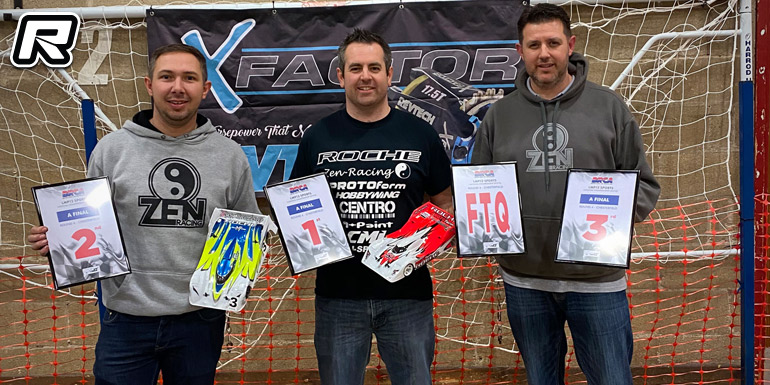 Sports Result:
1. Mark Stiles – Roche
2. Ben Vincent – Roche
3. David Spashett – Roche
4. Nathanael Goodban – Schumacher
5. Aidan Ripley – Schumacher
6. Mark Jewitt – Schumacher
7. Andrew Smith – CRC
8. Adam Mackman – Schumacher
9. Matt Rice – Team Associated
10.Tim Wood – Roche
The next round will take place in Barley Mow in the North of England in February.
Source: BRCA [brca.org]
---