January 28, 2020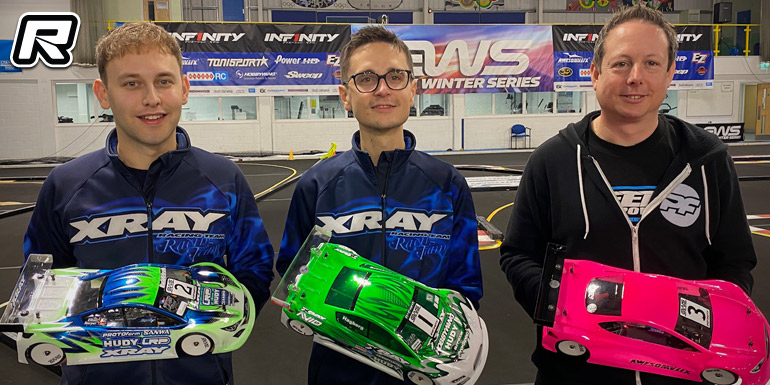 The third round of the 2019/20 Essex Winter Series took place last weekend, and once again featured another full capacity entry across the Modified, Super Stock and Front Wheel Drive classes. In the Modified class, Elliott Harper held the championship lead with maximum points in the first two rounds of the series, but would face a new challenge this time out with his Xray team-mate Alexander Hagberg making a return to the series for this event, and long-term rival Chris Grainger having his debut race for Awesomatix following his move to the Russian brand for the 2020 season.

Alexander made his intentions clear very early on, as he put in a great Q1 time to go fastest from Elliott by over three seconds. Alex Thurston surprised a few by being only one second back on Elliott in 3rd with his Capricorn, with Harley Eldridge running the Yokomo BD10 for the first time in the UK to 4th in the round. The second qualifier again saw Alexander quickest, but now Chris seemed to have his Awesomatix to his liking as he took second, just a tenth of a second ahead of Elliott in 3rd. Harley was again 4th in the round, with Belgian start Florian Joos taking 5th. Alexander secured the overall TQ spot by topping the third round, with Elliott taking 2nd, Harley moving up to 3rd, ahead of Florian and Stefan Chodzynski's Capricorn. Alexander was prevented from taking a clean sweep of qualifying with a mistake half way through Q4 whilst out in front. That allowed Elliott to top the round, with Chris taking another 2nd place and securing 3rd on the grid, and Alexander recovering to 3rd.
The single-leg A-final saw Alexander lead the field off. Initially, Elliott looked like he would be able to challenge his team-mate, but quickly he had to turn his attentions to Chris behind him. Around one minute into the race, Alexander had pulled a healthy gap, as Elliott had managed to fend off Chris and now found himself in no-mans-land in second. Behind, the fight for 4th place hotted up as Matthew White closed in on Harley and Alex. Harley and Alex raced hard, and eventually a coming together between them dropped them both down the order and allowed Matthew to benefit and move through to 4th. After this melee, attention then turned back to Elliott and Chris, as Chris had been slowly chipping away at the gap to Elliott. But time ran out and whilst Chris closed to less than half a second behind, it wasn't enough to challenge Elliott for 2nd. Out in front, Alexander was on cruise mode and took home the win.
Touring Modified final results:
1. Alexander Hagberg – Xray/Hobbywing
2. Elliott Harper – Xray/LRP
3. Chris Grainger – Awesomatix/Reedy
4. Matthew White – Awesomatix/Reedy
5. Stefan Chodzynski – Capricorn/Hobbywing
6. Sam Law – Awesomatix/Maclan Racing
7. Harley Eldridge – Yokomo/LRP
8. Alex Thurston – Capricorn/Hobbywing
9. Florian Joos – Xray/Hobbywing
10.Phil Chambers – Capricorn/Hobbywing
11.Alan Bickerstaff – Awesomatix/Reedy
In the Super Stock class, points leader Billy Fletcher was in a position to wrap up the title at this relatively early stage of the series, and got things off to a good start by topping the opening qualifier from Florian Joos, Ashley Wiffen, Adam Southgate and Andrew Smith. Florian fought back in Q2 to go fastest, Billy had to settle for 2nd. Ashley took another 3rd, ahead of Andrew and Richard King rounding out the top five. Billy moved back to the top with the best time in the third round, leaving a shoot-out in the final qualifier to decide pole position. Florian led the race, but knew he would need to not only top the round, but also set the best time if he was to stop Billy from sitting on pole position. As the time ran out, Florian took the win and crucially, the best time by around six tenths of a second, taking his second consecutive overall TQ at EWS this season. Billy would therefore start second for the A-final, with Andrew due to line up in 3rd, ahead of Ashley in 5th and Sam Law putting in a great last round to move up to 5th on the grid after a tough start to qualifying.
Florian led the A-final off, looking for his first win at EWS. Billy remained in hot pursuit, but Florian looked to have the faster car and maintained a small gap out front. Behind, Andrew and Ashley had a nice fight for third place, with Sam and Richard just about staying in touch. Just as it was starting to look almost smooth sailing for Florian, with two minutes to run Billy made a mistake, rolling his car and allowing Florian to open up what the on-lookers assumed to be a winning lead. However, on the very next corner, Florian spun his car, putting the two championship contenders now side-by-side. A few corners later, Florian's car spun again in a slightly strange way, giving Billy the lead but also slowing Florian significantly. A lap later, Florian was forced to pull off, a screw in the steering coming loose later found to be the culprit. This promoted Andrew into second, as the battle for the rest of the podium raged on. Richard moved up to 3rd, but Ashley fought back and re-took 3rd place just a few laps from the end. But out front, Billy wasn't to be troubled and took the win, and given the final results, this gave him enough points to unofficially secure the championship title with two rounds of the series to spare.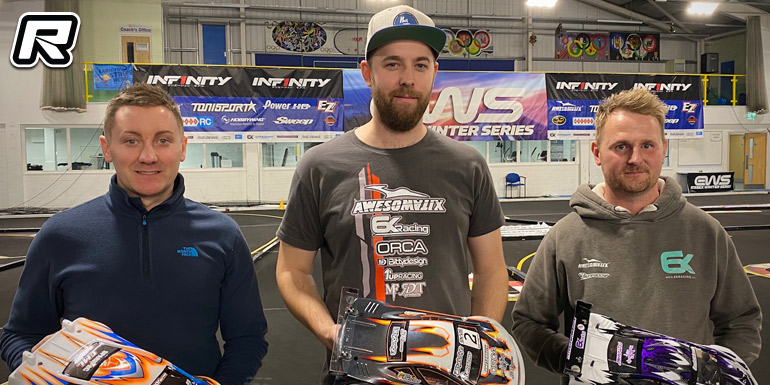 Touring Super Stock final results:
1. Billy Fletcher – Awesomatix
2. Andrew Smith – Awesomatix
3. Ashley Wiffen – Awesomatix
4. Richard King – Awesomatix
5. Sam Law – Awesomatix
6. Dani Young – Awesomatix
7. Nathan Parker – Awesomatix
8. Ben Moorey – Associated
9. Matt Quinlisk – Xray
10.Florian Joos – Xray
11.Scott Kenny – Awesomatix
In the Front Wheel Drive class, Craig Nutting was the class of the field, topping all four qualifiers. Jason Butterfield would line up 2nd on the grid with a brace of second places, and Mark Caton rounded out the top three in qualifying with a 2nd and 3rd place counting scores.
Craig's domination continued into the A-final, leading off from the front and opening up a healthy gap quickly. Behind, Gary Taylor moved from 5th on the grid up to 3rd, and chased down Jason. Just as it was looking like Gary would have to settle for 3rd overall, Jason rolled his car as he exited the fast bus stop section, allowing Gary to sneak through to 2nd with just two laps to run. Behind, Paul Hill held 4th place as Mark Caton and Craig Woods spent the race fighting over 5th and 6th place. However Craig Nutting wasn't to be topped, and took home a comfortable win to re-take the lead in the championship points hunt.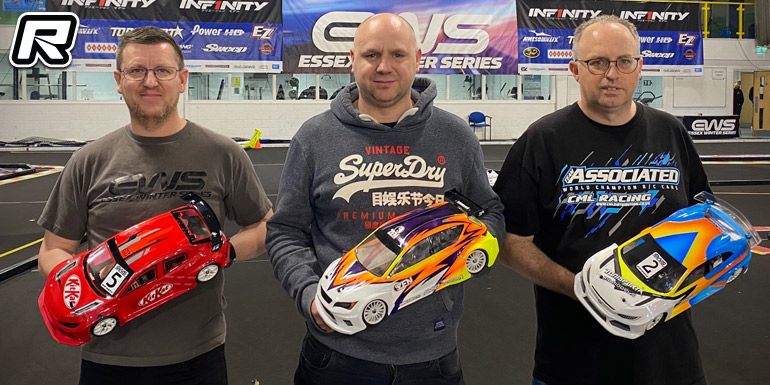 Touring FWD final results:
1. Craig Nutting
2. Gary Taylor
3. Jason Butterfield
4. Paul Hill
5. Craig Woods
6. Mark Caton
7. Peter Hill
8. Bill Boag
9. Adam McEwen
10. Jody Symons
11. Malcolm Norwood
Round 4 takes place in mid-February, where the Modified championship could be decided.
Source: Essex Winter Series [ewsevents.co.uk]
---